SeaWorld Gold Coast Information
COVID-19 Pandemic & This Website
The COVID-19 Pandemic has had a huge impact on local Gold Coast businesses, which rely heavily on visitors from Queensland, interstate and overseas.
During this time, it is hard to keep the website fully up to date with all the changes. In the meantime here are some resources for visitors. Our main booking partners for hotels and for tours, tickets, theme parks and activities are keeping everything up to date, so please use those resources in the meantime.
Travel Information for Queensland Visitors - Queensland Tourist Safety Information - regularly updated, official website.
COVID-19 FAQ's For Activities, Tours, Cruises & Theme Park Tickets - General Ticket & Pass FAQs and COVID-19 Travel Update.
Thank you for your understanding and patience at this really difficult time.

Annie Rettie
Gold Coast Australia Travel Tips - Owner
SeaWorld Gold Coast Australia All You Need To Know About Planning A Day At The Park
Planning to spend a few hours, a day or even a couple of days at Sea World? There's plenty to see and do to keep you occupied.

There's a lot of useful information on this page, I recommend you read it through. But you can skip to sections of interest on this page - or use the links to other resources on this website about Sea World.

Visiting Sea World whilst on the Gold Coast is a very popular activity. If you are still planning your trip to Gold Coast, you may find planning cheat sheets, tips & tools helpful in working out where to stay, your itinerary and the things you want to do.

Happy Planning and Happy Exploring...

Annie Rettie
Gold Coast Australia Travel Tips - Owner
Join the conversation or just check us out...
Select The Topic You Are Interested In
Sea World Theme Park Information
Resources on this page about Sea World Gold Coast Theme Park:
The detailed information changes regularly, so this page is general but useful, so it stays up to date.
This Gold Coast theme park has many attractions which I have tried to describe both in words and pictures.
It is unique as (to my knowledge) the only theme park in Australia with its own resort, which makes it a very special option for families with children and those who just love theme parks!
SeaWorld on the Gold Coast
Qld Australia
Staying at Sea World Resort is a great option for families with their family rooms, but it is also popular couples who want a bit of peace and quiet away from the hub-bub of Surfers Paradise.
There are many additional benefits to staying in the resort including certain perks, behind the scenes tours and the fabulous water park area and kids water play areas.
Don't forget to check out the reviews about this theme park or if you have been to the park and want to let others know about your experience, you can leave your own review and comments!
Opening Times for SeaWorld Gold Coast
Open Daily:
Gates open at 9.30am and close 5.30pm.
Rides open from 10.00am to 5.00pm
Normal opening hours:
New Year's Day (1 January)
Good Friday
Easter Sunday
Labour Day (First Monday in May), Gold Coast Show Day
Queens Birthday (October)
Christmas Eve (24 December)
Boxing Day (26 December).
Exceptions:
Closed ALL Day Christmas Day 25 December.
Closed ANZAC Day morning 25 April, open from 1.30pm to 5pm*
Sea World
Show Schedule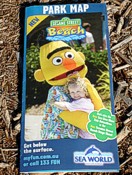 Theme Park Map
and Show Schedule.
Show schedules change depending upon the day, time of year and if there are any shows being refurbished or maintained.
Unfortunately, because of the changes I cannot make any recommendations as to a daily itinerary with the park.
However, the schedules do include several suggestions which should help you decide when to do each of the different shows and attractions.
When you arrive at the entry gates you should receive a current schedule.
If you don't get one at the ticket booth, you will find staff handing them out just as you enter the park.
There are also signs which have the information on for the day's schedule
Buying Tickets for SeaWorld
You can buy tickets at the gate when you arrive, online or at ticket booths around the coast.
I have not found anywhere that discounts the theme parks significantly, you might save a couple of dollars a ticket, but it is minimal. But there are some smart ways to buy theme park tickets in the Gold Coast.
You should not pay any more for the convenience of buying tickets online and usually there is a small discount. The benefit you get is that you get to go in the pre-paid line which usually just as long, but much quicker!
Main benefit of buying your tickets before you go to Sea World is that you get to go in the pre-paid ticket line. This is usually just as long as the other lines, but much quicker because they are not having to process money at every transaction!
Getting To Sea World Gold Coast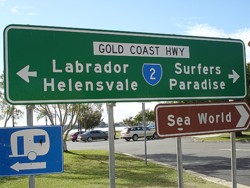 Sea World road sign!
Sea World Qld is on Sea World Drive, Main Beach.
Coming from Brisbane, it is well signposted from the M1 turn off to Southport along Smith Street Motorway.
There is plenty of parking, so driving is a great option you can byo car or hire a car.
Sea World Transfers
Gold Coast Shuttle Transfers are great for transfers directly from your accommodation. Their Freedom and Gold Passes are flexible options for Gold Coast airport transfers and theme parks transfers that will save you money too.
Translink run the public transport system in the Gold Cosat including bus, tram and train services. Since the introduction of the G:Link tram, which is fantastic for certain journeys, there have been changes to the bus services specifically for the theme parks. It is now quite complicated depending on where you are coming from and some trips include buses, trains and trams!
Personally, I think it is better to pay a bit extra and go with a shuttle service such as Gold Coast Shuttle Transfers as the public transport can be frustrating. In particular, the buses are a bit erratic, one visit I was left waiting for over an hour at Sea World for Surfside bus to show.
Things To Consider
Food and Drinks
SeaWorld have a food policy which states that you cannot take any food into the park unless it is a dietary requirement or baby food (check their exact requirements). The grey area in their policy is food for babies and infants and what exactly that means. If you have any queries you should direct them to Sea World staff.
They may check your bags. You cannot take sharp knives or glassware. This means you are captive to the food inside. They do have Halal and a variety of food options. You may take in a water bottle with water in it and fruit. Check here for latest FAQs on their website.
There are a limited number of strollers for hire and free wheelchairs - the park is mostly wheel friendly - but there are some restrictions on some rides, so you will need to check.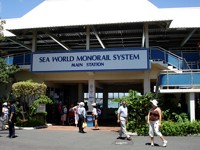 Sea World Monorail
helps save your feet
plus a great view
of the park.
Accessibility and Getting Around
To help get around the park and reduce some of the traipsing up and down, there is a monorail.
The Monorail goes around the outside of the park. You can get on or off at the Main Station near the entrance, the Mid Station which is close to Shark Bay and the Centre of the Park or Resort Station for resort Guest only.
We enjoy this ride and it saves a bit of the walking.
Things to Take
You are going to be out and about most of the day, so make sure you have the following essentials:
Water Bottle
Sunscreen
Hat
Sunglasses
On some of the rides you have to take off your hat and sunglasses, so itis worthwhile having a bag to put them in safely.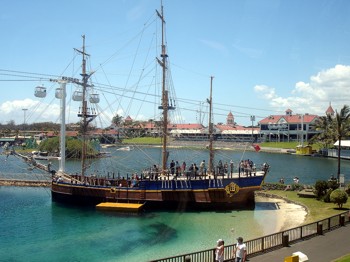 Sea World from monorail
There is a water play area at Sea World for the kids, so make sure they (and you) are wearing clothes that are okay to get wet or bring a change of clothes and a towel! This is especially important if you are a parent. Your kids will not forgive you if they cannot get wet!!!
Weather
Sea World do have plastic capes (ponchos) that they sell when it rains. If you can, take wet weather gear if it looks like rain. That way you will save yourself lots of money if you don't have to buy a one-use cape, that is nearly impossible to get back in its bag!
It is quite exposed out on the Spit where Sea World is located and the wind whips up there. A light raincoat or rain jacket can double as a wind cheater.
Don't forget the sunscreen. Even when it is overcast the sun is very strong. This is also true in the winter.
Book ahead for
Sea World Reef Adventures
to avoid disappointment
Money
There are EFTPOS machines and ATMs at Sea World Gold Coast.
As with any tourist spot you need to be careful with your wallet and precious items.
A good rucksack or bum bag (fanny pack for our friends from USA) can be useful.
You'll need money for lockers if you want to use them, souvenirs, ice creams, drinks and foods.
And for any extra Animal Adventures, Sea World Helicopters, behind the scenes tours and the pay as you use rides.
Personally, other than money for food and drinks, you can easily enjoy a day at Sea World on most of the rides, at the shows and seeing the animals without paying for any of the additional activities.
Pre-paid Tickets
These days, most people buy their tickets ahead of time. Prices at the gate are often more than the online prices and the pre-paid entry lines are much faster than those where you have to buy the tickets at the gate.
If you want to do any of the extras like the Animal Adventure Tours or Sea World Reef Adventures make sure you organise them ahead of time. You can be lucky and turn up on the day and there be spots, but you may be disappointed particularly at peak times.
Shops at Sea World Gold Coast
I must admit I don't go to SeaWorld to shop, but there are shops inside.
The usual Sea World souvenirs you would expect including variations on T-shirts, toys and general souvenirs.
Towards the end of the day, they sometimes have really good deals on the soft toys as you are exiting the park. If you look through the entry gates before you exit through the souvenir shop you should be able to see what they are selling! Can be quite a good and money saving move!
There is also a Chocolate shop, photo shop where you can get prints and enlargements from your camera and an environment shop.
Food in Sea World
Sea World Plaza
for shopping & food.
Please Read: Things to Consider Section for information about bringing in your own food to Sea World.
At the main entrance there is the Lakeside Cafe and the Fresh Focus Cafe. Towards the middle of the park there is the Dockside Tavern as well as a range of fast food style outlets in the Plaza area. There's also the Village Bean Coffee House.
The food isn't exactly healthy or inspirational. But you can get by. If you look carefully and are prepared to hunt it out, you can find decent sandwiches, salads and fruit bowls. If you like Pizza, fried food and burgers, this will be a great day for you! And you can wash it down with a frozen coke and a sweet treat
You are a captive audience, expect to pay more to eat inside Sea World than out and it isn't exactly gourmet food!
Sweet treats and real holiday food like churrios, fairy floss, popcorn and ice-cream are available in a couple of locations too.
Once you go past the plaza heading north towards Sea World Resort, there is very little in the way of food. Although, you could go into the lobby of the resort and get a meal there.
During the peak times there are carts with drinks and fast food and down by the water park is there is a kiosk that is open only during the high season.
Where To Stay Close To SeaWorld Gold Coast
SeaWorld is on the Spit and is just north of the main part of Main Beach. It is about 4kms north of Surfers Paradise. Southport and Labrador are within a 10 minute drive and Broadbeach takes just over 10 minutes by car.
The ultimate places to stay close to Sea World are:
SeaWorld Resort - formerly known as Sea World Nara Resort. This resort is located at the northern end of Sea World and is particularly suited to families. It includes a water play area for the use of guests.
Palazzo Versace (6 star) - this is a truly opulent place to stay situated next door to Marina Mirage.
Sheraton Mirage (5 star) - fabulous accommodation set in a brilliant location opposite Marina Mirage and a short trip to Sea World, Main Beach and Surfers Paradise.
DREAM IT
You'll find lots of photographs, descriptions and information to help you dream up your perfect Gold Coast Holiday.
Why not start with all that the Gold Coast has to offer.
PLAN IT
After many years of planning trips with my family both locally and overseas, I've created many resources to help you through creating an itinerary and plan that will have you seeing, doing and experiencing the best the Gold Coast has to offer you.
You can do it yourself using the resources on this website by starting here.
Or you can cut some corners and get my travel planning sheets and extra resources.
BOOK IT
When you are ready to book your Gold Coast travel arrangements I've hand picked the best resources for all aspects of your travel itinerary. You can feel confident that you are accessing the best local and global travel providers for your holiday.