Gallery Of Sea World Photos
COVID-19 Pandemic & This Website
The COVID-19 Pandemic has had a huge impact on local Gold Coast businesses, which rely heavily on visitors from Queensland, interstate and overseas.
During this time, it is hard to keep the website fully up to date with all the changes. In the meantime here are some resources for visitors. Our main booking partners for hotels and for tours, tickets, theme parks and activities are keeping everything up to date, so please use those resources in the meantime.
Travel Information for Queensland Visitors - Queensland Tourist Safety Information - regularly updated, official website.
COVID-19 FAQ's For Activities, Tours, Cruises & Theme Park Tickets - General Ticket & Pass FAQs and COVID-19 Travel Update.
Thank you for your understanding and patience at this really difficult time.

Annie Rettie
Gold Coast Australia Travel Tips - Owner
Sea World Photos
Best Of MovieWorld, Sea World & Wet n Wild

3 DAY PASSES
3 Days Entry To Movie World, Sea World & WetnWild
3 Days Entry To Movie World, Sea World & WetnWild PLUS Hop On Hop Off Ferry Day Pass
7 DAY PASS
7 Day Pass to Move World, Sea World, WetnWild AND Paradise Country

14 DAY PASS
14 Day Pass to Move World, Sea World, WetnWild AND Paradise Country
On my visits I have taken many Sea World photos - some good, some not so good!
I am an amateur after all!
Some of the photos of Sea World are out of date now.
For example the Sea World Eye was only a temporary ride and was installed late 2006 and removed in early 2008.
The view from the top was awesome!
Personally I felt the Eye was a great addition to Sea World, but I understand it was not liked by some of the locals.
Here are some of the pictures of Sea World that I have taken over the last few years.
I have tried to keep them at a reasonable size so you can see the detail, but that may mean the page will be slow to load.
Be patient, I think it is worth it.
Cartoon Beach & Kids Fun Photos
Over the years the characters have changed, and no doubt they will change again. The rides and fun the kids have seems to stay the same. These photos give you a taste of the area for kids at Sea World.

Welcome to Cartoon Beach! Fun for the little ones
with lots of rides with their favourite cartoon characters.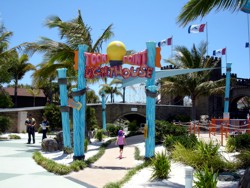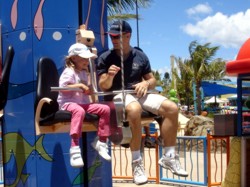 Toon Lighthouse is a favourite stop.
Two in a chair, you need muscles to pull yourself up to the top and guts to stand the height!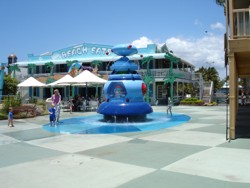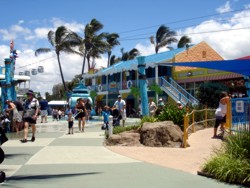 As well as the rides there is the water play area - be prepared to get a bit wet. Bring a towel! Beach Eats is great for some quick food on the run.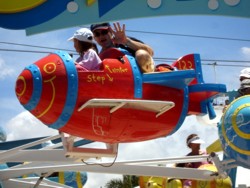 Dad's more interested in getting his photo taken.
Flying high is important stuff.
You need to keep your eye on the job!
Ah, it's a hard life being a kid having fun at Sea World. Time to chill out and sit down!

Concentrating on watching the
Sesame Street Show!
Sea World Ride Photos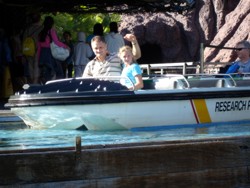 What a Champ! Bermuda Triangle Ride
Survived! (This ride has been retired)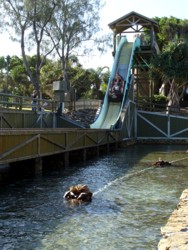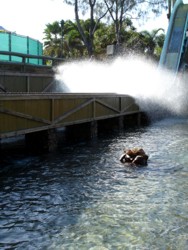 Vikings Revenge Ride.
And Splashdown! Be prepared to get wet!
Sea World Dolphin Photos
Dolphin Show at Sea World
4 dolphins airborne at once - spectacular!
Make sure your camera is ready at all times!

One lucky audience member gets to get in with
Dolphins at Imagine Dolphin Show at Sea World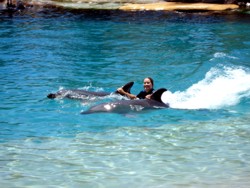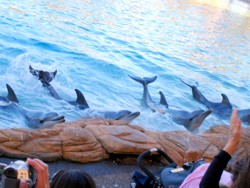 Dolphin Rides! All part of the Dolphin Show at Sea World.
Beware, if you sit in the front row you could get wet.
Those pesky dolphins have a sense of humour!
Dugong Photos
Dugongs are no longer at Sea World. Where this exhibit was, is now the fabulous new Penguin Encounter.
Discovering Dugongs at Sea World.
Dugongs in the wild look like logs in water.
This exhibit is a great way to see them.
Photos of Sea World Shows

Not giving away any secrets!
Fish Detectives Seal Show at Sea World
Scene from the old Hunt For the
Golden Seal Show at Sea World

Waterski Wipeout Show
Show retired in August 2009
Polar Bear Photos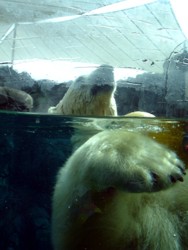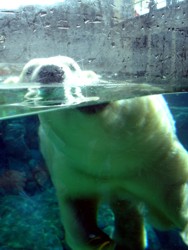 Polar Bear at Polar Bear Shores Sea World
I'm watching you watching me!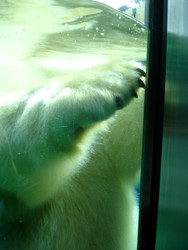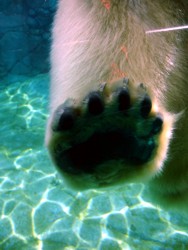 Polar Bear Paws and Polar Bear Claws
They are huge - glad that glass is between us.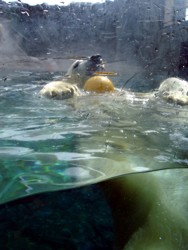 Aren't I clever I can do backstroke!
Polar bear playing with ball at Polar Bear Shores
Shark Bay Photos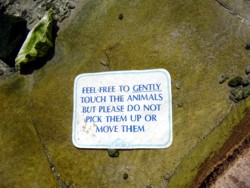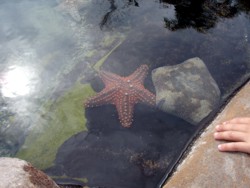 Shark Bay Touch Pools are great for kids and adults to experience these amazing creatures.
There is often a marine biologist on hand to answer your questions.
| | |
| --- | --- |
| Touching a Sea Star at Sea World | Aerial View of Shark Bay taken from Sea World Eye in 2007 |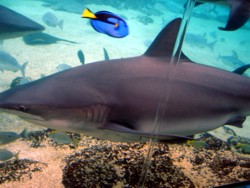 Underwater in Shark Bay.
These animals are enormous!
Back To Top of Sea World Photos
General Sea World Photos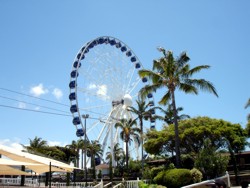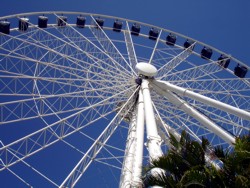 Sea World Eye was a great temporary addition to
Sea World from late 2006 to early 2008.
Sea World Eye during 2007

Aerial view of Sea World looking towards
Main Beach and Surfers Paradise, taken in 2007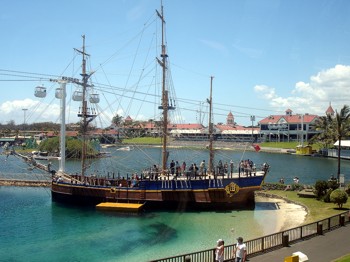 Looking back towards the Main Entrance
past the dolphin pools and barque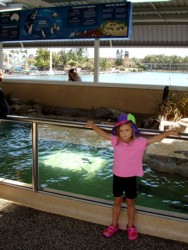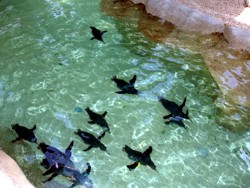 Sadly, original Sea World Penguins & their enclosure have gone. This was taken during 2006.
There's a fantastic new Antarctic Penguin enclosure.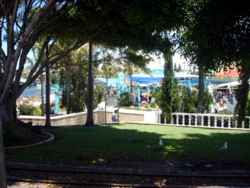 Sea World has a few shady grassy areas
to sit and enjoy a your lunch or have a break.
Note:
you are not allowed to bring in your own
lunch
anymore as of 1 July 2009.
Stay At Sea World Resort & Take Your Own Photos?
Now you have seen my amateur Sea World photos, perhaps you can do better!
One of the best ways to enjoy Sea World Gold Coast theme park is to combine a stay at Sea World Resort which is right next door.
There are so many reasons to stay at Sea World and there are often great deals.
Check them out now.
Custom Search