Sea World Tickets
COVID-19 Pandemic & This Website
The COVID-19 Pandemic has had a huge impact on local Gold Coast businesses, which rely heavily on visitors from Queensland, interstate and overseas.
During this time, it is hard to keep the website fully up to date with all the changes. In the meantime here are some resources for visitors. Our main booking partners for hotels and for tours, tickets, theme parks and activities are keeping everything up to date, so please use those resources in the meantime.
Travel Information for Queensland Visitors - Queensland Tourist Safety Information - regularly updated, official website.
COVID-19 FAQ's For Activities, Tours, Cruises & Theme Park Tickets - General Ticket & Pass FAQs and COVID-19 Travel Update.
Thank you for your understanding and patience at this really difficult time.

Annie Rettie
Gold Coast Australia Travel Tips - Owner
Where To Buy Tickets & Passes For Sea World?
If you are looking for tickets and passes to Sea World, there's lots of information on this page, but one of the best ways to get a good deal is by combining theme parks, attractions and activities.

You can find detailed information about the options on the main Gold Coast Theme Park Passes page.

Stay here to find out more about:

Click the links that interest you, or navigate to other information about Sea World that interests you in the Sea World Resources Box, or simply read on for more information about Sea World tickets & pass options.

PS: If you are still working out which theme parks, attractions and activities you want to do on the Gold Coast, you may find planning cheat sheets, tips & tools helpful in working out your itinerary and the things you want to do, which makes choosing your tickets and passes much easier.

Annie Rettie
Gold Coast Australia Travel Tips - Owner
Join the conversation or just check us out...
Select The Topic You Are Interested In
Where Can I Buy Sea World Tickets?
Just about everywhere you go in the Gold Coast someone is trying to sell you tickets to Sea World & the other theme parks. But you want to make sure that you are dealing with a reputable outlet.
You can buy at the theme park, but you will probably pay a higher price. You can use theme park online ticketing system, but once again, you will pay booking fees and credit card charges on top of the tickets and passes.
Why Buy Theme Park Tickets & Passes Online?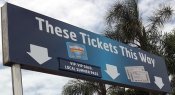 Save time when you arrive at the theme parks, as they have special fast lines for those with prepaid tickets and passes.
Save money - some of the theme parks charge a premium for buying your tickets at the gate on the day.
When buying your tickets online, check before you buy for hidden booking fees or credit card fees.
Theme parks direct websites charge booking fees and credit card charges.
Buy Gold Coast theme park tickets & passes through links on this page with no credit card fees or booking fees.
Where to get the best deal?
Sometimes you can waste a lot of time looking for the best deal and all you save is a couple of dollars.
Information on theme park tickets and ticket pricing changes regularly, so I have kept information on this page general but useful.
If you already know what you want you can buy your Sea World theme park tickets without booking fees or credit card charges.
However, I recommend you know what passes and tickets are available before heading over there, in case you get confused with what's on offer.
Choosing the right tickets and passes can be difficult. It is for that reason, that I created my planning sheets, so you can work out what you want to see and do, and then find the best combinations of tickets and passes for your holiday.
If you haven't already got your copy of the planning sheets, I recommend you grab them now. When you get to the itinerary planning sheets and extra resources, you may find many of your questions about which tickets or passes to buy are answered there.
Locals Versus Visitors - Is The Price The Same?
Sea World admission for visitors is mostly the same as for locals.
However, there are some coupons or discounts from time to time that only locals can use. These deals are less common these days.
Often there are special deals for Queensland residents, or even more specifically south east Queensland residents.
From time to time there are special Locals Only deals. If they are available, you will find details on the main Theme Park Passes Page. The deals for locals will also highlight any requirements - such as residential postcodes covered (can be Queensland and northern NSW Residents for example), which you will need to be able to verify when the vouchers are redeemed at the theme parks on their first use.
If you do find or see a Sea World discount coupon advertised they usually have restrictions. Most often they are restricted to certain local residential postcodes from around Gold Coast and Tweed areas only. You will have to prove your residential address using something like your drivers licence.
If you are visiting the Gold Coast and find a great looking deal on the back of your shopping docket, read the fine print! Or if you find a great deal on Ebay make sure you check the seller's feedback to find out if these are useable items! And if you see an advertisement with a large discount offered it is most likely with these kinds of restrictions.
For locals Sea World coupons can offer substantial savings although they are generally only available for use outside school holidays. We have used these ourselves to buy Sea World tickets! If you plan to do this theme park and the others in the same group (Movie World and Wet n Wild) it is the pass options that offer the greatest savings and flexibility.
THEME PARK TICKETS NEWS
BEST VALUE OPTIONS FOR SEA WORLD, MOVIE WORLD & WET n WILD

MULTI PARK OPTIONS
GREAT FOR HOLIDAY MAKERS!
ON SALE NOW!
SAVE with Combo Passes When Visiting 2 or More Parks.
BEST VALUE
MEGA 4 Park Pass
4 Parks $179 pp
Unlimited Entry for 14 Days MovieWorld, Sea World, Wet n Wild & Paradise Country
CHEAPEST 3 Park Option
3 Days 3 Parks Pass - Single Entry to Movie World, Sea World and Wet n Wild over 3 consecutive days
- Only $129 pp
Sea World Discount Tickets & Passes
Sea World doesn't usually discount their tickets or passes for visitors except for pensioners, seniors, children, disabled visitors and their carers.
You may get lucky, but most discounts or coupons from ticket sellers, in the various outlets and ticket booths, often only represents a couple of dollars on a ticket or pass.
In reality, the new multi-entry passes offer such incredible value and savings, this is the best way to get discounts on Sea World entry.
I've not found anywhere that gives large discounts for Sea World tickets.
I prefer to book online ahead of time to save time in the queues on entry plus tickets are cheaper online than at the gate (they are encouraging you to buy before you go). There are sometimes extra bonuses and merchandise coupons when you book online.
Pre-paid Sea World tickets are usually valid for a certain time, make sure to check this, as the price of Sea World tickets & passes change, you don't want to get caught out.
Sea World One Day Tickets & When You Might Use Them
Sea World 1 Day Tickets are available directly from the theme parks. However, if you plan to visit more than one theme park then multi-entry passes are better value than the singles. Multi-entry passes can be for 2, 7 or 14 days. Offers for multi-entry passes change, so check here to find the latest information.
I don't often recommend purchasing just the 1 day tickets to Sea World, as there are usually better value or more flexible options. However, if you are ONLY going to visit Sea World for 1 day and there are children in your group, then Sea World One Day Tickets could be the cheapest option for you.
Sea World Passes
Are Passes The Best Way To Get A Sea World Discount?
The simple answer yes you can, but like anything there is a bit more to it than that. Passes are often the best way to get a big discount on Sea World entry, but I'll explain a bit more about how and why.
There are two companies that own and operate the 5 major Gold Coast theme parks. Each company has passes for their theme parks, but they do not sell a combined one.
Sea World is owned by Village so you can get passes that combine these three Gold Coast theme parks:
Sea World
Wet 'n' Wild Water Park
Movie World - Hollywood on the Gold Coast
They also own Paradise Country Aussie Farm Experience which is located in the same area as Movie World & Wet n Wild.
Dreamworld, WhiteWater World and SkyPoint are all owned by Ardent Leisure - check here for more information about their ticket options.
Sea World passes have changed to make them simpler! These are the current options for tickets and passes: (follow the links to find out more about each one and suggestions for what situations they are best for)
Sea World One Day Tickets
3 Day Pass - 3 Parks 3 Days.
7 Day SUPER Passes - 7 day unlimited entry to Movie World, Sea World and Wet n Wild.
14 Day MEGA Pass - 14 Day unlimited entry to Movie World, Sea World, Wet n Wild and Paradise Country
The following are some of the tickets and passes that are no longer available, or are only available as specials at certain times of the year:
2 Park 2 Day Pass - Not currently available.
VIP Magic Pass - Not currently available
Multi-entry passes are often the best option, and work out to be the best value.
In general, tickets and passes are more expensive at the theme park gates. It is worth buying online ahead of time and printing out your vouchers. These tickets and passes are now available without having to print them off yourself, you can now use Mobile Vouchers.
Not only will you save money by buying online before your go, but you also save time at the entry, as you don't have to queue behind people paying for their tickets.
Since they introduced the barcoded vouchers and mobile vouchers, it has made entry to the park on the day much faster.
Please Note: Prices of Sea World tickets and passes are subject to change. Full terms and conditions for each ticket type are available on the website, please check before you purchase.
Deals & What's HOT!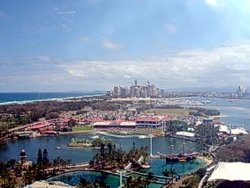 Aerial view of Seaworld Gold Coast.
Which Sea World Gold Coast Tickets to Buy?
If you are only want to go to Sea World for a day, then a single park entry ticket is best. But if you want to go to either Sea World and/or Wet n Wild, then a pass is going to be your best value option.
Depending on the deals at the time, you may have a choice of 2, 7 or 14 days entry on consecutive days or one of the unlimited entry passes. These passes for Sea World, Movie World & Wet n Wild entry are amazing value. Read on for more details about each of the options and who they suit.
3 Parks 3 Days Pass - Cheapest Option For 3 Parks
This is the best option for visitors who want to visit 2 or 3 of these parks. It is good for short visits or for longer visits as long as you now have up to 5 days to visit. The pass is the cheapest option to visit all 3 parks and is still a good option if you want to visit just 2 of the 3 parks - Movie World, Sea World and Wet n Wild.
Check latest pricing, deals and information for 3 Park Pass.
7 Day SUPER Pass - 4 Park Unlimited Entry Passes
Great value access to all three theme parks. 7 consecutive days of unlimited entry to Movie World, Sea World, Wet n Wild & Paradise Country. Check latest pricing, deals and information for 7 Day SUPER Pass.
Remember that we have no credit card or booking fees. Fast oark entry with mobile vouchers or printed vouchers.
4 Park MEGA Pass
This is the best option for visitors who are staying longer or who want access to all 4 parks and attractions. 14 consecutive days of unlimited entry to Movie World, Sea World, Wet n Wild and Paradise Country.
MEGA Pass sounds like you get much more than the standard passes! Well you do, if time is what you are after! But once inside the park, usually there is no difference to what you get. You don't get any special treatment unless there are any special bonuses, which may be on offer from time to time.
Check latest pricing, deals and information for 14 Day MEGA Pass.
Any of these passes can be combined with one of the passes from Dreamworld to create a 5 park option. Or you can check out my suggestions for the Ultimate Theme Park Combos.
* Children under 3 years free (may need proof of date of birth) and children over 13 require an adult ticket.
Sea World Resort Packages with Sea World Tickets
Sea World Resort offers special packages which can include Sea World Tickets or theme park passes.
There are usually several options available or you can just book accommodation. Why not check out the latest Sea World packages.
DREAM IT
You'll find lots of photographs, descriptions and information to help you dream up your perfect Gold Coast Holiday.
Why not start with all that the Gold Coast has to offer.
PLAN IT
After many years of planning trips with my family both locally and overseas, I've created many resources to help you through creating an itinerary and plan that will have you seeing, doing and experiencing the best the Gold Coast has to offer you.
You can do it yourself using the resources on this website by starting here.
Or you can cut some corners and get my travel planning sheets and extra resources.
BOOK IT
When you are ready to book your Gold Coast travel arrangements I've hand picked the best resources for all aspects of your travel itinerary. You can feel confident that you are accessing the best local and global travel providers for your holiday.
Back to Top - Sea World Tickets & Passes