Sea World Resort Gold Coast
COVID-19 Pandemic & This Website
The COVID-19 Pandemic has had a huge impact on local Gold Coast businesses, which rely heavily on visitors from Queensland, interstate and overseas.
During this time, it is hard to keep the website fully up to date with all the changes. In the meantime here are some resources for visitors. Our main booking partners for hotels and for tours, tickets, theme parks and activities are keeping everything up to date, so please use those resources in the meantime.
Travel Information for Queensland Visitors - Queensland Tourist Safety Information - regularly updated, official website.
COVID-19 FAQ's For Activities, Tours, Cruises & Theme Park Tickets - General Ticket & Pass FAQs and COVID-19 Travel Update.
Thank you for your understanding and patience at this really difficult time.

Annie Rettie
Gold Coast Australia Travel Tips - Owner
Sea World Resort Is Excellent For Families & Couples
This is a large 4½ star resort and is the ultimate choice for Sea World accommodation, you cannot get any closer to the theme park!
And if you stay here there are lots of perks and often brilliant package deals.
Great value for those wanting to combine accommodation with other activities such as Sea World Whale Watch, Outback Spectacular, Sea World animal activities or Theme Park entry.
To my knowledge this is the only theme park resort in Australia.
Sea World Resort Links
The resort at Sea World in the Gold Coast is excellent for families and couples.
Why Stay at Sea World Resort?

Sea World Resort is the only Gold Coast family resort in Main Beach.
There are other resorts in the nearby area (Sheraton Mirage and Palazzo Versace), but I would consider them for more grown up tastes than this resort.
The resort located at the northern end of Sea World has what I consider to be real resort facilities, plus the added bonus of being right next door to the theme park!
If you are only going to be in the Gold Coast for a couple of days, it is an excellent base away from the hustle, bustle and noise of Surfers Paradise, yet close enough to nip in and enjoy it.

This section is my attempt to describe what I believe makes the resort at Sea World special:
Kids Zones
Sea World Resort has a fantastic waterplay area which is modelled upon Buccanneer Bay at Wet 'n' Wild Water Park a companion theme park to Sea World. This water park area is open during the warmer months and is usually closed from May through to early September each year.
In 2009 the old Sea World Water Park was upgraded and absorbed into the resort for use by resort guests (and by Sea World theme park guests for a small fee). In 2011, Nickelodeon joined the party and added some flair with SpongeBob SplashBash!
These two water play areas combine to be a fantastic drawcard for the resort.
Parents, meanwhile, can enjoy a dry seat in the adjacent Waterfall Cafe. Bliss!
This is one of the things that makes this resort really family friendly.

There are other child friendly areas including playground, Intensity Games Room, table tennis and I nearly forgot the Kid's Club Room.
I didn't really forget the Kid's Club!
This is an integral part of why it is a great family holiday. Parents can enjoy a bit of me time at night between 5.30 and 9.00pm. Whilst the children can enjoy a there is a supervised dinner session.
You can enjoy dinner or take in some sights in the Gold Coast and the kids can enjoy their dinner with some new found friends plus some entertainment. The Kids Club is for children aged between 4½ and 12 years.
Sea World Resort Perks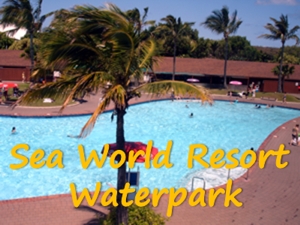 There are some perks for staying at Sea World Resort!
For a start Sea World is right on your door step as well as having access to the great water park facilities and water play area - note that the water play areas are closed during the cooler months, usually from May through to early September.
Also you can enjoy a resort guest only VIP seating at selected Sea World Shows.
In the past, it was Sesame Street characters, but since late 2011, every morning around 9am (can change so check when you arrive) you can meet your Nickelodeon friends SpongeBob and Patrick from SpongeBob SquarePants along with Dora, Boots and Diego from Dora the Explorer in lobby.
This is such a drawcard for the kids who will love pose for photos with Dora, Boots, Diego, SpongeBob and Patrick! Yet another perk for families!
Local Restaurants
The restaurants in the resort all seem to cater for family dining. There are several options including:
Casual cafe style at the

Waterfall Cafe

Buffets in

The Shoreline

which has a different theme each night
Japanese in

The Hatsuhana

restaurant including teppanyaki, a la carte japanese dishes and fresh sushi.

The Melrose

has an interesting selection including influences from Asia, New Orleans and the Mediterranean - plus a great dinner deal for the children.
If you don't feel like facing the world, there is an excellent Room Service Menu which is available from 6am to midnight (which is pretty good for the Gold Coast!).
For fine dining you are just a short drive to Vanitas Restaurant at Palazzo Versace, or the restaurants and cafes at Marina Mirage and the less formal Mariners Cove. Tedder Avenue is about 5 minutes by car and central Surfers only another couple of minutes.
Sea World Packages
The resort often has specials and packages - you'll find the latest one displayed to the right here - or you can click here for other options and packages.
Sea World Resort packages are variable, but you can often find deals that include entry to Sea World and/or the other theme parks and attractions in the Gold Coast Sea World family.
The other parks and attractions include:
Sea World Gold Coast Resort Facilities
The Sea World resort facilities include:
Heated pool and Kids aqua playground including SpongeBob SplashBash
Spa, sauna and exercise room
Floodlit tennis courts
Table tennis and pool tables
Children's playground
Kid's Club playroom
Badminton/volleyball
Golf Driving Nets
Private beach
Jetty and pontoon in the Broadwater
Chargeable extras include:
The Sea World Resort hotel services include what you would expect in a 4½ star resort. Some of the notable ones I have listed below...
24 hour reception
Daily room servicing
Room service - in room dining
In house movies (pay for usage)
Use the laundrette or send it out!
Business centre, high speed internet and wireless hotspots - so you can keep in contact and still party!
Hire of Sony Play stations or DVD players for your own use
Resort shop for groceries, Gold Coast souvenirs and resort fashion
Sea World Refurbishments and Changes
It hasn't been called this for a while, but SeaWorld Nara Gold Coast was an icon, back in the day and went through a period where it was a bit faded.
However, from 2008 onwards a series of refurbishments and updates have brought this resort back to its 4½ star status.
And in 2011, a new association with Nickelodeon brought even more interesting redevelopments.
For example resort guests can meet SpongeBob and Patrick from SpongeBob SquarePants as well as Dora, Boots and Diego from Dora the Explorer each morning in the resort lobby. The kids will love the chance to pose for photos with favourite characters!
In addition, the pool area was upgraded with a SpongeBob SplashBash!
These new family friendly features certainly have increased its appeal.
Sea World Resort Gold Coast is excellent for families and couples looking for a resort style holiday.
The resort is surprisingly large with over 400 rooms, which means it can cater for lots of visitors at once.
You can often pick up great Sea World package deals and there are perks for guests only which make it worth considering, especially if you have children with you.
Sea World Resort Not What You Are Looking For?
Sea World Resort is located on the Spit just north of the main part of Main Beach. It is about 4kms north of Surfers Paradise. Southport and Labrador are within a 10 minute drive and Broadbeach takes just over 10 minutes by car. All of these areas have plenty of accommodation to choose from with a range of styles and prices.
Looking for other Child Friendly Options? Check out these child friendly hotels.
Looking for more than 4½ stars?
Try these:
Palazzo Versace (6 star) - this is a truly opulent place to stay situated next door to Marina Mirage.
Sheraton Mirage (5 star) - fabulous accommodation set in a brilliant location opposite Marina Mirage and a short trip to Sea World, Main Beach and Surfers Paradise.
Custom Search