Sea World Attractions and Rides
COVID-19 Pandemic & This Website
The COVID-19 Pandemic has had a huge impact on local Gold Coast businesses, which rely heavily on visitors from Queensland, interstate and overseas.
During this time, it is hard to keep the website fully up to date with all the changes. In the meantime here are some resources for visitors. Our main booking partners for hotels and for tours, tickets, theme parks and activities are keeping everything up to date, so please use those resources in the meantime.
Travel Information for Queensland Visitors - Queensland Tourist Safety Information - regularly updated, official website.
COVID-19 FAQ's For Activities, Tours, Cruises & Theme Park Tickets - General Ticket & Pass FAQs and COVID-19 Travel Update.
Thank you for your understanding and patience at this really difficult time.

Annie Rettie
Gold Coast Australia Travel Tips - Owner
Which Sea World Attractions and Rides Will You Try?
Best Of MovieWorld, Sea World & Wet n Wild

3 DAY PASSES
3 Days Entry To Movie World, Sea World & WetnWild
3 Days Entry To Movie World, Sea World & WetnWild PLUS Hop On Hop Off Ferry Day Pass
7 DAY PASS
7 Day Pass to Move World, Sea World, WetnWild AND Paradise Country

14 DAY PASS
14 Day Pass to Move World, Sea World, WetnWild AND Paradise Country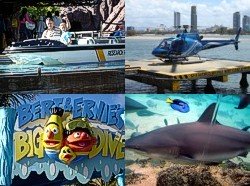 Attractions past and present at Sea World!
Bermuda Triangle, Sea World Helicopters,
Sesame Street kids area & Shark Bay.
Sea World attractions include shows, animal exhibits, rides and tours.
Planning your itinerary at Sea World will help you to maximise your visit, unless you buy a special combo Theme Park Pass in which case you can spread your fun out over a couple of days.
Planning is the key to making the most of your time at Sea World...
AND ....
avoiding the embarrassment of explaining to the kids why you missed Seal Show or the Polar Bears!
What will you do? Here are a few options to get you excited....
Ride the Storm Coaster
Fly in Sea World Helicopter
Play in the kids zone at Beach Break Bay
Watch Jet Stunt Extreme show
Dive with the sharks in Shark Bay
Splash in the Sea World Resort Water Park
Visit the Penguins in the Antarctic Exhibit at Penguin Encounter
Whatever you decide to do....PLANNING IS ESSENTIAL!
The show schedule changes, which means I cannot give you a failsafe itinerary! We always grab the schedule on the way in and then work out what we plan to do.
Sea World attractions, rides and exhibits are mostly open all day (except for maintenance, extreme weather conditions or other reasons). However, the shows only run at certain times.
We try to plan around the shows we want to see. Without an itinerary for your day at Sea World you can easily find yourself hiking from one end of the park to the other several times. Not good if you have young children!
Obviously, if you have booked an animal adventure, helicopter tour or Sea World Whale Watch or Cruise, you need to work around those times as they are not flexible!
The main animal attractions at Sea World on the Gold Coast are:
Sea Lions
The famous Sea World dolphins!
Polar Bears - amazing viewing above and below the waterline.
Shark Bay - incredible viewing of sharks, fish and rays from above and below the waterline
Pelicans
Penguins - including amazing Antarctic Penguin Encounter exhibit
Manta Rays - and there's a touch pool
Please note, especially if you are visiting from overseas: There are NO whales at Sea World on the Gold Coast. That means there are no orca's, no killer whales nor any type of whales. However, there are Sea World whale watching tours from June to November each year to see the migrating humpback whales off the coast.
Sea World Attractions - Shows
Fish Detectives Sea Lion Show
This is a great show for kids and adults! Sit in the arena, but don't sit too close unless you want to smell a little fishy... Although kids of all ages will enjoy this, you may find it a little slow for the really young ones, so be prepared with a few distractions (food and drinks always worked well for us).
Dora's Best Friend Adventure Show
Great show for the little, little ones, especially if they LOVE Dora The Explorer including lots of singing and dancing. I would imagine most children 6 and under would enjoy this one. You will definitely get some brownie points to be stored up later when you are doing other things you want to do!
Jet Stunt Extreme
This show is on the Sea World Lake and you will see extreme jet ski manoeuvers and aerial jumps. It's all over fairly quickly, and it's worth getting a good seat so you can see and hear what is going on. This is another one of those dual purpose activities. It's a time to sit down, rest your feet and refuel whilst waiting for the show. The stands are near the entrance to the theme park, and the food hall area. So you can select your food of choice and kill two (or three) birds with one stone, as they say!
Imagine Dolphin Show
Sea World dolphin show is a must see. The dolpins at Sea World are incredible, make sure you have your camera ready. If you don't mind getting a bit wet sit in the front row!
We see this show every time we go to Sea World.
It's very popular so make sure you get there around 20 to 30 minutes before the show starts to make sure you get a seat. It is a huge arena, but they do close it when it is full.
During peak times they have vendors at the front selling cold drinks, icecreams and other sweet treats. It's not a bad spot to refuel whilst waiting for the show. In the Castaway Bay area, there are other options for snacks, so you might want to get that organised before you go into watch this show.
It's at the opposite end of the theme park to the main entrance and close to both Castaway Bay and Sea World Resort, which is why planning is so important. Work your way down to this end, or do what we do, which is go straight to that end of the park, watch the first show then work our way back!
SpongeBob 3D
This is a great spot to cool down on a hot day, airconditioned, inside theatre! It's a lot of silly Spongebob style fun. Fun for all the family
SpongeBob Parade Pants
This is often the last show of the day and you'll find lots of silly SpongeBob fun as the Sea World lake is transformed into Bikini Bottom! Younger kids will love it and love you for letting them watch it.
Camp Orange: Force 10
This is a children's show that is filmed at Sea World & Sea World Resort. It's hit and miss whether they will be filming when you visit, but look out for it. If your kids watch this show, then they will probably recognise some of the places it is filled. We have been in Sea World a few times when they were filming other children's programs such as Totally Wild and the kids love it.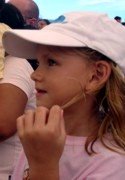 One of the best attractions of Sea World?
Seeing the kids enjoying the show!
Don't forget to photo the children's faces as well as the Sea World attractions or shows.
Some of the photos I have like this are priceless memories of happy holidays and fun together as a family.
Please Note: Retired Sea World Shows
Gold Coast Sea World Shows that have been retired and are no longer running include:
Waterski Wipeout Show (Last show in 2010) which included a bit of nostalgia about the original use of this Gold Coast theme park and some Australian humour!
Hunt for Golden Seal was a fabulous, almost Indiana Jones style show with the amazing Sea World seals. It was replaced by Fish Detectives in 2008.
Planet SOS in 4D was a mix of entertainment and education. Personally, I found it a bit scary for little kids but the older kids will definitely enjoy.
Happy Feet in 3D showed until replaced by Spongebob in 3D.
Sesame Street Show replaced by Dora's Best Friend Adventure.
Sea World Attractions - Rides
Sea World has a range of rides. On some rides there are height restrictions, weight, health or requirements for adults to ride with children under 14 years. Some rides are definitely NOT suitable for smaller children, whilst some are specifically for the littler kids! Footwear must be worn on all rides.
For some of the height restrictions you will find both minimum and maxiumums - make sure you read the signage at the entrance to each ride.
Beach Break Bay (for the little kids)
This area was formerly Sesame Street Beach and before that Cartoon Network Beach. So, if you have been to Sea World before, you might not recognise the name, but you would definitely recognise the rides. This is an awesome area for the little visitors! Rides, gorgeous old fashioned horse carousel and some water fun too.
In late 2011, Nickelodeon and Nick Jnr themes were introduced to Sea World and this area has been rejuvenated with characters from their shows. This is where the Dora's Best Friends Adventure Show is located.
Sky High Skyway (All Ages)
Cable Car ride that takes you from near the park entrance to about halfway. You get a great view of the dolphin ponds, Shark Bay and Polar Bear Shores from above. I think you can get about 4 in a pod. It is open air and closes in high winds. Children under a certain height cannot travel alone without an adult - but I don't know why you would do that anyway!
I'm all for making it more interesting, and I really like this ride. Not only do you give your legs a rest, but you get awesome views that you just wouldn't see if you were on the ground.
Sea World Mono Rail (All Ages)
The monorail takes you around the park in a monorail car which is totally enclosed. Stops at top of the park, the water park area and Sea World Resort.
Once again, it's a great way to give your legs a rest, and see some parts of the park you cannot see any other way - like the back of the dolphin pools.
We often go on it later in the day, especially if we find ourselves at the opposite end of the park to where we want to be!
Castaway Bay (All Ages, but some restrictions)
This area has some but not all "Pay as You Play" attractions which are NOT included in your entry ticket nor theme park PASS. You can still enjoy quite a few things in this area without having to pay extra, but I thought I would let you know that this is an area where you may have to part with some extra money!
Fun for the whole family, but do expect to get WET! Like many of the rides and attractions, some of the elements of Castaway Bay have age, height and health restrictions, check the information displayed at each ride. Castaway Bay at Sea World includes:
Battle Boats including massive fun with water cannons!
Sky Fortress is a kiddies adventure heaven with 5 levels of rope bridges, tunnels and adventure!!
Sky Climb is a rope challenge 12 metres above the ground. Not for the faint-hearted! This is a pay to play attraction.
Jet Rescue (Age, Height & Health Restrictions)
Board your jet ski and go on a jet ski rollercoaster ride to save the sea lions and aid their escape from the cave! Board as a Sea World visitor and exit as a marine hero! Quite a thrill ride this ride has age, health and height restrictions. This ride closes in certain weather conditions.
Vikings Revenge Flume Ride (Height Restrictions)
Fun ride for the family. Float along the river in a viking style canoe, up onto the top of a castle and then splashdown the other side! Kids have to be over 95 cms tall to ride this ride, but great for the family. Expect to get a bit wet, but awesome for the whole family to enjoy together.
Storm Coaster (Height & Health Restrictions)
Opened in late 2013. All I can say is WHOA! Seaworld just got a whole lot more thrilling when this opened. Water, rollercoaster and flames! It's definitely a thrill ride!
You'll get both hot and wet on this ride, and I bet your heart rate will go up.
Please Note: Retired Sea World Rides:
Gold Coast Sea World Rides that have been retired and are no longer running include:
Sea World Eye - A large ferris style wheel with enclosed capsules that took about 6 people on a birds eye trip up 60m with views all along the coast. Removed in early 2008 - sadly as it was an awesome view! The "Eye" was relocated to Surfers Paradise is is now known as The Wheel of Surfers Paradise.
Cartoon Network Beach - kids play area transformed to Sesame Street Beach and now to Nickelodeon characters in 2011/2012.
Bermuda Triangle was a boat ride that took you inside a volcano. I think they had a few fires through the years! Finally, retired in 2010 or early 2011 I think.
Corkscrew Rollercoaster - This was the thrill ride of Sea World until the newer rides like Sea Viper and Jet Rescue were created in 2010. Our older daughter would spend all afternoon on this one!
Pirate Ship - another old favourite at Sea World was replaced by the new rides Sea Viper and Jet Rescue.
Grand Central Train Tour - sedate train ride that went around the park.
Sea Viper- an exhilarating roller coaster ride with a triple loop the loop. Decommissioned during Winter 2014.
Sea World Attractions - Kids Zone at Beach Bay
Carousel at Sea World
This area has be rebranded a few times, but it is essentially a kids zone in Sea World with a variety of child sized rides and attractions. It includes several rides specifically for the younger children including an old fashioned carousel.

When our little one wouldn't or couldn't go on the big rides we would do a couple of rides as a family and then split up with our older child doing the thrill rides, whilst the younger one did the kids rides. It works well for everyone. Then we all have an ice-cream! Now there is also an Intencity Games area as well as a wet play zone.
Back to Top of Sea World Attractions
Sea World Attractions - Animal Adventures
The Animal adventures just keep growing... at last count you can do the following! But it does change a bit so make sure you check it out. I really recommend you book before you visit, otherwise you may be disappointed.
Meet the Dolphin Animal Adventure - New for the winter season (and possibly only limited to that season). You don't get too wet and cold as you only venture into the water to your ankles!
Penguin Antarctic Adventure - NEW - 45 minute adventure with 20 minutes on the ice with the King and Gentoo penguins. This one has me very excited to try it, I LOVE penguins...
Glass Bottom Boat - NEW - view the sharks in Shark Bay from above. The adventure takes about 20 minutes with 15 minutes on the water. I think this sort of replaces the Reef Helmet Dive, but certainly opens up the audience to those who don't fancy getting wet or that close to the fish and marine animals.

Manta Ray in Shark Bay
Tropical Reef Snorkel - you need to set aside an hour for this, though you will only be in the balmy reef lagoon with it's 26C water temperature for about 20 minutes. Great option to get a feel for what snorkelling on the Great Barrier Reef would be like. Good for kids 10 years and over through to adults.
Shark SCUBA - this adventure is seasonal and only available during school holidays. Allow an hour with about 20 minutes in the water.You actually need to be able to SCUBA and have a dive certificate to do this dive. You only dive in the reef lagoon and will see an array of colourful fish and stingrays as well as smaller sharks. You can see the larger sharks through in the main lagoon.
Shark Encounter - how do you fancy being involved in feeding the large sharks? From the safety of an acryllic cage you will be accompanied by a shark bay diver who will feed the large sharks in the main Shark Bay lagoon. SCUBA with certification or snorkel if you don't. You'll need to allow about 2 hours for this tour with 30 minutes in the water.
Behind the Scenes at Polar Bear Shores - this tour takes you behind the scenes at the home of the Gold Coast polar bears, but you will not have contact with the polar bears. Still looks awesome. Expect the tour to take about an hour.
Dolphin Aqua Adventure - Learn and interact with the dolphins in their environment. Allow about 45 minutes with 20 minutes with the dolphins. Be prepared to get wet, you will need to put on a wet suit! There are three versions of this Sea World attractions. All slightly different:
Adults Only - deep water experience
Kids (5 yrs to 13 yrs) - shallow water experience
Family - for adults with children 13 years and under.


Trainer for a Day - spend 4½ hours walking in the shoes of a Sea World Animal trainer! Spend the time learning about dolphins and dolphin training. Open to adults and children 14 years and older.
Seal Safari - 45 minute education and interaction with the seals, although you won't get wet on this one... but may ending up smelling a little fishy!
Seal Aqua Adventure - allow 45 minutes with 20 minutes in the water with the seals. You will put on a wet suit and get up close and personal with the seals!
If you stay at Sea World Resort there is also an exclusive Dolphin Discovery that they put before the park opens exclusively for resort guest who stay for 2 or more nights. Sea World Resort guests also have unlimited access to the Sea World Water Park which is a seasonal activity. Apart from the convenience, this is another great reason to stay at the resort!
Please Note: Retired Sea World Animal Adventures:
Gold Coast Sea World Animal Adventures that have been retired and are no longer running include:
Reef Helmet Dive was
suitable for non divers.
Shallow Reef and Ray Adventure
Reef Helmet Dive
Dolphin Backstage Pass
Back to Top of Sea World Attractions
Sea World Attractions - Excursions
These Sea World attractions and the Animal Adventures are not included in the price of your Sea World tickets.
You will need to book your tickets for these separately.
This should give you a taste of what you can expect on a day at Sea World.
Attractions are obviously sometimes not open due to scheduled maintenance and other factors.
Best to check when you arrive at the park so you can plan around it. This is usually quite well signed in the park.
Custom Search