Surfers Paradise Apartments Guide
COVID-19 Pandemic & This Website
The COVID-19 Pandemic has had a huge impact on local Gold Coast businesses, which rely heavily on visitors from Queensland, interstate and overseas.
During this time, it is hard to keep the website fully up to date with all the changes. In the meantime here are some resources for visitors. Our main booking partners for hotels and for tours, tickets, theme parks and activities are keeping everything up to date, so please use those resources in the meantime.
Travel Information for Queensland Visitors - Queensland Tourist Safety Information - regularly updated, official website.
COVID-19 FAQ's For Activities, Tours, Cruises & Theme Park Tickets - General Ticket & Pass FAQs and COVID-19 Travel Update.
Thank you for your understanding and patience at this really difficult time.

Annie Rettie
Gold Coast Australia Travel Tips - Owner
Surfers Paradise Apartments Are A Popular Accommodation Choice.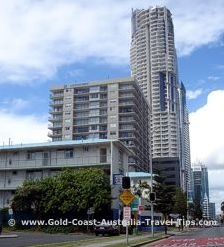 Surfers Paradise accommodation varies
3 star motel to luxurious Chevron Renaissance.
Surfers Paradise Apartments
Holiday apartments are a popular choice for Surfers Paradise accommodation, mainly because there are so many of them!
There are a few differences between apartment and hotel accommodation which I explore in Are Apartments Better Than Hotels?
Worth a read if you haven't yet decided what type of accommodation will best suit you.
There are almost too many options for holiday apartments in Surfers Paradise! Don't despair - that's one of the main motivations for this website!
I have tried to lay out these pages to help you work out where to stay. Simple things like:
Type and Number of bedrooms. Choose between Studio, 1 bedroom, 2 bedroom or 3 bedroom apartments, depending upon what you think will work for your holiday.
Star Rating. I have tried to give a cross section of apartments including 3 star, 3½ star, 4 star, 4½ star and 5 star. The ratings I use are a guide only. Ratings change so please check with the property or use a ratings group such as AAA Tourism to check these out for yourself. Ratings are not always an indicator of price, but will give you some idea.
Price Range. Price ranges are so hard to compare apartments with, because we are not really doing an apples to apples comparison.
Features and Facilities. Is this a good choice for families with young children? Apartments with spas? Which apartment resorts have tennis courts? Which are closest to the beach? Where are the absolute beachfront apartments? Do any apartments in Surfers have indoor pools?
Location. Pinpoint your Surfers Paradise apartments on a map to put it into perspective. You can see what is close by and even see what the accommodation looks like.
I try my best to ensure that my information about Surfers Paradise apartments is accurate by doing my own research, but things do change! Let me know if you find anything and I will check it and fix up!

I won't apologise for the fact that I list so many apartments. I have kept it to the ones I consdier to be the better apartments in each category. Personally, I would stay in any one of the 4 star or above properties.

That is not to say that there are not good 3½ star ones but I find that there is much more variation in the quality at these levels. For me 4 star and above are safer bet. You will have to decide for yourself.
Look around this site in detail, there is lots of information and if you drill down you will get specific information on the accommodation and be able to compare great deals.
The information is not exhaustive and there are other Surfers Paradise apartments. This is only a guide.
Tips for Selecting Holiday Accommodation
I found that when I was planning a Gold Coast holiday I was overwhelmed by the choices. Even when you have narrowed down your choice to the suburb there is still quite a bit to choose! Surfers Paradise has the most accommodation choices.
No need to be overwhelmed, a bit of planning and thought may help save you time by narrowing down your search. Check out my guide to selecting holiday accommodation which gives you some ideas about things to consider to help narrow down your search.
I also blow the lid on some common assumptions that with a bit more research can make a big difference to your comfort in your chosen accommodation.
Not Sure You Want To Stay In Surfers Paradise?
The Gold Coast offers so much, it is a bit daunting unless you know what you really want.
Check out the Gold Coast suburb by suburb guide to help you narrow down your search for where to base your holiday. Or search using my Gold Coast Map. You will find information on other Gold Coast suburbs, local attractions, travel information, tips and other accommodation ideas.
Custom Search