Surfers Paradise Beach Guide
COVID-19 Pandemic & This Website
The COVID-19 Pandemic has had a huge impact on local Gold Coast businesses, which rely heavily on visitors from Queensland, interstate and overseas.
During this time, it is hard to keep the website fully up to date with all the changes. In the meantime here are some resources for visitors. Our main booking partners for hotels and for tours, tickets, theme parks and activities are keeping everything up to date, so please use those resources in the meantime.
Travel Information for Queensland Visitors - Queensland Tourist Safety Information - regularly updated, official website.
COVID-19 FAQ's For Activities, Tours, Cruises & Theme Park Tickets - General Ticket & Pass FAQs and COVID-19 Travel Update.
Thank you for your understanding and patience at this really difficult time.

Annie Rettie
Gold Coast Australia Travel Tips - Owner
All you need to know about Surfers Paradise beach!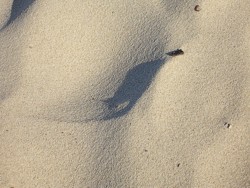 What is it about the beach at Surfers Paradise that has all the world talking?
Is it the sand? Is it the surf? Is it the size? The Aussie lifeguarts? Or is it that is just epitomizes Australian beach holidays?
Everything you need to know about Surfers beach! And a few photos too!
Surfers Paradise Beach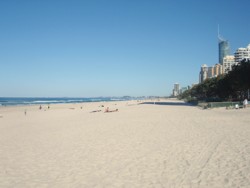 Photo of Surfers Paradise beach
taken in August, mid winter in
Gold Coast. How good is that!
Surfers Paradise beach is world famous. Of that there is no doubt. Whenever I go down to Surfers beach I love to pick out the first time visitors.
How can you pick them?
They tentatively walk on the beach and paddle at the edge of the water. Are they emersing themselves in the moment they achieved a lifetime dream?
Or are they acknowledging the pure natural beauty of this awesome stretch of sand and surf?
Surfers beach, it isn't about the high rises, it is all about the beach. Swim it, surf it, walk it, lie on it or build castles in the sand, it is certainly a highlight of any trip to the Gold Coast.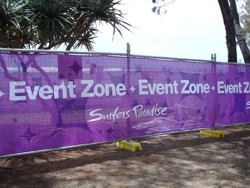 Surfers Paradise beach was named as a Queensland icon in the Q150 Top 10.
State of Queensland turned 150 years old in June 2009 - hence Q150!
To celebrate they put out a list of Queensland Icons and Surfers Paradise was on it!
Surfers beach is pristine, every day it is cleaned and groomed and treated with the respect it deserves.
What ever you do though, come prepared! It goes without saying to SLIP, SLOP, SLAP! Don't know what that means? Sun protection. Slip on a shirt, slop on the sunscreen and slap on a hat.
Some people go to extremes though and aren't prepared to enjoy the beach! I see some visitors, especially those on commercial tours, who come formally dressed. Not wanting to miss the moment they take off their shoes and socks, roll up their suit pants and for a moment it doesn't matter that their good clothes get wet with sea water! It just proves how special it is.
Surfers beach is the centre of many events. Not just surfing and ocean events, but events held on the beach such as concerts and other entertainment. During schoolies week in November each year Surfers beach has a section cordoned off for the sole use of the schoolies so they can enjoy their special entertainment as safely as possible.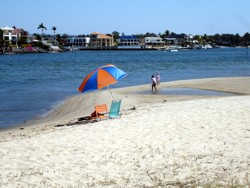 If you ever feel like you need to get away from the buzz that surrounds Surfers, there is another beach in Surfers Paradise that is quite a world away!
On the other side of the Gold Coast Highway, near Adrenalin Park, you will find a little piece of quiet, Budds Beach - the other Surfers Paradise beach!
This beach fronts onto the Nerang River, there isn't a patrol, but it is a great little spot. Linger for a while and enjoy coffee and cake at Bumbles and do some souvenir shopping in Suga Suga.
Swimming at Surfers Paradise Beach
Can you swim at Surfers Paradise beach in the winter?
Absolutely ... However, my word of caution is always swim between the flags and pay attention to the surf lifesavers on duty. Read the board, learn about the rips and stay safe.
The weather in Gold Coast winter can be superb, and the water temperature usually doesn't go much below 20C.
Another good reason to stay between the flags is the lifeguards keep an eye out for any ocean hazards, like stingers or sharks. Not that I am trying to frighten you, but they are there! My rule is quite simply to swim between the flags and make sure I am not the furthest person out!
Rips, sweeps and currents can be very strong along the beach, and you can be pulled out of the flagged area, so always keep an eye on things and make sure you know what to do if you get caught in a rip.
When you have children, make sure an adult is supervising them at all times in the water. We try to stay one on one, one adult to one child, just to be sure.
Flagged Areas on Surfers Paradise Beach
Surfers Paradise beach has several flagged or patrolled areas along its 3kms of beach stretching from South Narrowneck in the north to Wharf Road on the border with Broadbeach to the south.
All these areas are patrolled daily every day of the year and if the lifeguards have flagged the beach and they are suitable for swimming in the flagged areas. Always read the patrol board and take note of any unusual conditions. Surfers Paradise beach patrol times are usually 8am to 5pm. During summer from mid December through to end of March patrols start around 6am and finish at 6pm. There may be some variations but these are usually about the times.
Patrolled beaches will be found in the following areas on Surfers Paradise beach (from north to south).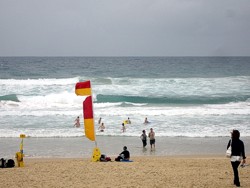 Always swim between the flags
on the beach.
South Narrowneck
Surfers North near Staghorn Avenue
Elkhorn Avenue
Surfers Paradise - near Cavill Mall
Clifford Street
Northcliffe
Wharf Road
Support the local lifesavers by eating at one of the Gold Coast Surf Life Saving Supporters Clubs. These are members only clubs, but visitors may sign in and use the facilties. SLSCs have the best views, and often the food is good value. Breakfasts can be especially good!
Surfers Paradise Supporters Club has a bar and bistro and is located just south of Cavill Mall on the Esplanade.
Northcliffe SLSC Supporters Club also has a bar and bistro open for breakfast from 7.30am daily and dinner till around 9pm. Northcliffe SLSC is located on Garfield Terrace near Thornton Street a short stroll south from Cavill Mall.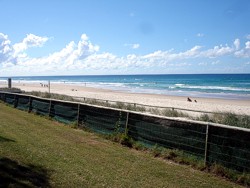 Surfers Paradise beach from
Elkhorn Avenue looking north.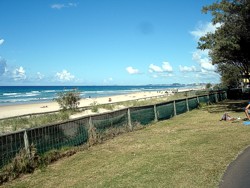 And south! 3kms of beach
at Surfers, lots of space.
Surfing at Surfers Paradise Beach
Is it really a surfers paradise?
This beach is certainly a place where you will see surfers. But rarely the die hard Aussie surfers. They'll be trying to catch the great breaks at Currumbin Alley, Nobby's, Kirra or Burleigh.
You will see the beginner surfers, boogie boarders, body surfers, kite surfers, windsurfers and on the Sundays Aussie nippers and surf life savers practicing their beach and surf manouevers. For these surfers it is an ideal spot.
There are several surf schools in Surfers Paradise who use the beach and surf to teach newbies. I've watched them, they start on the sand and progress to the surf. They seem to have a good success rate of getting the would be surfers standing up catching their first wave. I am not expert, but it certainly looks to me like a good place to learn to surf. I keep saying I will give it a try... one day!
You will see other kinds of surfing going on and the skim boarding craze too! Surfers beach is a great for skim boarding when the tide is low.
WebCams Of Surfers Paradise Beach
You can check out the beach at Surfers Paradise with a live streaming webcam. Watch the beach and surf to check out the conditions before you arrive!
Surfers Paradise Guide Quick Links
Custom Search