What To Pack & What To Buy
When Travelling To Gold Coast Australia
COVID-19 Pandemic & This Website
The COVID-19 Pandemic has had a huge impact on local Gold Coast businesses, which rely heavily on visitors from Queensland, interstate and overseas.
During this time, it is hard to keep the website fully up to date with all the changes. In the meantime here are some resources for visitors. Our main booking partners for hotels and for tours, tickets, theme parks and activities are keeping everything up to date, so please use those resources in the meantime.
Travel Information for Queensland Visitors - Queensland Tourist Safety Information - regularly updated, official website.
COVID-19 FAQ's For Activities, Tours, Cruises & Theme Park Tickets - General Ticket & Pass FAQs and COVID-19 Travel Update.
Thank you for your understanding and patience at this really difficult time.

Annie Rettie
Gold Coast Australia Travel Tips - Owner
What To Pack & What To Buy Locally When You Arrive
Knowing what you should pack and what you can leave behind or buy locally can make your packing so much easier. Some items, can be easily and inexpensively bought here or hired.

On this page, I am going to cover a few of the main categories with suggestions for your travel packing and what you can buy when you get here.

I'll be including ideas for where to buy the items, so you don't have to pay "tourist" prices.

If you are still planning your trip to Gold Coast, you may find planning cheat sheets, tips & tools helpful in working out where to stay, your itinerary and the things you want to do.

Happy Planning and Happy Packing...

Annie Rettie
Gold Coast Australia Travel Tips - Owner
Join the conversation or just check us out...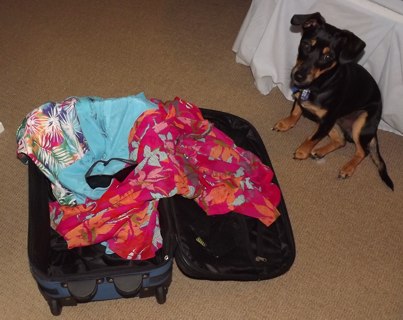 Always Check What You Pack -
Don't turn your back for a minute!
What To Pack - Packing Suggestions
Before you start packing your bags, make sure you are aware what you can and cannot bring into Australia. It's also worth checking with the airline you will fly with, what their luggage limits and requirements are for both checked luggage and for cabin or carry-on luggage.
Each airline has some similar and sometimes very specific requirements, so always check with your airline.
If you are travelling from overseas and then taking an internal flight in Australia on one of our domestic airlines, you may find that the luggage weight limits are significantly different. Make sure you are familiar with these details and plan around it. Excess baggage fees are an unwelcome extra expense on a holiday.
As well as knowing the baggage limits, I am always very careful how I pack my bags, as well as what I pack in them. It's always best to avoid carrying anything that may require you to unpack your bags at customs. Especially after a long flight!
Australia has very strict quarantine laws. There are even requirements when coming interstate into Queensland.
International travellers have to fill in detailed questionnaire before coming through customs. Make sure you read the information carefully and make your declarations.
Aside from all the usual prohibited items (weapons, drugs, etc) food, plant and animal products are what our highly trained quarantine officers and their sniffer dogs are looking for.
For example, if traveling with your own prescription medications make sure that they are correctly labeled and only an amount that is reasonable for your requirements during your stay. We always carry a letter from the doctor, in addition to the presciption whenever we travel overseas. Better to have too much information than too little.
A Cautionary Tale
My mother traveled separately to my father once, and carried his medications in addition to her own. Even though it was quite legitimate, she had quite a bit of explaining to do at Customs in Melbourne, and she wasn't really in the mood for that after her 24 hour flight from London!
Another area where you can be caught out is if you forget about those extra snacks packed in hand luggage for the trip - I do this all the time. If you do, leave them on the plane or put them in the special bins before you get to customs.
This all can seem a little unnecessary, but it is not. Australia has such a unique environment, free from many pests and diseases in our crops and it is important to the future of Australia that it remains that way so we can all enjoy it.
Must Have Items
Below are a range of general topics of items to bring or buy. You will find suggestions for either packing or buying here, but these are Must Have items.
Sun Hats
Sun hat – a wide brimmed hat is best to help protect neck, ears and face. Caps, whilst they look good, don't give that much protection. Sun screen alone will not protect you fully.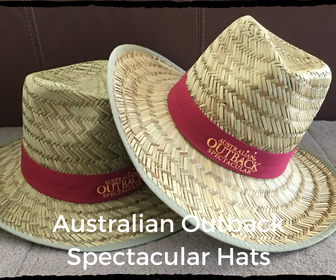 Souvenir Hat from Australian Outback Spectacular
Show makes a great Sun Hat!
You can buy a hat in Australia and make a statement at the same time with something like an authentic Australian Akubra hat to wear and take home! Or double the fun with souvenir, memories and sun smart hat by booking in to Australian Outback Spectacular and get your complimentary Souvenir Bushman's Wide Brimmed Straw Hat to wear at the show and then use as your Sun Hat!
Sunscreen
Sun screen – bring your preferred brand of sun screen with you, if you are particular about this.
Make sure it is at least factor 30+ and water resistant so that you don't have to reapply it too often when swimming, at the beach or doing watersports.
Sun screen is available in supermarkets and chemists/pharmacies.
Best to bring a small amount with you, as you'll need it straight away! When packing in your luggage, tie tubes or plastic bottles into a plastic bag so that if they do leak, they don't ruin everything else in your bag. Another trick I use is to remove the lid, cut a small square of clingwrap and put it on the bottle top then screw the lid back on. I still wrap and seal as well!
A pump-pack is very useful if you have children to put sun screen on, but is not the easiest to travel with. Best to buy here and aim to leave behind when you go!
Zinc gives great protection from the sun for noses and cheeks – however you need to be careful with zinc cream on clothes and in eyes – not good!
Swim Wear
Swimming suits, bathers, cozies, togs – call them what you will. It's nice to think you will be parading along the beach like a Baywatch star – and there are times to do that and lots of places to buy some uniquely Australian designs.
But if you are planning on spending a lot of time at the beach, in the water or have kids with you – it is well worth looking at sun-suits for use on the beach, in the water or at the theme parks.
These suits are usually factor 50+ sun protection. The best suits cover full arms and legs – but even half legs and arms help protect delicate young skin.
Adults usually wear rash tops over their togs.
If you plan to spend the day at one of the local water parks (Wet n Wild or WhiteWater World) it is really a good idea for the kids to wear a sun-suit. That way you won't spend the rest of the holiday nursing a miserable child with bad sunburn.
If you can't find a suit before your trip, they are easy to find in surf and beachwear shops and chemists or pharmacies.
Although you probably wouldn't want to wear a sun-suit all day at the other theme parks, they all have some wet water play areas, so wear clothes that are good to get wet and dry quickly!
Rain Protection
Wet Weather Gear - Rain jackets, ponchos, cagoules that pack into a small bag are an excellent item for all travelers. They double up as protection against wind and rain, and to keep you warm if the weather is a little cooler than expected.
Rain jackets are useful all year round. Pack them – just in case - they don't take up much room. If you need to buy one when you are in the Gold Coast, you can buy one from any outdoor adventure shop.
Beware of the ones they sell at the tourist venues, they are mostly only good for one use. Come prepared – it's a great investment.
You can also bring a small travel umbrella, but you won't get as much protection as a rain jacket.
Footwear
Shoes - It goes without saying, if you are going to be sightseeing, rainforest walks or doing any walking, a good pair of walking shoes is a must!
A pair of flip-flops (or thongs as Aussies call them) for going down to the beach, or pool – easy to slip on and off.
If you are doing any water based activities a pair of reef walkers or river sandals are also great.
Casual shoes are easy to find in Australia – most stores can help you with sizing, but if you have narrow feet beware! Most shoes these days are made for the average, wider foot.
General Clothing
In the summer it gets very hot and humid. For the extreme heat you are best to wear light cotton or silk (natural material) clothing.
Some people like the synthetic, quick dry materials – your call, but it is very hot and humid in Summer.
There are some great, easy travel clothes you can buy in Europe and USA.
In general you will want to pack at least some shorts and t-shirts for most holidays - even in our winter we can have amazing days with sunshine and blue skies.
Long sleeved shirts and loose long pants or skirts can protect you from the sun on sunny days. Make sure the material is not too heavy or you'll be too hot in Summer.
During the Gold Coast Winter Season (June to August inclusive), you will most likely still have some days when you can be in shorts during the day. You will also want to pack some warmer cloths such as longer pants or clothes to cover up for the evenings and cooler days.
How do you tell who is a local?
Easy, we dress like it's Siberia in the Winter!
Casual and Smart Clothes
Depending on where you are staying and what you are doing, it is worth packing a couple of outfits for those more formal places.
Australians are generally very casual, and most places have very easy going policies on dress.
However, if you want to eat in one of the fine dining restaurants on the Gold Coast you will need to bring some more formal wear such as shirt, jacket and tie – for the men and a smart little number for the ladies.
For us ladies, we barely need any more encouragement to do a little local Australian shopping!
Great boutique clothes can be found at Marina Mirage on Seaworld Drive, Main Beach.
Pacific Fair Shopping Centre, at Broadbeach, has a mixture of boutique and regular retail shopping.
Harbour Town at Runaway Bay has some excellent local and overseas outlet shops for designer labels at discount prices.
Beach Items
Buckets and Spades - items of necessity for vacations to beaches with kids!
Not worth the effort to bring with you - best to buy in the supermarket (Coles or Woolworths), Crazy Clarks, The Reject Shop or another $2 Store. You will pick them up for a couple of dollars, rather than paying the tourist prices which could be 5 to 10 times as much for the same items!
Save the money and buy them an ice-cream from Cold Rock Ice Creamery instead!
Items You Can Pack or Buy – Your Choice
Some items are bulky or just don't need to be bought before you leave home. It's your choice if you want to buy them locally (and support the locals) or bring them. Just make sure they aren't in the prohibited category. I also tend to avoid items that I might have to declare - I'd rather not have the bother.
Disposable underwater camera
Books and magazines - or download to your kindle, ipad, tablet or phone
Insect repellent - get the local version at a pharmacy or supermarket
Non-essential toiletries – shampoo, conditioner, soap, hair styling products (you cannot take aerosols or flammable items on board planes so best to buy when you arrive)
You may want to bring your own beach towel, as most accommodation won't let you take their towels onto the beach. You maybe able to hire towels and other beach items. Towels are quite bulky, so I tend to make this a hire or borrow item!
You may be able to hire larger items from your accommodation, or one of the local hire companies. There are companies that hire out surfboards as well as those that hire out highchairs for babies and other accessories.
These are just a few suggestions, there are always lots more. If you want a more comprehensive list I suggest you subscribe to our travel planning sheets and tips and you can check out the more comprehensive Travel Packing List.
After many years of planning trips with my family both locally and overseas, I've created many resources to help you through creating an itinerary and plan that will have you seeing, doing and experiencing the best the Gold Coast has to offer you.
You can do it yourself using the resources on this website by starting here.
Or you can cut some corners and get my travel planning sheets and extra resources.
When you are ready to book your Gold Coast travel arrangements I've hand picked the best resources for all aspects of your travel itinerary. You can feel confident that you are accessing the best local and global travel providers for your holiday.