When To Visit FAQs for Gold Coast
You've got some questions about when to visit Gold Coast? If so, this is the place to be!

Over the years I have been asked many different variations. On this page you will find links to the main questions and answers and you have the opportunity to ask a question yourself, if you cannot find a good answer for you.

If you are ready to start planning your holiday to the Gold Coast Click Here to find out about my planning cheat sheets, tips & tools to step you through!

Annie Rettie
Gold Coast Australia Travel Tips - Owner
Join the conversation or just check us out...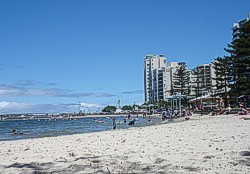 Beaches are great year round in Gold Coast.
Frequently Asked Questions About Visiting Gold Coast
Before we get to the questions, I suggest you check out the ones already asked and answered and if you cannot find a suitable answer for your question, please feel free to ask me directly through my contact page so I can get back to you personally.
The questions and answers here are more about deciding between different months or times of the year, or about specifics of when to visit for particular things. If you are want to know information such as what will the weather be like in March or April then check out the monthly pages as each one has it's own Q&A at the bottom of the page, in addition to all the great information in the page.
There are many resources on this website so use the search bar or by check out these other suggestions of resources where you may find the answer to your questions.
Do You Have A Question About When To Visit The Gold Coast?
Ask a specific question about the best time to visit the Gold Coast, Queensland or Australia is and I will try my best to point you in the right direction.
What Other Visitors Have Asked
Click below to see questions from other visitors to this page...

Best Time To Visit Gold Coast By Month
Other Resources For Deciding When To Visit
In addition, to the questions and answers above, there are many other resources on this website for helping to select the right time for your to visit the Gold Coast.
When to visit can depend on so many things like....
Weather Considerations
What kind of weather do you want on your holiday? Warm, cool, stunning?
I get asked many questions about the weather that relate to choosing when to visit. Some want to know:
When it is cooler than Malaysia or Singapore?
Or, when it is warmer than Melbourne? Easy answer...most of the time... haha!.
Or, when it is least likely to be raining?
These are great questions, but over on the weather page you will find some answers to questions, you might not even have thought to ask.
Who is Travelling With You?
Who is coming on the holiday and what are their requirements?
Are you travelling by yourself as a single?
Or as a couple?
With family? Young children? Teenagers children? Seniors and older parents?
With each of these different combinations there are other questions that need to be considered. If you are travelling by yourself you have only yourself to please. Travelling with others means you need to consider things like:
Can everyone cope with the heat and high humidity during Summer?
Will the water be too cold for the small children during mid Winter?
Will you mind the crowds in the main school holidays?
To help with these questions and many more, I highly recomemnd my planning sheets - they really help with this kind of thing.
What's Your Budget?
Making your holiday dollars go further is often a priority for planning a trip. You certainly want to be spending money on enjoying the experience.
Can you travel in off peak times? Outside of the main school holidays? What are the best deals to be had for accommodation, flights and activities?
When are School Holidays?
Whether you have school age child or not, knowing when school holidays are is really important.
Do you have to avoid them? Or can you sneak in a holiday outside of the main holidays and save yourself some serious money? Can you avoid them or do you have to fit in with them?
When Are The Main Events Around Gold Coast?
The Gold Coast is very well placed to host large events. Many conferences and conventions come here every year. But there are some events that seem to take over the whole town or sections of it. Knowing when they are on, means you can either join in or avoid!
Here are some of the events you might want to look out for:
Sanctuary Cove International Boat Show - Late May annually.
Gold Coast 600 a motorsport event that pretty much takes over Surfers Paradise and Main Beach usually 3rd week of October each year.
Magic Millions - horse sales in January around Gold Coast Turf Club and Surfers Paradise
the one off 2018 Gold Coast Commonwealth Games will see many roads closed around venues and very difficult to get accommodation close to the action.
Schoolies in Gold Coast - late November through to early December
Or you may be interested in seeing a season event such as the Gold Coast Titans play at home, a local tennis competition, the many surf life saving carnivals or one of the big golf tournaments held on one of the many amazing golf courses around the Gold Coast.
When Can You Take Holidays From Work or School?
One of the biggest things to determine when most people can visit is when they can take time off work.
If you have school age kids, most people are stuck taking holidays during the school holiday times. Be sure to check out the dates that are usually our peak times, because not all schools and states actually have the same holiday dates, and you may be able to sneak in the week before or the week after our main peak periods.
Our northern hemisphere visitors often forget that our seasons are the opposite! Planning a long Christmas holiday away from cold UK, USA or Europe brings you to our peak busy summer holidays and very hot, humid weather!
And you may be put off leaving your summer, to visit in our winter... well let me assure you - Gold Coast winters are awesome!
Best Time To Visit Gold Coast By Month
After many years of planning trips with my family both locally and overseas, I've created many resources to help you through creating an itinerary and plan that will have you seeing, doing and experiencing the best the Gold Coast has to offer you.
You can do it yourself using the resources on this website by starting here.
Or you can cut some corners and get my travel planning sheets and extra resources.
When you are ready to book your Gold Coast travel arrangements I've hand picked the best resources for all aspects of your travel itinerary. You can feel confident that you are accessing the best local and global travel providers for your holiday.