Best Family Beach Vacation on Gold Coast
COVID-19 Pandemic & This Website
The COVID-19 Pandemic has had a huge impact on local Gold Coast businesses, which rely heavily on visitors from Queensland, interstate and overseas.
During this time, it is hard to keep the website fully up to date with all the changes. In the meantime here are some resources for visitors. Our main booking partners for hotels and for tours, tickets, theme parks and activities are keeping everything up to date, so please use those resources in the meantime.
Travel Information for Queensland Visitors - Queensland Tourist Safety Information - regularly updated, official website.
COVID-19 FAQ's For Activities, Tours, Cruises & Theme Park Tickets - General Ticket & Pass FAQs and COVID-19 Travel Update.
Thank you for your understanding and patience at this really difficult time.

Annie Rettie
Gold Coast Australia Travel Tips - Owner
Looking for the best family beach vacation?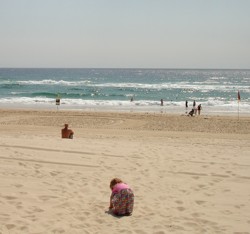 Pristine Beaches on Gold Coast
Here's why I think the Gold Coast, Queensland, Australia should be on YOUR holiday destination list!
No matter where in the world I travel, I compare all beaches to this one!
The sand is clean, soft and inviting.
The water is clear, clean and warm.
In the summer months, I love the very early mornings. No daylight savings so the sun is up VERY early!
NEED HELP PLANNING YOUR TRIP?
Gold Coast Australia Travel Planning

Planning a holiday is EASY when you have been there before & know what you want to see & do.
If you don't have local knowledge, it can be HARD :( That's why I created my Travel Planning Cheat Sheets
Want to plan an AWESOME holiday? Get BEST help?
Plan Your Gold Coast Holiday NOW
You feel like you've done so much before it's even breakfast time!
And best of all - the beaches are brilliant all year round - no box jelly fish to ruin your enjoyment of the beach and ocean.
As much as I love the beach, the other great thing about the Gold Coast is that there is so much else to see and do here.
And most family activities you can do at any time - what great flexibility for a holiday.
Marine Stingers & Jelly Fish
Whilst Gold Coast beaches are mostly free of these marine nasties, that is not the case in northern Queensland. There you need to swim in stinger enclosures and wear stinger suits from October to May - leaving you only a short time of the year when the waters are clear from marine nasties like marine stingers, irukandji and box jellyfish.
Theme parks for all tastes
Water Activities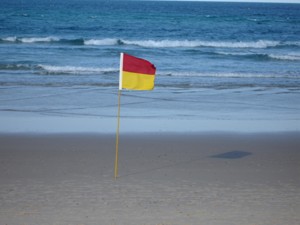 Surf Life Saving Flag on Beach in Gold Coast
Day tours
Nightlife
All of this and more adds up to one of the world's very best family beach vacation destinations.
When Is The Best Time To Visit?
That depends upon what you want to do, when you can come, your budget and what kind of weather you'd prefer! Check out my guide to the best time to visit the Gold Coast.
Where Should I Stay?
There are so many things that you should consider when choosing where to stay - I recommend you check out my suburb by suburb descriptions to find what suits for your best family beach vacation accommodation.
Want To Know What To Do In The Gold Coast?
So many things to do, so little time - take the challenge check out the Gold Coast main attractions and plan your holiday to make the most of it.
Custom Search