Places To Eat With Kids Around Gold Coast Australia
COVID-19 Pandemic & This Website
The COVID-19 Pandemic has had a huge impact on local Gold Coast businesses, which rely heavily on visitors from Queensland, interstate and overseas.
During this time, it is hard to keep the website fully up to date with all the changes. In the meantime here are some resources for visitors. Our main booking partners for hotels and for tours, tickets, theme parks and activities are keeping everything up to date, so please use those resources in the meantime.
Travel Information for Queensland Visitors - Queensland Tourist Safety Information - regularly updated, official website.
COVID-19 FAQ's For Activities, Tours, Cruises & Theme Park Tickets - General Ticket & Pass FAQs and COVID-19 Travel Update.
Thank you for your understanding and patience at this really difficult time.

Annie Rettie
Gold Coast Australia Travel Tips - Owner
Looking for places to eat with kids around Gold Coast?

I thought you might be interested in what a Mum on a mission to continue eating out in nices places with young children might have to say. So, I got my friend Jane to give us a quick tour of places to eat around the Gold Coast, as well as what to look for in family friendly eateries.

If you are at the stage of thinking about where to eat, you may already have done most of your planning but if you need a bit more help in deciding what to see and do, where to stay or any other topics about planning your trip to the Gold Coast then I recommend, getting your own copy of my Gold Coast Planning Cheat Sheets, Tips & Tools.

Not only will they step you through the planning process, but you will find it much easier to work out which of the deals and combinations will be best for you.

Annie Rettie
Gold Coast Australia Travel Tips - Owner
Join the conversation or just check us out...
Click To Select More Info
Introduction to Eating Out With Kids in Gold Coast
Hi Jane here. Annie asked me to suggest some child friendly cafes or restaurants around the Gold Coast, so I have hand-picked a couple of places I like and wouldn't hesitate to take my two boisterous boys to.
Over my time as a parent I have developed my own set of requirements for places to eat with my kids which I think are pretty universally helpful. I have been casting my parents eye over family friendly and not so friendly eating establishments for over 3 years and writing about my findings across Brisbane and south east Queensland.
The cafes, pubs and restaurants I have reviewed are all considered with these parent and family friendly requirements in mind. However... It is not a science – eating out with kids is an ART! Which makes finding good places to eat with kids when you are on holiday... like gold dust!
Here are some of my recommendations, you can comment below, or submit your own suggestions and read other people's suggestions.
Find these recommendations for kids friendly restaurants or places with kids food on the map - the family icon will be your restaurant guide!.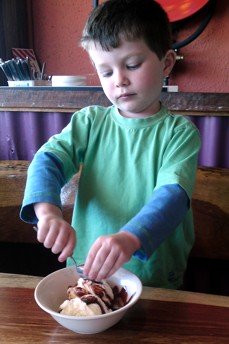 Space and food appropriate for children are just some of the things to consider when eating out with young children. Ice cream is always a hit on a kids menu!
Koi - cnr Surf Pde and Albert St, Broadbeach
A Place To Eat Out With Kids in Broadbeach
I have to admit I didn't take the kids to Koi, but we saw many people eating there with their kids.
The staff are very welcoming to kids, so although there's not a lot of space, the staff are on your side.
There's a good kids menu, and in the corner there are some couch seats, so if you can get those seats, you'll get a little more space.
The Bearded Dragon - 2 Tamborine Mountain Road, Tamborine
Child Friendly Pub In Gold Coast
Actually this is sort of between the Gold Coast and Brisbane! It is in the Gold Coast hinterland. I really like The Bearded Dragon.
It's a pub with restaurant and garden. Particularly busy but wonderful for lunches over the weekends. There is more than enough space here - a big open lawn, playground, and animals to see.
If you go at the right time, you'll catch the toad races and reptile show - so no worries if you forget your activity bag!
Check out the video of the lady holding the crocodile during The Bearded Dragon Crocodile and Reptile Show. That could be you, or your child!
And for the non driving adults - all washed down with a cold beer.
We had a great time at The Bearded Dragon on Mt Tamborine - I bet you will too.
The Cliffs Café at Kangaroo Point - 3 River Terrace, Kangaroo Point Parklands
Café That Welcomes Kids in Brisbane
In my home town (Brisbane) I love to go to The Cliffs Café at Kangaroo Point.
Amazing views of the city, space between tables, kids menu, and a park a small walk up the hill make this café a great spot to take kids and visitors to Brisbane.
We go to The Cliff's Café regularly.
Questions or Suggestions for Places To Eat With Kids
This is your opportunity to ask a question or make a suggestion about places to eat with kids around the Gold Coast Australia.

Have you been somewhere that is great to take the kiddies? Or have you been somewhere that was... um let us say not on your list of places to visit again! Share your story here. That way others can read it and we can all learn from each other's experiences.
Suggestions and Questions About Places To Eat With Kids
Click below to see contributions, questions, reviews and stories from other visitors to this page...

Cavs Steakhouse Surprisingly Child Friendly

Cavs Steakhouse is surprisingly child friendly! The first time I went to Cav's Restaurant , which is in Frank Street, Labrador, I was really apprehensive …
Lone Star Tavern Mermaid Waters Not rated yet
Child Friendly Dining at Lone Star Tavern Mermaid Waters They have a great outdoor and indoor play areas and seating so you can keep an eye on them. …
Places To Eat With Kids Around Gold Coast and Brisbane Areas
Here are the locations of these family and kids friendly places to eat around the Gold Coast and Brisbane areas. I will update the map as new places are added. Don't forget to make your own recommendations, or leave comments good or bad. That helps us all keep up to date with the best places to take kids of all ages!
After many years of planning trips with my family both locally and overseas, I've created many resources to help you through creating an itinerary and plan that will have you seeing, doing and experiencing the best the Gold Coast has to offer you.
You can do it yourself using the resources on this website by starting here.
Or you can cut some corners and get my travel planning sheets and extra resources.
When you are ready to book your Gold Coast travel arrangements I've hand picked the best resources for all aspects of your travel itinerary. You can feel confident that you are accessing the best local and global travel providers for your holiday.