Q1 Gold Coast Resort & Spa Surfers Paradise
COVID-19 Pandemic & This Website
The COVID-19 Pandemic has had a huge impact on local Gold Coast businesses, which rely heavily on visitors from Queensland, interstate and overseas.
During this time, it is hard to keep the website fully up to date with all the changes. In the meantime here are some resources for visitors. Our main booking partners for hotels and for tours, tickets, theme parks and activities are keeping everything up to date, so please use those resources in the meantime.
Travel Information for Queensland Visitors - Queensland Tourist Safety Information - regularly updated, official website.
COVID-19 FAQ's For Activities, Tours, Cruises & Theme Park Tickets - General Ticket & Pass FAQs and COVID-19 Travel Update.
Thank you for your understanding and patience at this really difficult time.

Annie Rettie
Gold Coast Australia Travel Tips - Owner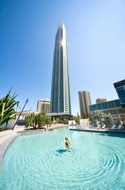 View of Q1 Resort & Spa
Surfers Paradise Gold Coast
Q1 Gold Coast Resort and Spa is one of the most popular Surfers Paradise holiday apartments.
Great choice for couples or families of just about any size
I've heard it referred to as the world's tallest resort! Not sure about that but one thing is for sure. The apartments are the only 5 star holiday apartments in Surfers Paradise.
Q1 is NOT a hotel. Q1 Resort has 1, 2 and 3 bedroom and sub-penthouse apartments that were managed by Mantra until 15 December 2011 - they are now managed by a new management group Q1 Management owned by a local Gold Coast family the Fawleys.
As well as being resort apartments, Q1 is also a residential tower. This means there are very specific guidelines about parties (not allowed at all), noise and non-guests are not allowed in apartments after 9pm at night. If you are planning any of these, this is not the place for you to stay.
Located just south of Cavill Mall precinct and a short walk (about 100m) to Surfers Paradise beach.



Click Here For More Information About Q1 Gold Coast Resort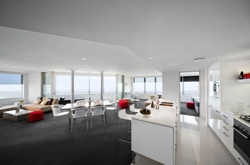 Inside view of Q1 Gold Coast Luxury Apartments

The resort facilities are stunning with two fabulous lagoon swimming pools which includes a sandy beach! Families can enjoy some poolside time and enjoy breakfast, snacks or lunch by the pool at the Q1 Beach Club.

For serious swimmers or for winter months there is an indoor heated lap pool.

Other features include fitness room, steam room, private theaterette and a children's games room.

At ground level there are some retail shops, restaurants and cafes. 77th and 78th floors there is the Q1 observation deck formerly known as QDeck and renamed in 2010 as SkyPoint Observation Deck. Unrivalled 360 degree views of the Gold Coast and hinterland. For brave ones there is also a SkyPoint Climb since January 2012. If you only want to visit SkyPoint Observation Deck we have a great deal with unlimited entry for 14 dasy for the price of 1 day entry. However, the best deals are to be found by combining with entry to the theme parks Dreamworld and WhiteWater World. Check out all the current options here.

From an accommodation point of view the apartments are very modern. Service is not quite what you would expect in a 5 star hotel in Surfers Paradise, but then it is not a hotel. There is limited reception and concierge services and only mini daily servicings of the apartments.

If you like 5 star style and want flexibility or are travelling with your family then Q1 is a cost effective luxury accommodation option. All apartments feature:
Gourmet kitchens
Glass enclosed balconies (this is rather a unique design that may not be what you expect!)
Spa Baths
Laundry facilities
Airconditioning

Click Here For Full Details and Latest Rates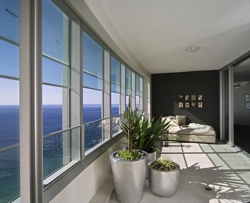 View from Q1 Glassed In Balcony
There are a few things to watch out for with this accommodation:
these are apartments, it is NOT a hotel.
no room service
limited parking
not all rooms have ocean views (you can select but pay more for this)
beware of directly rented out apartments in this building they may not be 5 star or have the daily servicing

Q1 Resort Luxury Apartments Review
The video here isn't exactly a review of Q1, but it is a real view inside the apartments done by real people!
The most amazing thing is that they are on the 38th floor and the view is incredible, that is about half way up!
The boys have a bit of fun in this video but you can see the standard of the apartments including the bathrooms, living area, kitchen and the balcony and of course the amazing views.
This apartment is one of the one bedroom apartments. It would be suitable for a couple, or two single lads like in this video! Remember boys, no parties allowed!
Views will vary from apartment to apartment and the floor you are on.

Q1 Gold Coast Resort Apartments Location
Address:
Q1 Resort & Spa
Hamilton Street
Surfers Paradise
Queensland
Australia 4217
Star Rating: 5 star apartments
Price Range: Moderate $$$ to $$$$*
Room Styles: Luxury Apartments, 1 bedroom, 2 bedroom and 3 bedroom apartments.
Locality: Use the map to explore what is around the hotel. You will find ideas for closest supermarket, where there are restaurants and some Surfers Paradise attractions. Zoom in or change to satellite for more details.
Want to visit Q1 but not stay? Check out Q1 SkyPoint Observation Deck (QDeck)
* This is just a guide. It is quite often that there are significant differences to the price range depending upon many factors.

Custom Search