Gold Coast Events February
COVID-19 Pandemic & This Website
The COVID-19 Pandemic has had a huge impact on local Gold Coast businesses, which rely heavily on visitors from Queensland, interstate and overseas.
During this time, it is hard to keep the website fully up to date with all the changes. In the meantime here are some resources for visitors. Our main booking partners for hotels and for tours, tickets, theme parks and activities are keeping everything up to date, so please use those resources in the meantime.
Travel Information for Queensland Visitors - Queensland Tourist Safety Information - regularly updated, official website.
COVID-19 FAQ's For Activities, Tours, Cruises & Theme Park Tickets - General Ticket & Pass FAQs and COVID-19 Travel Update.
Thank you for your understanding and patience at this really difficult time.

Annie Rettie
Gold Coast Australia Travel Tips - Owner
February is a generally quiet month on Gold Coast, however, there are a few events this month.

You will find a range of sporting events including golf and surfing. And there are a couple of great occassions to celebrate (Valentines) or enjoy cultural events (Chinese New Year & Waitangi Day).

Read on, to find out more about the different events on during this month, or use the Options Menu to skip to the event you are interested in.

Are you planning your holiday to the Gold Coast? Want to make sure you don't miss anything? Click Here to find out about my planning cheat sheets, tips & tools to step you through!

Annie Rettie
Gold Coast Australia Travel Tips - Owner
Join the conversation or just check us out...
Select The Event You Are Interested In
Whether for fun or competition, surfing in February and March is very popular, but that's not all you will see! There's usually lots of sports of all kinds going on including Ladies Masters Golf.
February is the last official month of Summer in the Gold Coast and includes a couple of notable celebrations Valentines Day for the romantics and Waitangi Day (there are quite a few New Zealanders in Gold Coast, so there are celebrations).
There's also a big festival of sand in Surfers Paradise. Read on down the page for more information about all of these events and options for visitors.
The weather is usually very hot and humid, with summer storms possible. Queensland school children should be safely back at school!
However, it is still a busy month with some Australian states not finishing school holidays until this month and universities still on summer break.
It is a popular time on the Gold Coast for families with children younger than school age taking the opportunity for a holiday outside school holidays.
Chinese New Year can be during February or January. There are usually celebrations in Gold Coast and Brisbane around this time.
As well as these events, there are events, markets and shows that run throughout the year. You can find more information through these links:
How to use this page? Scroll down to see all Gold Coast Events February. You can also use the search bar in the top of the page or at the bottom to locate an event.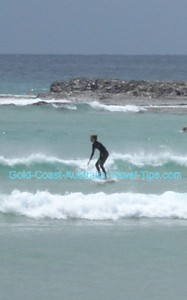 Surfing at Currumbin Alley in
Gold Coast Australia
Gold Coast Events February
Chinese New Year
Dates
Variable Dates in January or February
Chinese New Year falls in either January or February.
Gold Coast Chinatown is the centre of any celebrations. Chinatown is a relatively new zone to the Gold Coast and is found in Southport just a short trip on the new G:Link Trams from Surfers Paradise. It is located on Young and Davenport Streets.
Each Saturday there are now Chinese Markets in this area too.
Usually there are also celebrations in Surfers Paradise including dragon dancing, cultural displays, traditional music and dance plus delicious chinese foods to eat. They are usually on the weekends closest to the actual date of Chinese New Year.
Sometimes the theme parks put on special parades or events, but they are just part of normal admission.
Chinese New Year Celebrations in Brisbane
The biggest celebrations for Chinese New Year are in Brisbane as it has a larger, more established and vibrant Chinese district - Chinatown Mall in The Valley in Brisbane.
The events are very structured in Brisbane, with events usually starting on the Friday and Saturday evenings (5pm to 10pm) stepping through the rituals of saying goodbye to the old year and then welcoming the new year in.
Sunday celebrations are in the afternoon usually from noon through to 5pm. It's a great experience for all ages, and you get plenty of opportunity to be entertained or enjoy some Chinese food.
Waitangi Day (The official day!)
Dates
6 February
Official Waitangi Day - Waitangi Day commemorates a significant day in the history of New Zealand. A public holiday in New Zealand held each year on 6 February to celebrate the signing of the Treaty of Waitangi, New Zealand's founding document, 6 February 1840.
There are many expat NZers in the Gold Coast, so this is a significant celebration in our multicultural city.
Waitangi Day Celebrations In Gold Coast
There's usually a huge family day out at Broadwater Parklands in Southport on a Saturday close to Waitangi Day. The Kiwis get to show us Aussies how to have a family picnic!
Usually includes a Hangi, a traditional Maori Cultural Performance, Kiwi entertainers, games and stalls.
More information at www.ngatamaoteao.com
RACV Australian Ladies Masters Golf Tournament
Dates
Can be in February or March

Location
RACV Royal Pines Resort, Ashmore, Gold Coast
This event has run on the Gold Coast for more than 25 years. Dates move around a bit and can fall in either February or March.
It is a well established event. Expect a full program of golf. Great to watch, and always a good range of top players. Or even better score a spot in the Pro-Am Tournament on the first Wednesday.
The resort hotel is RACV Royal Pines Resort (formerly Crown Plaza Royal Pines Resort, it is on Ross Street, Ashmore but is close to Carrara Stadium.
Another alternative close by is Mercure Gold Coast Resort (formerly Radisson Palm Meadows).
Plenty of alternate accommodation can be found in Broadbeach or Surfers Paradise both approximately 20 to 25 minute drive.
More information www.ladiesmasters.com
Australian Sand Sculpting Championships Surfers Paradise
Dates
Festival usually runs from mid Feb to March, with Championships Friday to Sunday mid-February

Location
Foreshore at Surfers Paradise Beach
Sometimes you can see sand sculptors doing their thing on the beach at Surfers Paradise and they are impressive. But I suspect you are in for some real treats during this event, previous themes include: "Pirates of Paradise", "Sand Safari" and "Myths, Legends and Fairy Tales" and Disney's Magical Friendships...
Each year, based around the theme, competitors build up the sculptures for the championships and they will be on show through to a Sunday in late February or early March.
What's great about this event is that it is not just for spectators. There are usually workshops running daily with children's activities, sculpting workshops, sand art and sand bottle making.
Makes me feel quite humble when I make my little sandcastles for the kids!
Valentines Day
Dates
14 February

Location
All over Gold Coast and the world!
Valentines Day is a day for lovers all over the world! Show your loved one how much you care. There will be lots of ideas for romantic dinners around such as Salt at Surfers Paradise Hilton or Oscars on the beach at Burleigh is a very romantic location.
Or you could be adventurous...
Why not woo your valentine with an adventure never to be forgotten, such as hot air ballooning, day trip to idyllic Tangalooma, diving or snorkelling adventures or even a day trip the Great Barrier Reef!
Check out a selection of Valentines Day activities and ideas...
Quiksilver & Roxy Pro Gold Coast
Dates
End of February to Early March

Location
Southern Gold Coast or Northern NSW Beaches depending on surf conditions
The Quiksilver Pro surfing competition on the Gold Coast is the first leg of the Men's ASP World Tour. Locations for the competition depend upon weather and surf conditions during the event.
The Roxy Pro surfing competition on the Gold Coast is the first leg of the Women's ASP World Tour. As with the men's comp, locations for the competition depend upon weather and surf conditions during the event. Most surfing spots used in the past in these competitions are in the southern Gold Coast. Snapper Rocks is a favourite.
If you want to be near the action, it is best to stay in suburbs such as Burleigh Heads, Palm Beach, Currumbin, Tugun, Bilinga, Kirra or Coolangatta.
Accommodation suggestions
In the heart of the action:
Further north but not too far from the action:
You can check out each of the areas individually or see below for some other featured selections:
Disclaimer: Whilst every care is taken to provide correct information, the information about Gold Coast events, festivals, shows and other activities shown on this and other pages within this website is a guide only. Dates are subject to change without notice. Please check with individual event organisers before planning your trip around these dates.
DREAM IT
You'll find lots of photographs, descriptions and information to help you dream up your perfect Gold Coast Holiday.
Why not start with all that the Gold Coast has to offer.
PLAN IT
After many years of planning trips with my family both locally and overseas, I've created many resources to help you through creating an itinerary and plan that will have you seeing, doing and experiencing the best the Gold Coast has to offer you.
You can do it yourself using the resources on this website by starting here.
Or you can cut some corners and get my travel planning sheets and extra resources.
BOOK IT
When you are ready to book your Gold Coast travel arrangements I've hand picked the best resources for all aspects of your travel itinerary. You can feel confident that you are accessing the best local and global travel providers for your holiday.