Gold Coast Events October
COVID-19 Pandemic & This Website
The COVID-19 Pandemic has had a huge impact on local Gold Coast businesses, which rely heavily on visitors from Queensland, interstate and overseas.
During this time, it is hard to keep the website fully up to date with all the changes. In the meantime here are some resources for visitors. Our main booking partners for hotels and for tours, tickets, theme parks and activities are keeping everything up to date, so please use those resources in the meantime.
Travel Information for Queensland Visitors - Queensland Tourist Safety Information - regularly updated, official website.
COVID-19 FAQ's For Activities, Tours, Cruises & Theme Park Tickets - General Ticket & Pass FAQs and COVID-19 Travel Update.
Thank you for your understanding and patience at this really difficult time.

Annie Rettie
Gold Coast Australia Travel Tips - Owner
October is a busy month with one of the Gold Coast's largest events the Gold Coast 600 Motor racing event towards the end of the month.

There are lead up events and of course October is famous for being "spooktacular" with Halloween on the 31st.

Read on, to find out more about the different events on during this month, or use the Options Menu to skip to the event you are interested in.

Are you planning your holiday to the Gold Coast? Want to make sure you don't miss anything? Click Here to find out about my planning cheat sheets, tips & tools to step you through!

Annie Rettie
Gold Coast Australia Travel Tips - Owner
Join the conversation or just check us out...
Select The Event You Are Interested In
Australian Gold Coast Events October
October is a Spring month on the Gold Coast and definitely warming up and getting more humid. It's a great month to visit the Gold Coast.
The weather in October is usually warm and not too wet, so flights over the Gold Coast in helicopter or sea plane offer amazing views.
School holidays run from late September through to mid October and they are often busy holidays with families taking taking advantage of the great weather. First Monday of the month we have Queen's Birthday Holiday making a long weekend, which is within the school holidays.
Halloween falls at the end of the month, and to celebrate the theme parks often put on special events such as ScreamWorld and Fright Nights.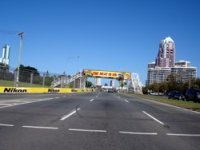 Gold Coast 600 track
At this time of the year, theme parks are busy and whale watching is popular because this part of the season the baby humpback whales on their first trip to Antarctica via the Gold Coast.
As the other states around Australia go on to daylight saving, Queensland does not. The sun rises early around 5.30am and the days longer, you just can't help getting going sooner!
Most questions I get asked about in October relate to the Gold Coast motorsport event held this month and what to call it - Gold Coast Indy, SuperGP, Gold Coast 600, GC600 etc.
As well as the major events, there are events, markets and shows that run throughout the year. You can find more information through these links:
Disclaimer: Whilst every care is taken to provide correct information, the information about Gold Coast events, festivals, shows and other activities shown on this and other pages within this website is a guide only. Dates are subject to change without notice. Please check with individual event organisers before planning your trip around these dates.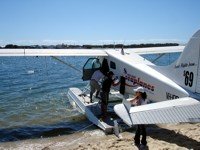 Sea Plane flights
leave from Broadwater
Gold Coast Events October
Fright Nights at Movie World During October
During October in the lead up to Halloween on the 31st of the month, Movie World usually run a special event after hours in the theme park.
It's called Fright Nights. You need a separate ticket and you can enjoy lots of scary extras such as spooky movies, cobwebs, zombies and lots more.
You will need to get your tickets ahead of time, sometimes there are special deals that include VIP Passes and an entry to Fright Nights. Check here for Fright Nights Dates & Deals.
Queen's Birthday Holiday
Dates
First Monday in October
This public holiday falls within school holidays for Queensland, allowing parents to enjoy a bit more holiday with their kids!
Accommodation will be busy from school holidays, but with this extra holiday I would definitely look to make my reservations nice and early to lock in a good spot.
Gold Coast 600 V8 Supercars Motorsport Event
Dates
Around last weekend in October - Friday to Sunday
Location
Surfers Paradise and Main Beach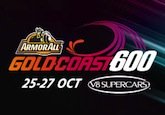 The Gold Coast Indy 300 was replaced in 2009 by SuperGP which was then replaced by the current Gold Coast 600 with V8 Supercars.
Lots of exciting new developments over the last few years as they move to improve the format and entice International drivers to sample racing in Australia.
This year, they are packaging a whole lot of other events under the banner and calling it V8 SuperFest. There's a range of activities around Surfers Paradise and the Gold Coast under this banner, from art exhibitions, expos, motorsport memorabilia, opera and concerts.
Most of the actual motorsport related start around the week before including the Race of Stars go karting at Pimpama and the V8 Superfest Gold Coast Parade.
More details for the events, accommodation, maps and dates can be found on my pages about GC 600 event.
Byron Bay Film Festival
Dates
Mid to late October (has previously run in March)
Location
Various Venues around Byron Bay Area

This independent film festival has grown from showing 100 films in 2006 to over 220. Films are usually screened at 5 venues in the Byron Bay area including Byron Bay Community Centre as the main venue and the The Regent Murwillumbah, Pighouse Flicks in Byron Bay as a satellite venues as well as The Star Court Theatre in Lismore and Free Full Moon Cinema in Byron Bay near the Byron Bay Surf Life Saving Club.
You will need to check the program details for locations, times and more information about each film. Some of the films will be Australian Premieres and a few will be premiering for the first time anywhere in the World.
Byron Bay is about an hour and half drive from Coolangatta in southern Gold Coast so you can easily drive down for the festival.

By far the best option, is to stay right in the thick of it in Byron Bay. Here are a great selections of options in and around Byron Bay
Byron can be expensive and books out quickly. So use the map view to check out other options in the Byron Hinterland area. Not too far away is Bangalow, Corrabel Creek, Brunswick Heads and Lennox Heads.
Festival website has all the details of screenings and films.
Coolangatta Gold
Dates
Over a Weekend late in October or Early November (dates moveable)
Location
Coolangatta and Kirra Beaches

The Coolangatta Gold is an iconic endurance race for those ironmen amongst us!
A 46 kilometre test of endurance including ocean swim, surf-ski, board paddle and run. I didn't realise it is the longest race of its kind in the world - I thought the Hawaiian Ironman was but I stand corrected as that is triathlon (swim, bike and run).
You will see a range of competitors from U19s right through to masters. Worth checking out and it is a great spot on a Sunday by the beach, pop into the Kurrawa Surf Club if you can get it, it will be busy or pop across the road to Broadbeach Mall and lots of restaurants and cafes there.
More event information on the SLSA website.
Halloween
Dates
31 October (some events run on closest Saturday Night)
Location
All over the World!

Pumpkins, witches outfits and trick or treating. Yes, we still do this on the Gold Coast! Some of the theme parks run special nights, so keep an eye out for those events.
Disclaimer: Whilst every care is taken to provide correct information, the information about Gold Coast events, festivals, shows and other activities shown on this and other pages within this website is a guide only. Dates are subject to change without notice. Please check with individual event organisers before planning your trip around these dates.
DREAM IT
You'll find lots of photographs, descriptions and information to help you dream up your perfect Gold Coast Holiday.
Why not start with all that the Gold Coast has to offer.
PLAN IT
After many years of planning trips with my family both locally and overseas, I've created many resources to help you through creating an itinerary and plan that will have you seeing, doing and experiencing the best the Gold Coast has to offer you.
You can do it yourself using the resources on this website by starting here.
Or you can cut some corners and get my travel planning sheets and extra resources.
BOOK IT
When you are ready to book your Gold Coast travel arrangements I've hand picked the best resources for all aspects of your travel itinerary. You can feel confident that you are accessing the best local and global travel providers for your holiday.