Gold Coast Events January
COVID-19 Pandemic & This Website
The COVID-19 Pandemic has had a huge impact on local Gold Coast businesses, which rely heavily on visitors from Queensland, interstate and overseas.
During this time, it is hard to keep the website fully up to date with all the changes. In the meantime here are some resources for visitors. Our main booking partners for hotels and for tours, tickets, theme parks and activities are keeping everything up to date, so please use those resources in the meantime.
Travel Information for Queensland Visitors - Queensland Tourist Safety Information - regularly updated, official website.
COVID-19 FAQ's For Activities, Tours, Cruises & Theme Park Tickets - General Ticket & Pass FAQs and COVID-19 Travel Update.
Thank you for your understanding and patience at this really difficult time.

Annie Rettie
Gold Coast Australia Travel Tips - Owner
In January, Gold Coast events take a back seat to the local summer holidays.

There are many fun family activities to enjoy around the Gold Coast, but there are a couple of larger events and it wouldn't be the Gold Coast without some sporting events with a nice mix of land and water based events.

Read on, to find out more about the different events on during this month, or use the Options Menu to skip to the event you are interested in.

Are you planning your holiday to the Gold Coast? Want to make sure you don't miss anything? Click Here to find out about my planning cheat sheets, tips & tools to step you through!

Annie Rettie
Gold Coast Australia Travel Tips - Owner
Join the conversation or just check us out...
Select The Event You Are Interested In
Australian Gold Coast Events January
As well as being HOT! Gold Coast in January is the place to be for Summer Fun and Family Holidays.
There's certainly plenty of events, school holiday activities, festivals and even a couple of public holidays during January.
The month starts with New Year celebrations continue on and on! New Years Day on 1 January is a public holiday. If it falls on a weekend then the next working day is the public holiday.
Many people extend their holidays to cover this first week of January, which means that this week is especially busy in the tourist spots.
The Boxing Day sales have given way to the January Sales, which makes the shopping centres quite busy too, and great if you are looking for a bargain!
Monday 26 January we have Australia Day Celebrations making for a long weekend just before the Queensland schools go back for the new school year.
During January there are many fun events suitable for all members of the family, because it is out peak summer holiday time with many children on summer break until later in the month.
Events on this month include:
As well as these events, there are events, markets and shows that run throughout the year. You can find more information through these links:
Disclaimer: Whilst every care is taken to provide correct information, the information about Gold Coast events, festivals, shows and other activities shown on this and other pages within this website is a guide only. Dates are subject to change without notice. Please check with individual event organisers before planning your trip around these dates.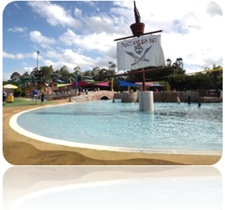 Bucaneer Bay at Wet n Wild.
A great place to get cool in hot summer months!
Gold Coast Events January
Magic Millions Horse Carnival in January On Gold Coast
Dates
Early January for 12 Days
Location
Magic Millions Sales Complex & Gold Coast Race Course, Bundall
Carnival and horse sales. The first few days there are viewings of the horses for sale and then the sales of Yearlings starts - that is the main part of the sales. Towards the end there are the racehorse sales.
Magic Millions Race Day is usually run on the last Saturday.
During this time there is also the Gold Coast Turf Club Ladies Raceday - Metropolitan Raceday usually on the first Saturday, where the ladies get free entry!
Magic Millions Open Day is usually the first Sunday from 10am to 5.30pm with an invitation to find out more about Magic Millions. This is a big event and highly promoted and you will often find one of the local radio stations there with a promo team. There are lots of other interesting stalls, marquees and of couse the Magic Millions yearlings! This is a free event and there is fee parking onsite.
There are lots of other events, but these are a few of the options. You can check out the website for more information.
Brisbane International Tennis Championships
Dates
First Sunday in January for 1 week
Location
Queensland State Tennis Centre, Tennyson, Brisbane
Although, not a Gold Coast Event, this is very popular at this time of the year, and if you like tennis it is a great event that is fairly easy to get to from the Gold Coast.
This is a full on tennis International event. For many years the Australian Womens Hardcourt Championships were held at Royal Pines in the Gold Coast. With the building of the new State Tennis Centre these championships have been merged with the men's as a lead up meet to the Australian Open.
If you are planning on visiting the new tennis center is close to the Tennyson Railway station and is approximately 10kms south of the center of Brisbane, near Yeerongpilly.
It's always hot! And you can usually get quite affordable general day tickets for a very memorable day out.
More information at Brisbane International Website.
Annual Burleigh Boardriders Single Fin Classic & Festival
Dates
Around 2nd weekend in January (check dates)
Location
Burleigh Heads
Annual Burleigh Boardriders Single Fin Classic and Festival is a bit of an iconic event! It has changed a bit over the years but has been running since the late 1990s.
Main festival runs from Saturday to Sunday at Burleigh Heads and it is usually presented by local surfing company Billabong. More information at Burleigh Boardriders Website.
Gatorade Queensland Triathlon Series Gold Coast
Dates
A Weekend in Mid January
Location
Robina Parklands - Corner Robina Parkway & Boowaggan Rd
The Queensland Triathlon series runs events across Queensland with this Round at Gold Coast.
Format can change, but there is usually an Open Water Swim, 500m Enticer and 1500m Competitive events on the Saturday, and the Queensland Tri Series (Sprint), Long Enticer and Kool Kids events on the Sunday.
More information at Queensland Triathlon Series Website.
O'Reillys Annual Wildlife Week
Dates
Runs Sunday to Friday usually starts around mid-January
Location
O'Reillys Rainforest Retreat Lamington National Park Road via Canungra
If you are into wildlife, or just want to learn more, this would be an awesome week. O'Reilly's is pretty special place at any time, but the opportunity to have a week of trapping, sneaking up on and learning about all types of wildlife in the local area would be amazing.
O'Reillys is in the Gold Coast Hinterland. You can daytrip to O'Reilly's self drive or with a tour. They hold various "weeks" for birdwatching and this one O'Reillys Annual Wildlife week. The format is similar each year but there are limited places so make sure to book in early.
Whether you stay at O'Reilly's Rainforest Retreat during Annual Wildlife Week or not, there's lots to enjoy.
Australia Day Gold Coast
Date
26 January
Location
Locations all over Gold Coast and Australia!
Australia Day celebrations around the country on this day. You will find many Australian flags, BBQs in parks, picnics on the beach and general Aussie good natured celebration of all it means to be Australian.
There will be lots of locals out and about, it will be a busy day and some shops and restaurants may be closed.
If Australia Day falls on a weekend, then the Australia Day Public Holiday is the next working day.
More information about Australia Day.
Gold Coast Food and Wine Show
Dates
Usually Friday to Sunday in late Janaury or early February

Location
Gold Coast Convention Centre in Broadbeach
The annual Gold Coast Food and Wine Show usually starts around midday on Friday and runs through daily through to Sunday around 5pm. It is a massive show that local and visiting foodies enjoy!
It is located at the Gold Coast Convention Centre in Broadbeach right next to Jupiters Casino (now known as The Star Gold Coast) and easy walk or monorail trip across to the heart of Broadbeach with range of fantastic restaurants and accommodation options.
With the opening of the G:Link light rail system, it is also extremely easy to visit this area from Surfers Paradise.
The format usually includes shows, displays, demonstrators and of course celebrity chefs especially those from the current batch of cooking shows - like Master Chef and My Kitchen Rules. In addition, you will also get to see restaurant chefs.
If you love food and cooking. This is the place to be. More information can be found at Food & Wine Expo.
Chinese New Year
Dates
Variable Dates in January or February
Chinese New Year falls in either January or February.
Gold Coast Chinatown is the centre of any celebrations. Chinatown is a relatively new zone to the Gold Coast and is found in Southport just a short trip on the new G:Link Trams from Surfers Paradise. It is located on Young and Davenport Streets.
Each Saturday there are now Chinese Markets in this area too.
Usually there are also celebrations in Surfers Paradise including dragon dancing, cultural displays, traditional music and dance plus delicious chinese foods to eat. They are usually on the weekends closest to the actual date of Chinese New Year.
Sometimes the theme parks put on special parades or events, but they are just part of normal admission.
Chinese New Year Celebrations in Brisbane
The biggest celebrations for Chinese New Year are in Brisbane as it has a larger, more established and vibrant Chinese district - Chinatown Mall in The Valley in Brisbane.
The events are very structured in Brisbane, with events usually starting on the Friday and Saturday evenings (5pm to 10pm) stepping through the rituals of saying goodbye to the old year and then welcoming the new year in.
Sunday celebrations are in the afternoon usually from noon through to 5pm. It's a great experience for all ages, and you get plenty of opportunity to be entertained or enjoy some Chinese food.
Disclaimer: Whilst every care is taken to provide correct information, the information about Gold Coast events, festivals, shows and other activities shown on this and other pages within this website is a guide only. Dates are subject to change without notice. Please check with individual event organisers before planning your trip around these dates.
DREAM IT
You'll find lots of photographs, descriptions and information to help you dream up your perfect Gold Coast Holiday.
Why not start with all that the Gold Coast has to offer.
PLAN IT
After many years of planning trips with my family both locally and overseas, I've created many resources to help you through creating an itinerary and plan that will have you seeing, doing and experiencing the best the Gold Coast has to offer you.
You can do it yourself using the resources on this website by starting here.
Or you can cut some corners and get my travel planning sheets and extra resources.
BOOK IT
When you are ready to book your Gold Coast travel arrangements I've hand picked the best resources for all aspects of your travel itinerary. You can feel confident that you are accessing the best local and global travel providers for your holiday.