Gold Coast Events April
COVID-19 Pandemic & This Website
The COVID-19 Pandemic has had a huge impact on local Gold Coast businesses, which rely heavily on visitors from Queensland, interstate and overseas.
During this time, it is hard to keep the website fully up to date with all the changes. In the meantime here are some resources for visitors. Our main booking partners for hotels and for tours, tickets, theme parks and activities are keeping everything up to date, so please use those resources in the meantime.
Travel Information for Queensland Visitors - Queensland Tourist Safety Information - regularly updated, official website.
COVID-19 FAQ's For Activities, Tours, Cruises & Theme Park Tickets - General Ticket & Pass FAQs and COVID-19 Travel Update.
Thank you for your understanding and patience at this really difficult time.

Annie Rettie
Gold Coast Australia Travel Tips - Owner
In April, Gold Coast events are usually based around Easter and School Holidays.

At this time of year during school holidays in the Gold Coast there are many family activities. However, there are a couple of larger events including sporting events - land and water based events.

Read on, to find out more about the different events on during this month, or use the Options Menu to skip to the event you are interested in.

Are you planning your holiday to the Gold Coast? Want to make sure you don't miss anything? Click Here to find out about my planning cheat sheets, tips & tools to step you through!

Annie Rettie
Gold Coast Australia Travel Tips - Owner
Join the conversation or just check us out...
Select The Event You Are Interested In
Ready To Get Started? Travel Planning Guide & Sheets
Australian Gold Coast Events April
April is often a fabulous month on the Gold Coast. Not too hot, not too humid!
April, sometimes has Easter holidays (can be in March, moves around each year) and almost always has school holidays usually at the beginning to middle of the month.
Depending on when ANZAC Day ( 25 April) falls in relation to the school holidays, sometimes it is included at the end of the school holidays, or else is a separate day or if you are lucky a long weekend!
During April there are a surf life saving and other water sports events - all great for spectators. The Gold Coast Triathlon runs during April.
And for cultural events, the Surfers Pardise Festival and the Gold Coast Film Festivals are usually held this month.
Need Planning Help?
Selecting when to visit is important when planning your trip. Get planning cheat sheets, tips and resources to help you plan out your holiday.
During April we hold one of Australia's most special days - ANZAC Day is a day of remembrance on 25 April.
Around the Gold Coast there are many places where dawn services and other commemorative services are held.
It is a day of paying tribute to the diggers who lost their lives to protect our nation.
It is a very patriotic day in Australia. And many tourist attractions are closed for some or at least part of the day, so make sure you check before planning your activities on ANZAC day.
As well as these events, there are events, markets and shows that run throughout the year. You can find more information through these links:
Disclaimer: Whilst every care is taken to provide correct information, the information about Gold Coast events, festivals, shows and other activities shown on this and other pages within this website is a guide only. Dates are subject to change without notice. Please check with individual event organisers before planning your trip around these dates.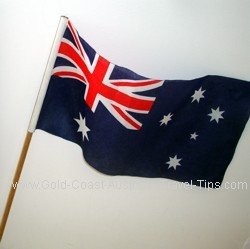 Australian Flag on ANZAC Day
Gold Coast Events April
Cooly Classic Ocean Swim at Coolangatta
Dates
A Sunday in Late March or Early April

Location
Around Coolangatta, Snapper Point and Kirra SLSC, Kirra Beach

The Cooly Classic Coolangatta Ocean Swim is renowned for ocean swimmers as you get to swim across 3 famous surf breaks - Snapper Rocks, Coolangatta and Kirra.

This is a great event for spectators too as you can watch the swimmers from along the beaches. There are now three races.
Cooly Clasic 2.0 for the ironmen amongst you is a 2km swim that starts at Snapper Rocks and is usually the first race - times change slightly each year.
The Cooly 1000 is a shorter course with a 1km swim which starts at Coolangatta Beach about an hour or so later.
The 300m Kid's Surf Dash for the little nippers starts at Kirra Beach and is the last race usally around midday (but please check for exact times) for swimmers aged 10 and over and parents are encouraged to swim along with them.
All presentations are at the Kirra Surf Club around noon. More information about the races, entries and times at the event website.
Surfers Paradise Easter & School Holidays Festivities
Dates
Around Easter & School Holidays in March or April

Location
Various Venues around Surfers Paradise
The "festival" is made up of different events and provides visitors with an opportunity to enjoy the best things about our city. Events run at various times and usually cover the Easter school holidays with a program of events intended to create a vibrant atmosphere within Surfers Paradise.

The format changes and may include some or all of the following:
SIPFest (Shorts In Paradise Festival) short film festival is part of the Gold Coast Film Festival and runs on a Sunday on Surfers Paradise beach.
Australian Street Entertainment Championships have been running for a few years over the Easter Weekend from Good Friday to Easter Monday. It's carnival gone crazy! Clowns, mimes, puppeteers, jugglers, acrobats, magicians and more...

Most events are free but you will need to check the festival website for final details and ticketing information. www.surfersparadisefestival.com
Gold Coast Commonwealth Games 2018
Dates
4 to 15 April 2018

Location
Various Venues around Gold Coast & Brisbane
Getting closer all the time! Things are starting to shape up. Gold Coast will be hosting the 2018 Commonwealth Games. Claim these dates and make sure you are here to compete, watch and enjoy this amazing once in a lifetime event for the Gold Coast.
Preparations are taking shape and you can already swim in the new Gold Coast Aquatic Centre, which was built for the games.
More details to come as we get closer can be found on our facebook page.
Luke Harrop Memorial Gold Coast Triathlon
Dates
Sunday in April

Location
Broadwater Parklands, Southport

Three categories of events including Queensland Tri Series, Enticer Tri Series and Superkidz Tri Series.
World class triathletes compete in the ITU World Triathlon Series Round 3 on the Saturday. Expect there to be some disruption in the area across the weekend.
There are road closures in the areas of Southport, Labrador and Biggera Waters along the Gold Coast highway from Ada Bell Way in Southport through to Burrows Street at Biggera Waters.
Events start and end at Southport Broadwater Parklands, there is some accommodation in Southport which would be the closest option. You can also find accommodation in Main Beach or Surfers Paradise to the south of the event.

More information at www.usmevents.com.au

Gold Coast Film Festival
Dates
Thursday to Sunday. Approximately 10 days in mid to late April

Location
Various Locations

Did you know that the Gold Coast accounts for 75% of film production in Queensland? The Gold Coast film festival aims to raise the profile of film making in the area, as well as bring a diverse range of feature and short films to the region.
An expanding range of venues for these films - it's worth having a look at the website for more details if you like your film festivals.
Film makers can submit their films for consideration. Check the website for more details and film program www.gcfilmfestival.com.
ANZAC Day Services
Dates
ANZAC DAY 25 April

Location
Various locations and times around Gold Coast
Across the Gold Coast there will be ANZAC Day services including the famous dawn service at Burleigh Heads.
ANZAC day is also the only day of the year you are allowed to play Two-Up - but you can try ANZAC biscuits any day of the year!
Disclaimer: Whilst every care is taken to provide correct information, the information about Gold Coast events, festivals, shows and other activities shown on this and other pages within this website is a guide only. Dates are subject to change without notice. Please check with individual event organisers before planning your trip around these dates.
Ready To Get Started? Travel Planning Guide & Sheets
DREAM IT
You'll find lots of photographs, descriptions and information to help you dream up your perfect Gold Coast Holiday.
Why not start with all that the Gold Coast has to offer.
PLAN IT
After many years of planning trips with my family both locally and overseas, I've created many resources to help you through creating an itinerary and plan that will have you seeing, doing and experiencing the best the Gold Coast has to offer you.
You can do it yourself using the resources on this website by starting here.
Or you can cut some corners and get my travel planning sheets and extra resources.
BOOK IT
When you are ready to book your Gold Coast travel arrangements I've hand picked the best resources for all aspects of your travel itinerary. You can feel confident that you are accessing the best local and global travel providers for your holiday.
New! Comments
Have your say about what you just read! Leave me a comment in the box below.