Tangalooma Island Resort
Tangalooma Island Resort Day Trip or Stay Over
TANGALOOMA ISLAND RESORT

Stay & Enjoy A Few Days
At Tangalooma Island Resort
Great Facilities
Check out the best prices for staying at
Tangalooma Resort or Villas.
---
Don't Have Time To Stay?
Then One Day is All You Need
Check Out Day Trip Options
Tangalooma apartments are right by
the boat jetty and have a great view across
Moreton Bay looking back towards Brisbane.
They are close to the newly built facilities.
Tangalooma is great for a day trip from the Gold Coast. When I went, all I could think about was coming back and spending more time!
If you stay over there is plenty to do and see, lots of tours and resort facilities to experience and also the wild dolphin feeding can be enjoyed if you stay over or on some one day tours to Tangalooma.
Whale Watching Season Tangalooma
Why not combine a trip to Tangalooma with some whale watching during the whale watching season from June to late October?
Tangalooma has a few options for accommodation.
You may have heard the resort referred to as Tangalooma Wild Dolphin Resort. It gets a bit confusing, but that name comes from the wild dolphins who come to the resort in the evenings.
The resort staff organise visitors during the hand feeding sessions.
Since these are wild dolphins they never know how many will actually come in each night.
You can now include wild dolphin feeding on a day trip which has a later departure from the island and therefore gets you back to the Gold Coast quite late, making for a long day.
For those who don't want to be rushed, one of the best ways to experience the dolphin feeding is by staying overnight or for a few days at the resort.
Tangalooma Island Resort Accommodation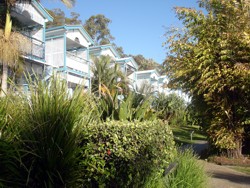 Tangalooma Villas right on the beachfront
with awesome views across Moreton Bay.
Perfectly positioned to watch the
sun setting over the water.
There are several different types of accommodation at Tangalooma Island Resort including:
Tangalooma Villas
Tangalooma Apartments
Tangalooma Resort Houses
Tangalooma Resort Hotel Rooms
Tangalooma Resort Hotel Suites
There are also some private Tangalooma houses for rent that have access to all the Tangalooma Resort facilities.
You may find some Tangalooma accommodation is referred to as Tangalooma Wild Dolphin Resort.
Tangalooma is on Moreton Island. Other options for accommodation on Moreton Island include Bulwer which is about 12kms north of Tangalooma.
Why not compare prices on Tangalooma Resort Accommodation
Custom Search