Is Weather In August on the Gold Coast OK for Swimming?
by Ranjeet Bhargava
(Delhi, India)
Is the weather in August on the Gold Coast OK for swimming?

I know that in the Gold Coast it is winter in August.

In the afternoon is it hot enough to enjoy getting in to the sea on the beach?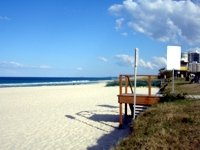 On many occassions during August I have been to the beach on the Gold Coast and people
do
swim. I must admit, I don't unless it is a very warm and sunny day.
The sea temperature in the
Gold Coast in August
is on average about 19°C.
This photo of Main Beach one of the Gold Coast beaches was taken during August.
From memory I think it was about 3pm or 4pm in the afternoon at a stretch called Narrowneck which is between Surfers Paradise and Main Beach and where there are no tall buildings along the coastline.
It still looks pretty inviting!
Probably the best time to swim in the sea on the Gold Coast in the winter months is around the middle of the day.
Depending upon where you are, after about 2 or 3pm in the afternoon the sun can disappear behind the tall buildings.
This is mostly in the
Surfers Paradise
and
Main Beach
areas, but also down to
Broadbeach
and
Burleigh Heads
there are parts where this happens too.
The tall buildings create shade and in the winter that happens earlier in the afternoon because the sun is lower.
Sometimes the water can be warmer than the average or cooler and if it is windy, you might find it a bit too cool for leisurely swimming.
If you are a person who is happy to swim in water at this temperature, then you will certainly not be alone in the swimming in the sea in the Gold Coast in August!
If you have any more questions or comments, please leave them in the comments section below and I will answer them for you.

Annie Rettie
Gold Coast Australia Travel Tips - Owner
Join the conversation or just check us out...
Join in and write your own page! It's easy to do. How? Simply click here to return to August in Gold Coast.