Whale Watching Once in a Lifetime Experience
by Annie Tan
(Kuala Lumpur, Malaysia)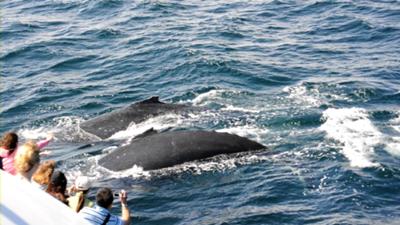 Humpback Whales off Gold Coast
Whale Watching off Gold Coast - A Once in a Lifetime Experience!!!

This is definitely the highlight of our trip to Gold Coast in Sept 2010.

The waves were big but the sighting of the whales made it up for all the dizziness. Thanks to the experienced sea crew, we didn't have to wait long, maybe less than 30 minutes for the 2 juvenile whales to approach us.

Before we know, we were entertained by the playful creatures swimming from one side of the boat to the other side.

All of us were busy clicking our cameras moving from one end to other end trying get the best shots.

This is definitely a lifetime treasured experience.

Gold Coast Annie Comments
So glad you enjoyed the experience Annie. If you could comment below to confirm this was Sea World Whale Watch that you went on, because you do not mention it directly that would be great for the readers.

Thanks for this review and the photos are fantastic. Did you have to use a special setting on the camera to get the splash details on that whale tail photo (which is my personal favourite)?