COVID-19 Pandemic & This Website
The COVID-19 Pandemic has had a huge impact on local Gold Coast businesses, which rely heavily on visitors from Queensland, interstate and overseas.
During this time, it is hard to keep the website fully up to date with all the changes. In the meantime here are some resources for visitors. Our main booking partners for hotels and for tours, tickets, theme parks and activities are keeping everything up to date, so please use those resources in the meantime.
Travel Information for Queensland Visitors - Queensland Tourist Safety Information - regularly updated, official website.
COVID-19 FAQ's For Activities, Tours, Cruises & Theme Park Tickets - General Ticket & Pass FAQs and COVID-19 Travel Update.
Thank you for your understanding and patience at this really difficult time.

Annie Rettie
Gold Coast Australia Travel Tips - Owner
Whale Watching Once in a Lifetime Experience
by Annie Tan
(Kuala Lumpur, Malaysia)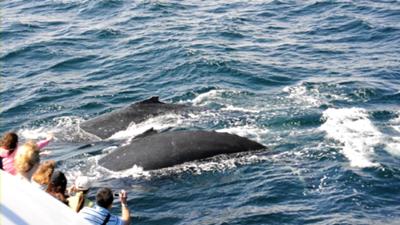 Humpback Whales off Gold Coast
Whale Watching off Gold Coast - A Once in a Lifetime Experience!!!

This is definitely the highlight of our trip to Gold Coast in Sept 2010.

The waves were big but the sighting of the whales made it up for all the dizziness. Thanks to the experienced sea crew, we didn't have to wait long, maybe less than 30 minutes for the 2 juvenile whales to approach us.

Before we know, we were entertained by the playful creatures swimming from one side of the boat to the other side.

All of us were busy clicking our cameras moving from one end to other end trying get the best shots.

This is definitely a lifetime treasured experience.

Gold Coast Annie Comments
So glad you enjoyed the experience Annie. If you could comment below to confirm this was Sea World Whale Watch that you went on, because you do not mention it directly that would be great for the readers.

Thanks for this review and the photos are fantastic. Did you have to use a special setting on the camera to get the splash details on that whale tail photo (which is my personal favourite)?