Gold Coast Golf Map
Gold Coast Golf Map Showing Major Gold Coast Golf Courses and Clubs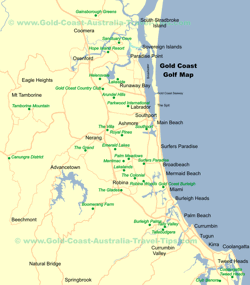 So Many Options for Golf Courses!
There are so many options for golf on the Gold Coast, we are very spoilt!
Disclaimer: This map of Gold Coast golf courses and golf clubs is a representation, it is not exact though it is roughly to scale.
The distance between Coomera and Coolangatta is approximately 48 kms.
Not all roads are marked, neither are all waterways or suburbs etc.
It is purely to be used to get an overall view of where in the Gold Coast the golf courses are. You can click parts of this map to take you to more information.
Map of Golf Courses And Golf Clubs Gold Coast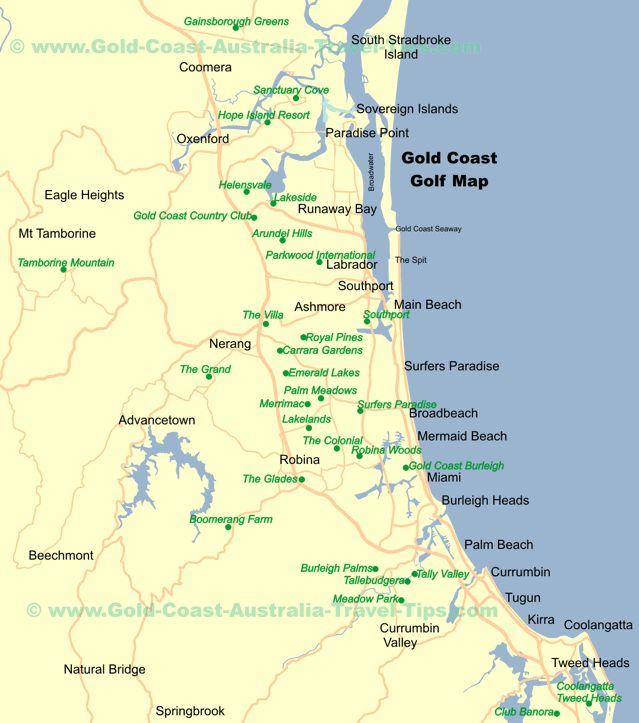 Apologies if this map is slow to load - I have tried to make it as web friendly as possible, it is worth the wait!
If you are after more details, exact road maps and scale try my interactive map of the Gold Coast.
Move your mouse over this map you can discover more information about the areas and places. If you click on the map you will be taken to more information about that specific golf course or club including location details and approximate costs to play plus hints and tips for visitors.
More Golf Information
Want more Gold Coast golf information? Gold Coast Golf Guide gives more details on the courses around the Gold Coast. You can also find more information for golf options in each of the suburbs. Navigate to the suburbs you are interested in via the map or the main suburb page. Suburb pages include information such as approximate travel time to the golf courses.
Need directions? Check out my custom golf map on google maps which shows all the Golf courses in their correct positions. You can then get directions from where you are staying by typing in the address of your accommodation.
Custom Search