COVID-19 Pandemic & This Website
The COVID-19 Pandemic has had a huge impact on local Gold Coast businesses, which rely heavily on visitors from Queensland, interstate and overseas.
During this time, it is hard to keep the website fully up to date with all the changes. In the meantime here are some resources for visitors. Our main booking partners for hotels and for tours, tickets, theme parks and activities are keeping everything up to date, so please use those resources in the meantime.
Travel Information for Queensland Visitors - Queensland Tourist Safety Information - regularly updated, official website.
COVID-19 FAQ's For Activities, Tours, Cruises & Theme Park Tickets - General Ticket & Pass FAQs and COVID-19 Travel Update.
Thank you for your understanding and patience at this really difficult time.

Annie Rettie
Gold Coast Australia Travel Tips - Owner
Is Currumbin Bird Sanctuary Open On Good Friday?
by Mary B.
(Bendigo, Victoria)
My family will be coming to the Gold Coast for the Easter holidays, and we wanted to visit Currumbin Bird Sanctuary on Good Friday.

Will Currumbin be open on that day? Will everything be open?

We are a family of 2 adults and 2 boys aged 7 & 10 years, what is the best type of ticket for entry?
Thanks, Mary


To answer your first question, Currumbin Wildlife Sanctuary is open on Good Friday and all over the Easter long weekend, including Easter Saturday, Easter Sunday and Easter Monday.
Opening times are the usual 8am to 5pm daily and you can expect that all the usual shows and attractions should be open (unless there is some attraction maintenance etc).
Need Help Planning Your Holiday?
Why not check out my Planning Cheat Sheets with lots of extra information and tools to help you plan your holiday so you don't miss a thing!
The Easter weekend is one of the big weekends of the year, as it co-incides with school holidays. During Queensland School holidays, Currumbin usually runs the full range of shows, activities and extra tour options for things like the
Segway Safaris
and
Tree Tops Rope Challenges
.
Currumbin Wildlife Sanctuary is open every day of the year except Christmas Day (25 December) and ANZAC Day (25 April).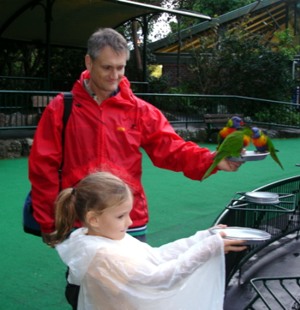 Wild Bird Feeding.
Morning and late Afternoon
Just to avoid any confusion, Currumbin Wildlife Sanctuary is the proper name, it used to be know as the bird sanctuary, but now is much more than that. As well as the famous bird feeding, there are many opportunities to see a wide range of Australian native animals.
As for the best tickets, your family is very lucky to be able to take advantage of the awesome Family Passes. Children aged between 4 and 14 years are classified as child tickets for entry. Children aged 0 to 3 years are free entry.
The family passes are for 2 Adults + 2 Children and are the cheapest way for a family to enter the wildlife park. Prices change, but here are the links to the information for the latest deals:
Family Passes
or
All Currumbin Ticket & Pass Options
.
The family deal is hard to beat, but on those pages you will see the different options and you can then decide whether there might be extra things you want to do in combination with your Currumbin visit.
I hope that gives you some ideas, if you have any more questions or want any more suggestions please leave a comment below or use the
contact form
to contact me directly.
Cheers

Annie Rettie
Gold Coast Australia Travel Tips - Owner
Join the conversation or just check us out...