Melbourne Cup Lunches & Events On Gold Coast
COVID-19 Pandemic & This Website
The COVID-19 Pandemic has had a huge impact on local Gold Coast businesses, which rely heavily on visitors from Queensland, interstate and overseas.
During this time, it is hard to keep the website fully up to date with all the changes. In the meantime here are some resources for visitors. Our main booking partners for hotels and for tours, tickets, theme parks and activities are keeping everything up to date, so please use those resources in the meantime.
Travel Information for Queensland Visitors - Queensland Tourist Safety Information - regularly updated, official website.
COVID-19 FAQ's For Activities, Tours, Cruises & Theme Park Tickets - General Ticket & Pass FAQs and COVID-19 Travel Update.
Thank you for your understanding and patience at this really difficult time.

Annie Rettie
Gold Coast Australia Travel Tips - Owner
Lunches and events to celebrate the running of the Melbourne Cup horse race are held right around Australia.

On this page you will find background information about the race and a selection of events from around the Gold Coast.

Read on, to find out more about the event, or use the Options Menu to skip to the topic you are interested in.

Are you planning your holiday to the Gold Coast? Want to make sure you don't miss anything? Click Here to find out about my planning cheat sheets, tips & tools to step you through!

Annie Rettie
Gold Coast Australia Travel Tips - Owner
Join the conversation or just check us out...
Select The Event You Are Interested In
The information on this page is general but is also updated in the run up to Melbourne Cup celebrations which is held in early November each year. Many venues don't put their information together till much closer to the event. New information should be obvious by the appropriate dates. I hope you understand, but if you have any specific questions, please don't hesitate to contact me.
About Melbourne Cup Lunches & Events
Melbourne Cup is knowns as the "race that stops the nation".
It is held at Flemington race track in Melbourne on the first Tuesday of November each year and is part of the Victorian Spring Racing Carnival.
Date for Melbourne Cup in 2018 is Tuesday 6 November 2018.
There are many other prestigious race days during the carnival, but Melbourne Cup is renowned as the biggest day of all. For a start it is a public holiday in Victoria!
The rest of Australia, obviously not wanting to miss out, join in with Melbourne Cup lunches and events.
Events can be simply a group of people getting together, usually dressing up as if going to the races with fancy hats to compete with the fashions on the field!
There are much more elaborate events too, from massive charity lunches to less formal but equally fun lunches and events in smaller venues and restaurants.
Many of the organised events include special packages with lunch, entertainment, fashion shows, sweepstakes for the actual races and televised coverage of the race itself.
Events usually kick off around midday and the race is run in Melbourne at 3pm ADST, however since they are on Daylight Savings by this time of the year and in Queensland we don't observe daylight savings, the race is telecast at 2pm Queensland time.
So, now you know about Melbourne Cup... where can you join in an organised lunch or event?
Obviously, each year details change, and I update this as I get new information, however, from year to year many of the same venues run similar events, so you can always check directly with them.
I hope you find something that suits your requirements and budget.
Disclaimer: Whilst every care is taken to provide correct information, the information about Melbourne Cup lunches and events in on this and other pages within this website is a guide only. Prices, times and other information is subject to change without notice. Please check with individual event organisers before attending any of these events.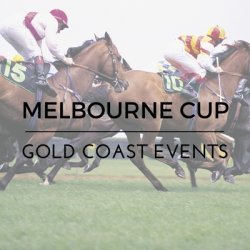 Melbourne Cup Events and Lunches around the Gold Coast.
Melbourne Cup Lunches in Hotels
Most of the large hotels in the Gold Coast host Melbourne Cup Lunches. Below is a selection of these. Most of these events are geared towards adults, though there is an option for bringing the kids to a lunch at Four Winds Restaurant.
For most of these events you can expect to pay over $100 per person, however there are some that are less than this.
Events usually start around 12 noon and run to about 3pm - but check details.
This year after parties seem to be the thing - so check below for details where there is a formal or informal option to continue on...
Why not stay and enjoy! Click on hotel names for great accommodation rates.
Please Note: Information below is for previous years - unless you see the date 2018. It will be updated for 2018 where information is currently available. It is clear which have been updated, the generic information is available for information and guidance only. Melbourne Cup Lunch and Event Information will be updated closer to the event, but the information will be a guide for what is available.
Sea World Resort Melbourne Cup Event
Sea World Resort usually hold a "Celebrate Melbourne Cup in Style" event.
There's the lunch plus a range of entertainment and prizes and of course the race! Tickets are approximately $99 (check with them directly as may change from year to year) and usually sell out fast. You will need to contact Sea World Resort directly for tickets for the event.
Surfers Paradise Marriott - Melbourne Cup Luncheon
Surfers Paradise Marriott Resort & Spa hosts a great event every year in the Marriott Ballroom.
3 course lunch with drinks package, fashion parade, entertainment, sweepstakes and prizes.
And this year an after party in Chapter and Verse from 3.30pm. Definitely worth considering.
Various lunch packages from approximately $140 per person for silver ticket, or get a Gold Package for tables of 10.
With the after party, it's a very good reason to book a room and stay the night! You know you want to ;-)
Sofitel Gold Coast Melbourne Cup Lunch
Sofitel in Broadbeach has well known restaurant Room81 and it has been the venue for Melbourne Cup Luncheon events.
Enjoy a 4 course menu with drinks package, live entertainment, sweepstakes, prizes and of course racing on the big screen.
Around $135 per person.
Sheraton Mirage Gold Coast Melbourne Cup Luncheon
Sheraton Mirage Gold Coast usually hosts a Melbourne Cup Luncheon event at Terraces Restaurant, where you can enjoy their fabulous seafood buffet, sweepstakes, prizes and Fashion Parade by Marina Mirage.
All for approximately $149 per adult | Teen (13 - 17 years) $119 | Child (.4 to 12 years) $59
Discounts at Pearls Bar afterwards... so why not stay and enjoy and after party.
Palazzo Versace Melbourne Cup
Palazzo Versace in Main Beach is very popular and Melbourne Cup Lunch is a must do here!
Enjoy watching the race in the glamourous La Medusa Ballroom, with a great lunch - two options for beverage packages.
Fashion parade with some massive names, entertainment, raffle, prizes and lots more.
Packages start around approximately $175 per person with discounts for tables of 10.
QT Hotel Gold Coast Melbourne Cup Lunches
QT Hotel in Surfers Paradise often goes all out for Melbourne Cup.
There are usually options for lunches at both their famous Bazaar restaurant for approximately $149 per person including a seated lunch, entertainment and beverage package.
Or enjoy a more relaxed cocktail style Melbourne Cup Lawn Party - Rosé at the Races al fresco in a combined Stingray Lounge/Yamagen Bar event with canapes and drinks package as well as race coverage for around $110 per person.
Discounts for 10 or more in booking.
InterContinental Sanctuary Cove Resort Melbourne Cup Event
InterContinental Sanctuary Cove Resort usually hosts a Melbourne Cup Luncheon at The Grange with food and beverage package for approximiately $155 per person.
Jupiters Hotel & Casino (now known as The Star Gold Coast) Melbourne Cup Lunches
Jupiters Hotel and Casino is now known as The Star Gold Coast and is located in Broadbeach. In previous years it has had a range of Melbourne Cup events.
From picnics on the lawn at Garden Kitchen and Bar (various packages for up to 8 guests starting at $800) or set menu for around $95 per person
To sumptuous Italian style lunch at Cucina Vivo (approximately $155 including a 3 hour beverage package)
Buffet lunch at Food Fantasy (about $105 per person 2½ hour beverage package) or
Reserve a poolside cabana be quick and host your own party!
Be quick options here are very popular and close fast.
Crowne Plaza Surfers Paradise Melbourne Cup Buffet Lunch
The Four Winds 360 Restaurant at Crowne Plaza is a revolving restaurant 26 floors up with amazing 360° views of Gold Coast.
Keeping it simple with their signature buffet lunch with a few extras!
This one even has prices for children! Approximiately Adults $75 and Children $30.
Includes buffet, glass of sparkling wine on arrival and lucky door prizes.
Hotel Watermark & Spa Surfers Paradise Melbourne Cup Lunch
Watermark Hotel in Surfers often has several options.
Melbourne Cup events have been in Clifford's Grill & Lounge.
This is a good option for lower budgets at around $89 per person.
Melbourne Cup Luncheon Events - Restaurants
Please Note: Information below is for information and guidance only. Prices are approximate and there is no guarantee that these events will run this year.
Oskars on Burleigh - sadly venue closed in March 2018.
Hard Rock Cafe Surfers Paradise is usually holds a 4 hour event in the Private Surf Room from 12pm through to 4pm for around $75 per person.
The Boardwalk Tavern at Hope Island usually has a 2 course Melbourne Cup Lunch for approximately $60 per person.
The Oracle Broadbeach Melbourne Cup Lunch Options
Oracle Boulevard in Broadbeach usually has a range of Melbourne Cup lunches within its precinct.
Check out the restaurant options including: Bavarian Bier Cafe, Mecca Bah or Massaman Kitchen + Bar.
Want to stay over? Check out Peppers Broadbeach.
Melbourne Cup Luncheon Events - Other
Please Note: Information below will be updated for 2018 where information is currently available. It is clear which have been updated, the rest of the information is generic and is available for information and guidance only. Melbourne Cup Lunch and Event Information will be updated closer to the event, but the information will be a guide for what is available.
Gold Coast Turf Club Melbourne Cup Event
Spend the day at Gold Coast Turf Club and it's probably the closest you can get to the feel of the Melbourne Cup and Flemington on race day in the Gold Coast!
The gates open at 9am and you need to be prepared to pace yourself!
Live racing, televised Melbourne Cup race, plus fashions on the field and dining packages available.
General entry is just around $30 at the gate or there is an early bird option to buy before.
But the way to go is with one of the various functions and dining packages. Starting from approximately $145 per person upwards.
Each package has different inclusions and are based in different lounges, restaurants and venues in the turf club.
The Gold Coast Arts Centre Melbourne Cup Luncheon
Melbourne Cup Luncheon at The Gold Coast Art Centre has grown over the years and now you have to get in early to ensure a ticket!
Expect a fashion parade, sweepstakes, auction, raffles and prizes.
Starts at 10.30am and runs till about 4pm. It's held in the Paradise Showroom and is a charity event with money raised from the raffles going to the local Paradise Kids Charity.
Approximately $70 per person. Tickets can be booked online through their website www.theartscentregc.com.au
Centre of Melbourne Cup Gold Coast Event
Centre of Melbourne Cup at Gold Coast Convention and Exhibition Centre in Broadbeach is an annual institution!
This massive event usually includes a sit down 4 course lunch, beverage package and Moet bar, live entertainment, fashion parade and a race sweepstake.
Tickets approximately $149 per person or $1450 for table of 10.
Event usually runs from 11.30am to 4.30pm.
Southport RSL Melbourne Cup
Southport RSL Club is usually holds a very affordable Melbourne Cup lunch function with a 2 course meal, live entertainment and of course coverage of the race.
Kicks off around 10.30am to around 3pm and is open to both members and non members.
As well as entertainment there will be various prizes. Price approximately $55 per person (non-members). Contact Surfers Paradise RSL .
Southport Yacht Club Waterfront Restaurant Melbourne Cup Lunch
Southport Yacht Club in Main Beach usually hosts its Melbourne Cup event in the Waterfront Restaurant.
2 courses, fashions on the field, live entertainment and sweepstake.
Approximately $69 per person. Contact Southport Yacht Club.
SkyPoint Melbourne Cup Lunch at Q1
Q1's SkyPoint Observation Deck has a fabulous view and is a great venue for Melbourne Cup Lunches. This event usually sells out very quickly and is approximately $125 per person.
Melbourne Cup Day Video
In case you are wondering what all the fuss is about... here is a video which gives you an idea of what Melbourne Cup functions are like...
Please note, that whilst all care is taken to ensure the details are correct, things change. So please double check with the venues to ensure you are not disappointed or miss out on booking.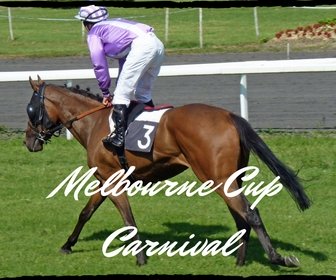 Melbourne Cup Carnival.
Gold Coast Local Information For October & November
DREAM IT
You'll find lots of photographs, descriptions and information to help you dream up your perfect Gold Coast Holiday.
Why not start with all that the Gold Coast has to offer.
PLAN IT
After many years of planning trips with my family both locally and overseas, I've created many resources to help you through creating an itinerary and plan that will have you seeing, doing and experiencing the best the Gold Coast has to offer you.
You can do it yourself using the resources on this website by starting here.
Or you can cut some corners and get my travel planning sheets and extra resources.
BOOK IT
When you are ready to book your Gold Coast travel arrangements I've hand picked the best resources for all aspects of your travel itinerary. You can feel confident that you are accessing the best local and global travel providers for your holiday.