Day Trips To South Stradbroke
What Are The Options For Day Trips To South Stradbroke Island?
A day trip over to South Stradbroke can be a fabulous getaway and totally different pace to the hubbub of Surfers Paradise and the rest of the Gold Coast.

I highly recommend staying at Couran Cove Resort. However, if you don't have time to stay over for a few nights, a day trip here definitely worth it!

Read on to learn about the options and our tips for day trips and tours to South "Staddie" Island.

If you are still in the process of planning your Gold Coast getaway, don't forget to check out my planning cheat sheets, tips & tools to help step you through planning out the things to do, where to stay and when to visit.

Annie Rettie
Gold Coast Australia Travel Tips - Owner
Join the conversation or just check us out...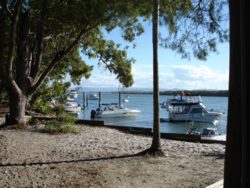 South Stradbroke Island
Day Trip Options
Ready To Get Started? Travel Planning Guide & Sheets
Warning: Day trips to South Stradbroke can leave you seriously frustrated!
A day trip to this amazing island is such a great experience it will frustrate you and leave you wanting more!
Not everyone has the luxury of being able to stay over on the island. If you are able to, I highly recommend staying on South Stradbroke for a night or more.
Day trippers read on for suggestions on how to get to South Stradbroke Island for a day trip plus some tips about what to bring and other suggestions for your tour. Enjoy this island getaway even if it is for only a half or full day.
Day Trip Options For South Stradbroke Island
Day Trips To Couran Cove Island Resort on South Stradbroke Island
The following day tours are available year round and go to Couran Cove Island Resort. This is my personal choice as I believe Couran Cove now offers a great day trip option with plenty of activities to keep everyone in the family happy.
Learn more about Couran Cove Resort or click through the tour options to find out more.
Couran Cove Island Resort Day Trip - the Couran Cove Resort ferry departs from Hope Harbour and takes you across to Couran Cove Resort for the day. Whilst there you can enjoy the resort facilities, many of which are included. You can hire a bike and cycle around the paths or over to the Ocean Beach. There are various water based activities in the resort lagoon. There are both lap pools and children's pools as well as a range of other sports facilities, restaurants, bar and a resort spa.


Sea Plane Trip To South Stradbroke Island - the sea plane departs from Sea World Resort in Main Beach and is a great way to get a scenic flight as well as spend a day at Couran Cove Resort enjoying all the facilities (see above for some ideas of what you can do).
Day Trips To South Stradbroke Island
These tours give you more choice as to where you go on South Stradbroke Island. You get to choose your location, but remember that you will only get the resort facilities if you go to Couran Cove. There are limited facilities at Tipplers and McLaren's Landing is a private resort.
Romantic Island Picnic - a very special day trip. Fly on a seaplane to a quiet, spot on South Stradbroke Island. Great for romantic picnics, marriage proposals, honeymooners or just for something special and unique.


Boat Hire with or without Skipper - Have a recreational boat licence? If so, you can hire and drive yourself around i n a variety of boats. If you don't have a licence or just want a local to show you around, this can be a great option to explore some other parts of South Stradbroke Island such as Tipplers, Jumpin Pin or Couran Cove Resort.
Day Trips November To May ONLY
These cruises and tours only operate during the off season for whale watching between November to May each year. They do not run from June to October - check above for year round options.
Tall Ship Island Adventure - sails to McLaren's Landing where you can enjoy activities at this eco resort on South Straddie Island. Only operates Tuesdays, Thursdays, Saturdays & Sundays from November through to May (outside the whale watching season). Departs from Marina Mirage, Main Beach. No option to stay on the island. These tours generally include morning and afternoon tea, lunch and use of resort facilities and activities. Optional 4WD tour and water sports. If you just want to get there quickly you could try Straddie Express which takes you swiftly too and from McLaren's Landing. The general cruise is on one of Tall Ship sailing boats. This is a good operation that takes you to an exclusive(rather basic) island retreat rather than a commercial resort.


Island Adventures - take the fast cat to McLaren's Landing where you can enjoy activities at this eco resort on South Straddie Island. Operates Daily from November through to May (outside the whale watching season). For more details see the information about Tall Ship Island Adventure as it is the same location.
Tips For Day Trips to South Stradbroke Island
South Stradbroke Island is a different pace to the Gold Coast. It is a sand island, that only has one main resort (Couran Cove) , some residential housing, a couple of smaller day resorts and camping grounds.
It is popular with local boaties who enjoy heading over to the peace and tranquility of this beautiful location.
The island has both calm water and ocean beaches. There aren't any patrols here - so beware if you want to go for a swim.
Be sure to pack the camera, sunscreen, hat and insect repellent. The sand island has some beautiful and unique animals (Golden Wallaby) and some rather irritating ones (sandflies, midgies and mosquitos) - so come prepared.
If you want to walk or cycle around the island areas, bring or wear some closed in shoes. And pack your swimming costume and towel if you want to enjoy the water based activities.
Food options at the resort are limited to pub style food. If you need special food options, be sure to bring your own supplies. The general store, even at Couran Cove, is very limited with items and virtually no fresh fruit or vegetables. You can get salads at the restaurants.
Want to stay longer than a day? Couran Cove Resort is the place to stay!
Gentle Reminder:
You generally get what you pay for! If it sounds cheap and you are expecting 5 star service, surroundings and gourmet food you may be disappointed. Equally, just because it is expensive does not mean you will get the best - that is why I try to review personally, or go on the recommendations of trusted friends.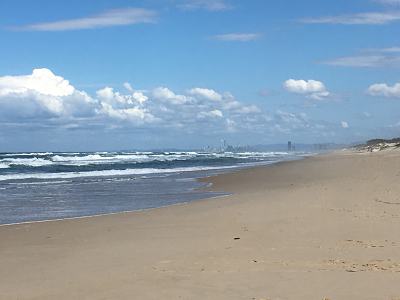 South Stradbroke Island Ocean Beach
Looking South To Surfers Paradise
Ready To Get Started? Travel Planning Guide & Sheets
DREAM IT
You'll find lots of photographs, descriptions and information to help you dream up your perfect Gold Coast Holiday.
Why not start with all that the Gold Coast has to offer.
PLAN IT
After many years of planning trips with my family both locally and overseas, I've created many resources to help you through creating an itinerary and plan that will have you seeing, doing and experiencing the best the Gold Coast has to offer you.
You can do it yourself using the resources on this website by starting here.
Or you can cut some corners and get my travel planning sheets and extra resources.
BOOK IT
When you are ready to book your Gold Coast travel arrangements I've hand picked the best resources for all aspects of your travel itinerary. You can feel confident that you are accessing the best local and global travel providers for your holiday.
New! Comments
Have your say about what you just read! Leave me a comment in the box below.
Back to Top - Day Trips To South Stradbroke Island