South Stradbroke Island Resort Day Trip Review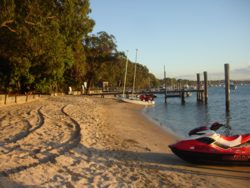 South Stradbroke Island Resort Day Trip
View of Beach
My family took a day out on a South Stradbroke Island Resort Day Trip in July 2008. The trip included a cruise on the South Stradbroke Island Ferry to and from the resort, BBQ buffet lunch, use of resort facilities and non-motorised watersports, a tractor-trailer ride to the surf beach and sand tobogganing. Read on below to find out what we thought, what we did and lots more photos....
South Stradbroke Island Resort Update
South Stradbroke Island Resort (SSIR) has been purchased by the Gold Coast City Council for redevelopment into the new Tipplers Hub, which will be a day trip destination without any accommodation.
I am not aware of any day trips to this exact location any more. However, Tall Ships, Gold Coast Scenic Sea Planes and Fast Cat Island Adventures all offer day trips to McLaren's Landing which is just a little further north of this spot and will give you a very similar day trip experience to the one described below.
We were fortunate the weather was idyllic. It was a perfect autumn day at the end of April - not too hot and certainly not cold!
The South Straddie Island ferry doubles as the day trip cruise boat and leaves from jetty C at Runaway Bay Marina. The ferry is a catamaran, which has seen better days!

We watched as the resort guests took their own bags down to the boat!

The trip was fast just over 20 minutes, not unpleasant, fairly comfortable and uneventful.
On arrival at the South Stradbroke Island Resort day trip guests were given a quick orientation talk and then were lined up in the reception behind the resort guests to get our tickets for lunch, sand tobogganing, water sports and return trip.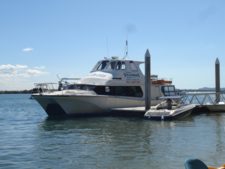 South Stradbroke Island Resort Day
Trip Ferry departs at 10.30am daily
from Runaway Bay Marina.
This gave us about 40 minutes before the lunch, to try some watersports. There were kayaks, canoes, pedal boats and hobie cats. As an additional sport our kids discovered that they could jump off the jetty!
South Stradbroke Island Resort day trip guests have full use of the resort facilities and non-motorise watersports. The area where we could do the watersports was a reasonable and certainly fun for the kids. We weren't fighting off the crowds to use the watersports, but maybe it was quiet that day.
We tried everything except the hobie cats. I wasn't keen to try them as there wasn't much room to sail amongst the boats and the cats would be difficult to handle without a jib. No jib seems to be standard practice for resort hobie cats.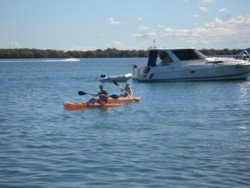 Day trip guests use the resort facilities
and non motorised watersports.
Here we are kayaking!
The kayaks were fun, as they were really hard to tip, and even my 6 year old had a really good go at kayaking for the first time.
Lunch was served in the restaurant. It was a buffet style BBQ lunch of steak, reef fish, chicken and salads. The food was okay to eat, there was plenty of it, but it certainly wasn't very exciting.
After lunch we headed to the tractor trailer for our trip across the island to the ocean beach and the sand tobogganing.

The trip took about 15 minutes and wound through the bush and then onto the ocean beach.

It was very beautiful and we saw wild Golden Wallabies, various birds and other wildlife.
South Stradbroke Island resort day trip
includes an option to add in the tractor ride
across to the ocean beach and sand tobogganing
The sand tobogganing was on a dune area hidden from the beach. It reminded me of snow fields.
The resort provides you boogie boards but you have to provide the leg power to get up the hill! That is the most strenuous part.
The best tips I can give for sand tobogganing are to go down the already packed down slide areas. Face first gives you more speed, more control and more thrill!
You only get about 15 minutes to sand toboggan. It is good fun, something a bit novel and even if you don't try the tobogganning the opportunity to see the ocean beach and view back to Surfers paradise is well worth the trip on the tractor.
Our South Stradbroke Island Resort day trip was a really relaxing, enjoyable family day out and time with our children to enjoy some island fun.

We chose to go back on the 5pm boat that day and the water sports wound up around 4pm.
This gave us time to have a drink in the bar, listen to the entertainment and play a spot of beach volleyball.
To cap it off we were joined on the court by some local wallabies! Quite a treat!
By leaving at this time we were also treated on the way back to Runaway Bay Marina with a spectacular sunset cruise as we watched the sun go down over the water.
Overall Comments - South Stradbroke Island Resort Day Trip Review
South Stradbroke island is a stunning and unique part of the Gold Coast that I would recommend to locals and visitors alike.

The South Stradbroke Island Resort was disappointing. I prefer 4 star or above and it really is 3 star. The style of the resort also makes it appear dated and tired. The staff were generally helpful and overall it was a very relaxing and pleasant day.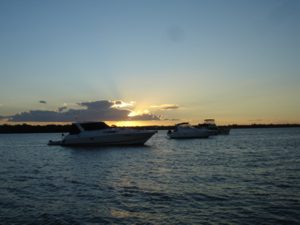 A Gold Coast Sunset on the way back
from South Stradbroke Island Resort.

I did not see what the accommodation was like, but I would imagine it would rate as a 3 star too.

For my family of two adults and two children (children have to be 3 to 13 years) it cost around $150 AUD for the cruise including the non motorised water sports, sand tobogganing and buffet lunch.

We had to pay extra for any other food, drinks, souvenirs, a deposit for the volleyball which was returned. On the island we could have paid extra for jet ski hire, banana boat ride, sea plane tour or massage. So for a family of four, I thought it was a good value day out on the water and island. Certainly not an expensive day trip out to an island.

South Stradbroke island is a stunning place, and a day trip to this resort will certainly get you wanting more!
Tips for Your South Stradbroke Island Resort Day Trip
Items you may find useful to pack for your day trip:
Sunscreen
Hat
Sunglasses
Towel if you plan to swim
Swimsuit, bathers, cozzies, togs, speedos, boardies, board shorts or whatever you call what you wear when getting in the water!
Camera
Binoculars if you want to spot birds or wildlife
Ginger Tablets if you experience motion sickness
Extra set of clothes, particularly in winter as it may get cooler during the day or on the ocean beach when windy
As with all island resorts, you are a captive audience once on the island, so anything you need to buy there is generally more expensive than the mainland and much less choice. So good idea to plan ahead.
Update February 2009: Gold Coast City Council purchased SSIR exact plans are not clear. Accommodation will not be available after end of February 2009 but GCCC has announced that Day Trips will be different but still possible. When I get further details I will update.
Other Cruises and Day Trips to South Stradbroke Island
Other cruises and day trips to South Stradbroke Island from the Gold Coast include:




Custom Search
Back to South Stradbroke Island Resort

Forward to Information about South Stradbroke Island Information

Return to top of South Stradbroke Island Resort Day Trip Review