Location:




X Coffee
Aqua Building, Shop 12
300 Marine Parade, Labrador Qld 4215



Phone:


+61 7 5561 1193


X Coffee Labrador Reviewed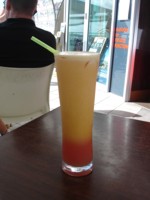 Healthy breakfast options
at X Coffee. There's always the All Day Breaky if you don't feel like being healthy!
X Coffee Labrador Reviews
Firstly, this is what they say about themselves!
Open for breakfast and lunch 7 days.

Specialities gourmet café food, coffee and cakes.

Breaky available all day!

My Review of X Coffee Labrador
This is the part where I get to say what I think of this cafe at Aqua in Labrador. Gotta love XCoffee, the guys and gals there are so helpful, fun and friendly. I have had many a coffee, iced coffee (definitely a good one) and even tea brewed with leaves. It is my local! Great for social coffees, business coffees, breakfasts or lunches. In the afternoon it is nice and quiet for coffee and a cake.
The coffee is fabulous and they will make it how you want it. Adrian, who co-owns and works in the business, works hard to make sure the coffee is good.
Your Comments About X Coffee Labrador
Have you been to X Coffee Labrador? What did you think?
Join our thread of comments over at X Coffee at Aqua or just read what others have to say.
It gets very busy on the weekends for breakfast, and what is the really telling thing is that round the corner you can try a cheap breakfast, but X Coffee is always buzzing. The food is worth it. The pancake stack is my kids favourite and then there is the healthy stack. Yum!
My husband loves the full works for breakfast and he is not disappointed with the breakie at X Coffee.

It isn't the fanciest looking place, but it is definitely one of my favourite coffee spots in the Gold Coast. There is indoor and outdoor seating. The outdoor seating has fantastic views of the broadwater too.
Things to be aware of, they close mid afternoon. Definitely not open for dinner. It does get busy, so make sure you plan ahead. Sunday mornings are very busy, but I always seem to get in after a short wait!

I hope you enjoy it as much as our family has, check out what other people have to say. And don't forget to tell Adrian, that Annie sent you! He'll look after you and he makes a great cup of coffee!
A note about taking really young children, especially at very busy times. Children are definitely welcome, but it is in my opinion, more suited to families with older children or no children. This isn't a reflection on the service or the food, but more an observation about the general attention span of kids and the variety of things to keep them occupied!
Other Cafes and Restaurants at Aqua Labrador
X Coffee located at Aqua Labrador is just one of several places to eat in Labrador. Here are some of the other options for eating at Aqua or other Labrador restaurants.
Lime Leaf Thai - Thai food, but no information yet.
Baskin Robbins – Ice Cream.

Marine Sushi - Sushi - during day only.
Beach Burgers Café - burger bar, casual.