Mantra Circle On Cavill Apartments
COVID-19 Pandemic & This Website
The COVID-19 Pandemic has had a huge impact on local Gold Coast businesses, which rely heavily on visitors from Queensland, interstate and overseas.
During this time, it is hard to keep the website fully up to date with all the changes. In the meantime here are some resources for visitors. Our main booking partners for hotels and for tours, tickets, theme parks and activities are keeping everything up to date, so please use those resources in the meantime.
Travel Information for Queensland Visitors - Queensland Tourist Safety Information - regularly updated, official website.
COVID-19 FAQ's For Activities, Tours, Cruises & Theme Park Tickets - General Ticket & Pass FAQs and COVID-19 Travel Update.
Thank you for your understanding and patience at this really difficult time.

Annie Rettie
Gold Coast Australia Travel Tips - Owner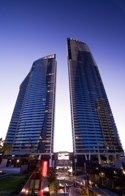 Circle on Cavill Apartments at twilight
Surfers Paradise Gold Coast
Mantra Circle on Cavill Apartments are one of the newest holiday apartments in Surfers Paradise.
Great choice for singles, couples or families with older children
It is located at the river end of Cavill Mall for many of the activities that Surfers has to offer. However, it is not on the beach and a bit of a walk to the beach (approx 500m) which may not be very good for little children.
Mantra, part of the Stella Group, manage these holiday apartments. They are a little bit like a hotel but have 1, 2 and 3 bedroom apartments and no hotel style rooms.
The Circle on Cavill retail precinct below the two towers is full of gourmet restaurants, designer boutiques, Strike Bowling, Minus 5 Ice Bar and a very convenient supermarket.


Click Here For More Information About Mantra Circle on Cavill
Inside view of Circle on Cavill Apartments

The resort facilities are very modern and sleek with an outdoor lagoon swimming pool and lap pool. For the younger children there is a small playground and a games room for those a bit older.

For fitness enthusiasts or for the winter months there is an indoor heated lap pool as well as a gymnasium.

Other features include a private theatrette and BBQ facilities in the outdoor gardens.

From an accommodation point of view the apartments are ultra modern. There is 24 hour reception and mini daily servicings of the apartments. If you are after a full hotel experience then you won't find it here. Apartments are great for the extra room and flexibility they offer families as well as the opportunity to prepare some or all your meals yourself.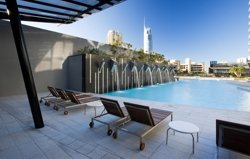 One of the Circle on Cavill Swimming Pools
All apartments feature:
Airconditioning
Gourmet kitchens
Spa Baths
Laundry facilities
DVD player, stereo, broadband connection and Cable TV

Click Here For Full Details and Latest Rates
There are a few things to watch out for with this accommodation. This list looks a bit long, but it really shouldn't put you off. These apartments are fantastic, you should just be aware of these points:
Small playground at Circle on Cavill for kids.
these are apartments, it is NOT a hotel.
no room service
no parking out front when checking in!
not all rooms have ocean views (1 and 2 bedroom apartments are available when booking with ocean views)
beware of directly rented out apartments in this building they may not be of the same standard nor will they have the daily servicing
During 2009 and 2010 the area around Cavill Mall is undergoing a huge redevelopment. The noise of construction during the day could be annoying. If you are planning on being out and about this should not be a problem, but it is important to note this.

Mantra Circle on Cavill Apartments Review
This video shows the inside of a circle apartment.
You can see the kitchen, bathroom, living area, balconies, bedroom and the views.
This apartment is not one of the ocean views, but the video shows that the hinterland views are just as spectacular and you can see the Nerang River as well as other parts of the Gold Coast.
Views will vary from apartment to apartment and the floor you are on.

Mantra Circle On Cavill Apartments Location
Address:
Mantra Circle on Cavill
9 Ferny Avenue
Cnr Cavill Mall & Gold Coast Hwy
Surfers Paradise
Queensland
Australia 4217
More information about Circle On Cavill Apartments Website
Star Rating: 4½ star apartments
Price Range: Moderate $$$*
Room Styles: Apartments, 1 bedroom, 2 bedroom and 3 bedroom apartments.
Locality: Use the map to explore what is around the Circle on Cavil area. You will find ideas for closest supermarket, where there are restaurants and some Surfers Paradise attractions. Zoom in or change to satellite for more details.
* This is just a guide. It is quite often that there are significant differences to the price range depending upon many factors.

Circle on Cav has been known by some other names since it was built. It was previously manage by Saville Hotel Group and was known then as Saville Circle on Cavill. You may come across other individual apartment owners who rent out their apartments directly. Personally I prefer to stick with a reputable company, who I know will be there 24 hours to fix any problems.
Custom Search