Costa D'Oro Surfers Paradise Italian
COVID-19 Pandemic & This Website
The COVID-19 Pandemic has had a huge impact on local Gold Coast businesses, which rely heavily on visitors from Queensland, interstate and overseas.
During this time, it is hard to keep the website fully up to date with all the changes. In the meantime here are some resources for visitors. Our main booking partners for hotels and for tours, tickets, theme parks and activities are keeping everything up to date, so please use those resources in the meantime.
Travel Information for Queensland Visitors - Queensland Tourist Safety Information - regularly updated, official website.
COVID-19 FAQ's For Activities, Tours, Cruises & Theme Park Tickets - General Ticket & Pass FAQs and COVID-19 Travel Update.
Thank you for your understanding and patience at this really difficult time.

Annie Rettie
Gold Coast Australia Travel Tips - Owner
Costa D'Oro Surfers Paradise Italian Restaurant Gold Coast Australia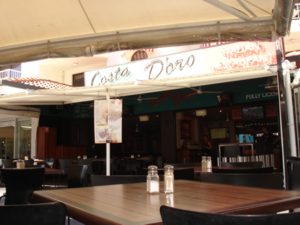 Costa D'Oro Italian Restaurant in Surfers
Open for Lunch and Dinner 7 Days
Garlic Prawns to die for!
Recently, I was organising a lunch for an Italian friend and myself. A girls lunch to catch up!
It had been a while - we like good food and plenty of opportunity to have some fun! Being locals, we don't often venture into Surfers Paradise, but for a change I booked Costa D'Oro an Italian Restaurant in the heart of Surfers Paradise on Orchid Avenue.
When I got there I realised that I had eaten at Costa D'Oro before - 10 years before!
Whilst on holiday my husband and I discovered this little gem of an italian restaurant. Our daughter was only a baby at the time, so we always looked for good places to eat with kids, where we could eat early. I remember we went back several times!
So, there I was, 10 years later, with my friend - an Italian. Would it be as good? Or would Graziella (not her real name, she's very shy!) pay me out for my choice? Read on to find out.....
Costa D'Oro
General Information - Last Updated February 2012 (original review May 2008)

Surfers Paradise
Italian Restaurant
Location:

27 Orchid Avenue
Surfers Paradise Qld 4217 Australia
Phone:



+61 7 5538 5203
Opening Times
Lunch - 7 days 12 noon till 2.00pm
Dinner - 7 days 6.00pm to 9.30pm
Bookings essential especially for dinner
When we arrived for lunch, we were the only customers there!
Skeptically, we ordered lunch, I chose a pasta dish. Graziella ordered the Garlic Prawns.......
We sat and waited for our meals, we had chosen to sit outside on the sidewalk.
This area has been extended since last ate there 10 years ago. It is quite pleasant to sit outside during the day as Orchid Avenue is really only for local traffic.

Soon after we arrived, the tables began to fill up, and by 1pm it was busy!
If it's this busy at lunchtime, I would suggest you need to book for dinner otherwise you'll miss out.
Pasta at Costa D'Oro. Great taste
good value especially for the
heart of Surfers.
When I saw the dishes coming towards us, I heaved a sigh of relief. It looked as if the food was going to be good.

My pasta was tasty, well cooked and just exactly what I wanted!

RAVIOLI RICOTTA & SPINACH
Ricotta and spinach filled pasta parcels with napoli sauce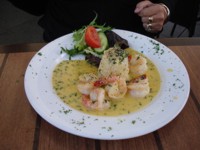 Garlic Prawns at Costa D'Oro.
Graziella's Garlic Prawns were nothing short of sensational! She likes her garlic! They were garlicky, delicious and she wants more!

A week later, she was still begging me that we had to go back again! She's NEVER done that to me before!

GARLIC PRAWNS
King prawns pan-tossed in a creamy garlic sauce.
Guess what I am having next time!
Overall Comments About Costa D'Oro Italian
I don't think you can go past this restaurant for quality, good food, great italian and seafood and not bad value for the heart of Surfers. Look out for specials if you are on a budget, otherwise it is pretty much what you would expect to pay for a restaurant in Surfers Paradise.

We walked up Orchid Avenue after lunch and it was quite obvious which restaurants were good and which weren't by the numbers of people having lunch in them.

Busy-ness at lunchtime is a good measure in Surfers. Locals who work in the area eat lunch in the good places! At night all the restaurants are busy, because there are so many people. To find a good restaurant to eat in, check out what is busy for lunch and then book for dinner!

Is Graziella right about the Garlic Prawns?
Is Graziella right about the Garlic Prawns?
Why not try the Costa D'Oro in Surfers Paradise. Italian Restuarant open for Lunch or Dinner.
Make sure you book before you go so you won't be disappointed and leave a comment below to let us know what you think and if they are still worthy of this review.
Costa D'Oro is an authentic Italian Restaurant located in the heart of Surfers Paradise.
To find out more about Surfers Paradise including where to stay in the area check out my Surfers Paradise suburb guide.
Custom Search
Back to Surfers Paradise Restaurants, Surfers Paradise Guide or Gold Coast Australia Home

Return to top of Costa D Oro Surfers Paradise Italian Restaurant