Sea World Review 2012
COVID-19 Pandemic & This Website
The COVID-19 Pandemic has had a huge impact on local Gold Coast businesses, which rely heavily on visitors from Queensland, interstate and overseas.
During this time, it is hard to keep the website fully up to date with all the changes. In the meantime here are some resources for visitors. Our main booking partners for hotels and for tours, tickets, theme parks and activities are keeping everything up to date, so please use those resources in the meantime.
Travel Information for Queensland Visitors - Queensland Tourist Safety Information - regularly updated, official website.
COVID-19 FAQ's For Activities, Tours, Cruises & Theme Park Tickets - General Ticket & Pass FAQs and COVID-19 Travel Update.
Thank you for your understanding and patience at this really difficult time.

Annie Rettie
Gold Coast Australia Travel Tips - Owner
Annie's Sea World Review 2012
Welcome To Sea World Gold Coast
Best Of MovieWorld, Sea World & Wet n Wild

3 DAY PASSES
3 Days Entry To Movie World, Sea World & WetnWild
3 Days Entry To Movie World, Sea World & WetnWild PLUS Hop On Hop Off Ferry Day Pass
7 DAY PASS
7 Day Pass to Move World, Sea World, WetnWild AND Paradise Country

14 DAY PASS
14 Day Pass to Move World, Sea World, WetnWild AND Paradise Country
It's been a while since I had spent a big day at Sea World Gold Coast and written a review of the theme park, so I thought it was time write a new review.
This visit was in early January 2012. As you will see from the photos it was a slightly overcast day.
I think we had a couple of light rain showers, but I barely remember because you just get on with enjoying the experience at Sea World!
Our day at Sea World started after parking in the free car park for visitors and walking up to the main Sea World entrance.
Since we last visited Sea World they seem to have streamlined the entry for those with pre-paid tickets and passes and those who are buying at the gate.
Fortunately we had pre-paid passes and went straight through the gates, those who had to buy their tickets on the day had a bit more of a queue and wait!
Weather Tip
If the rain gets heavy or too windy, some of the rides are shut down. They usually restart when the weather improves. There's plenty to do and see here even when it is raining.
Sea World Review 2012 Itinerary Planning Tip
Pick up your
Sea World Park Map
and
Show Times
when you arrive.
Plan your day around the fixed times such as shows or booked animal adventures first and then the attractions you want to see.
As always, the first thing we do is check the daily show guide and work out which of the shows we want to see and what times they are.
It was pretty straight forward for us, as we wanted to see the new Jet Stunt Extreme Show and that was on fairly early in the day we went.
The other show we wanted to see was the Sea World Dolphin Show - Imagine due on around lunchtime.
We always plan our Sea World itinerary around the shows and then work in the other things we want to do and see so we are not walking up and down the park!
When you first arrive in the park make sure you pick up a Sea World Park Map and inside should be a insert with the shows and times for that day.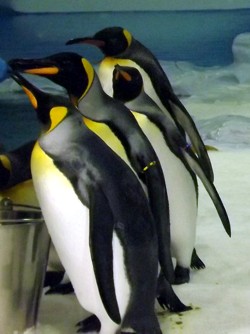 King Penguins at Sea World
Similar to Emperor Penguins but smaller
Whilst we waited for the Jet Stunt Extreme Show, we went to check out the new Antarctic Exhibit with the King Penguins.
And we were so incredibly lucky to arrive just as they were being fed!
Have you ever seen a penguin feeding?
It is quite bizarre, the keepers actually stuff the fish down the penguins throats.
I can only guess it is because they would normally be swimming in the ocean when they catch the fish so the momentum of their bodies would have the same effect as a human ramming a dead fish down their necks!
We didn't get to see the new baby penguins, because they were off display at that time.
Even though we didn't see them, we were so happy to see the penguins, they are truly stunning creatures. The King Penguins are a bit smaller than the Emperor Penguins but just as fascinating and breathtaking.
Return to top Sea World Review 2012
Then it was time for Jet Stunt Extreme and I really had no idea what to expect. They introduced four jet skiers, I forget their credentials, but they were quite impressive World Champion of this and World Champion of that.

Jet Ski Extreme Arena with seating
Stunt jet skis are impressive, they used the ramps, did twists, turns and flips. They ploughed up the water and then used the waves they created to get incredible jumps and lift for their tricks.
It was an interesting show and I am glad we saw it.
There's quite a bit of seating but you need to be able to go down stairs. There is some viewing from the top and there are some grassed areas on either side that when it is really busy seem to get filled up - probably good for families with strollers.
The water arena is also used for Spongebob Paradepants later in the day. It is close to the entrance and food outlets, for you to grab some fast food if you feel you need a snack whilst watching.
Return to top Sea World Review 2012
Next we headed through the main part of Sea World, past the new Nickelodoen shop, the dolphin nursery, pelicans and Sea World Helicopter terminal.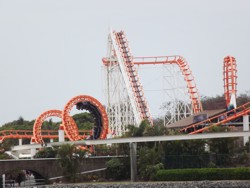 Sea Viper Roller Coaster at
Sea World Gold Coast
We had a little time to wait before the dolphin show so the thrill seekers needed an adrenalin burst!
My youngest daughter hadn't been on the thrill rides at Sea World, and was a bit nervous.
She decided Sea Viper Rollercoaster was the one to try first. The queues were quite reasonable and within 20 minutes they were on the ride.
It was definitely a hit - Again, Again, Again! I am sure that was all I heard for the rest of the day.
Before we headed to the dolphins we did a quick sidetrip to see the Polar Bears and Shark Bay. Unfortunately, we didn't get to see the Polar Bears. That happens, sometimes you see them and other times you don't.
Shark Bay was as amazing as usual - I just love viewing the fish from the underwater viewing deck. I could stand there for hours just watching them. For those who want to get a bit closer there are various animal adventures including a glass bottomed boat that you pay extra for.
I haven't included photos of these attractions, but you can check out others on the Sea World Photos page.
Return to top Sea World Review 2012
Sea World Dolphin Show Arena at Gold Coast
Sea World Review 2012 Dolphin Show Tip
Arrive well before the scheduled show time. This is really popular and once the show starts or the arena is full they close it off. No late entries.
So to the dolphin show. I have to admit, the show has never been 100% the same every time I have seen it. There are different dolphins they use and I think there were 5 or 6 when we went this time.
On this particular day, I did enjoy the show more than I have ever before. The dolphins seemed to jump higher and do more tricks.
The dolphins do some rather impressive jumps, twirls, synchronised leaps and fun stuff like waving to the crowds.
When you arrive to watch the dolphins, I recommend you get in early, it is often busy and the arena fills out.
The earlier you get in, the better the seat. The staff make you squash up together too if it is busy. There are some areas for wheelchairs, but I think you have to leave your strollers and pushchairs outside and carry babies in.
There are mobile vendors in the arena before the show to sell things like ice creams, churros, popcorn and drinks. They leave just before the show starts. The show itself probably lasts about 20 minutes.
Once the show had finished, we decided to check out Castaway Bay. I was quite impressed with this area with its range of activities. There were some included activities and a couple of paid activities.
Return to top Sea World Review 2012

Sky Climb and Sky Fortress at Sea World Gold Coast
The two most impressive attractions at this part of Sea World would have to be the Sky Fortess and the Battle Boats. Totally different.
Sky Fortress is for younger children and is a huge complex like a tree house with areas of rope bridges and lookouts and it looked alot of fun.
Battle Boats in Sea World Castaway Bay
Castaway Bay's Battle Boats can be enjoyed in two ways...
You can make yourself a sitting target on a battle boat which goes around a lagoon area and has water cannons.
Or, you can shoot water cannons from the edges of the lagoon to those sitting ducks in the boats!
If you go on the boats, you WILL get wet. Ha ha!
But don't worry, I saw the most bizarre thing - a people dryer. You step in to it pay $5 and it blasts you with drying air! I think I have seen everything now.
Sea World Review 2012 Water Fun Tip
There are several areas in Sea World where you might get wet. If you have young children make sure they have a appropriate clothing to get wet in and a towel to dry them off.
The other main attraction here is the Sky Climb which is a pay for use activity.
You get rigged up to climb a several storey structure with girders that move and tricky areas to negotiate. It looked quite fun and you are harnessed all the time.
The Sea World Water Park is also in this area, but you have to pay extra for this. When we went it was $10 for adults and $5 for children aged 3 to 13 years. For that you get access to the kids pool, Mammouth Plunge and the Sea World Resort pools.
Time to head back to the Central Plaza area. This has also changed quite a bit over the years. There is now a games area where you can play games to win prizes like at a circus or fair.
The food options have changed too. There was a Pizza joint and the usual fast food court with burger, hot dogs and chips.
Given the food policy of Sea World and you are not supposed to take in your lunch, I found the choices a little dissappointing. It's hard to find a decent lunch option at a reasonable price that isn't either fried or contains bread, neither of which are on our preferred eating list.
To be fair, I did not explore all the food options around Sea World, we just stopped to eat where we were, when we were hungry.
Return to top Sea World Review 2012
Sea World Review 2012 Itinerary Planning Tip
Use the map to plan your route around Sea World. If you or anyone in your group is feeling like they are too tired to walk, then hop on the Monorail or SkyWay for a little rest! We often use the Monorail at the end of the day, and you will get to see parts of the park you just cannot see any other way!
After lunch we checked out the Reef Ray exhibit where you can actually stroke the stingrays. As much as it was nice to see them, personally, this is not my cup of tea to see these poor creatures being handled by hundreds of people in a day.
Next stop Jet Rescue - jet ski ride/coaster right next to Sea Viper. This was a HUGE hit with the kids and my thrill seeking husband!
I cannot remember how many times they ended up going on it during the afternoon. They alternated between Sea Viper Rollercoaster and the Jet Rescue ride!
As we left Sea World we decided to take the Monorail around the park.
The monorail takes you around the perimeter of Sea World and you get to see some parts of the theme park you cannot normally see.
There is a stop for Sea World Resort guests to get on to and you can see how convenient staying in this resort would be for families who want to enjoy the theme park.
All in all we saw about half of Sea World on this recent trip. We didn't see or ride on :
Little Penguin Point
Fish Detectives Sea Lion Show
3D Happy Feet show in the Sea World Theatre
Viking's Revenge Flume
Spongebob Paradepants Show
Dora's Best Friends Adventure Show
Beach Break Bay kids area including wet play area and Intencity Games area
So you can see there was still plenty to do.
Sea World Review 2012 Money Tip
You'll need money for food, drinks, souvenirs, photos and any extra activities you want to do.
There are plenty of opportunities to spend money in Sea World. But you can enjoy most of the rides and attractions without paying anything extra than your entry fee.
If you want to see and do everything in Sea World you definitely need to spend the whole day here. The park opens at 10am and closes at 5pm with a couple of exceptions.
We tend not to stay the whole day because we can go back on our passes.
For visitors, if you have a multi-entry pass you can spend part of the day in Sea World rather than the whole day and come back to do the other activities another day.
This is quite useful if you have young children, because it is quite a full on day if you are there all day.
Return to top Sea World Review 2012
Sea World Packages
Sometimes Sea World Gold Coast Resort offers special packages which combines Sea World accommodation with theme park tickets or passes.

There are usually several options available or you can just book accommodation at Sea World Resort.
Why not check out the latest Sea World packages.
Custom Search