Mantra Legends Hotel Surfers Paradise
COVID-19 Pandemic & This Website
The COVID-19 Pandemic has had a huge impact on local Gold Coast businesses, which rely heavily on visitors from Queensland, interstate and overseas.
During this time, it is hard to keep the website fully up to date with all the changes. In the meantime here are some resources for visitors. Our main booking partners for hotels and for tours, tickets, theme parks and activities are keeping everything up to date, so please use those resources in the meantime.
Travel Information for Queensland Visitors - Queensland Tourist Safety Information - regularly updated, official website.
COVID-19 FAQ's For Activities, Tours, Cruises & Theme Park Tickets - General Ticket & Pass FAQs and COVID-19 Travel Update.
Thank you for your understanding and patience at this really difficult time.

Annie Rettie
Gold Coast Australia Travel Tips - Owner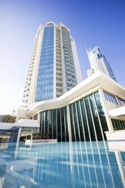 Mantra Legends Hotel
Surfers Paradise Gold Coast
Mantra Legends Hotel is a popular Surfers Paradise accommodation. It is sometimes referred to as Legends Resort as it is not just hotel accommodation, there are apartment options.
Great choice for singles, couples and smaller families.
Located just south of Cavill Mall precinct and a short walk (about 100m) to Surfers Paradise beach.
The accommodation is rated 4½ star, although some of the user ratings suggest closer to a 4 star.
It is a moderate price, wtih a range of facilities including a swimming pool and gym, steam room, spa and sauna facilities as well as an on-site restaurant, a bar and room service (7am to 9pm).

Click Here For More Information About Mantra Legends Hotel
In my opinion the best bit about this Surfers Paradise accommodation is its location.
It close to the centre of Surfers but a little out of the main hubbub. Likely to be a bit quieter - though you can never tell with Surfers!
The other thing I like about it is there are apartments and room service - even though it is not 24 hour!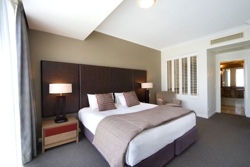 Inside Mantra Legends Bedroom

This hotel is best suited to singles, couples or smaller families because of the hotel, studio and 1 and 2 bedroom apartments that are available.

Most of the rooms have views and some have balconies (usually spa suites).

The thing to watch out for with this accommodation is that there are very few onsite parking spots and you will have to pay for parking. As of November 2009 $17 per day paid directly to the hotel, but please check as this can change.

If you have a car, be aware of this extra cost or the possibility that you won't get to park in their secure car park. Parking is quite an issue in Surfers Paradise and the on street parking has time limits.

Click Here For Full Details and Latest Rates
Mantra Legends Hotel Review
In this video you will see an independent review of Mantra Legends Resort and Hotel.
You can see inside one of the apartments including the bathrooms, living area, kitchen and the balconies and views.
I have always thought the apartments would be quite small, however, this video shows they are in fact quite spacious.
Views will vary from room to room and also the floor you are on.

Hotel Location & Locality
Address:
Mantra Legends Hotel
Cnr Laycock Street & Surfers Paradise Boulevard
Surfers Paradise
Queensland
Australia 4217
More information about Legends Website
Star Rating: 4½ star
Price Range: Moderate $$$*
Room Styles: Hotel, Studio, 1 bedroom and 2 bedroom apartments.
Locality: Use the map to explore what is around the hotel. You will find ideas for closest supermarket, where there are restaurants and some Surfers Paradise attractions. Zoom in or change to satellite for more details.
* This is just a guide. It is quite often that there are significant differences to the price range depending upon many factors.

Custom Search