Best Time To Visit The Gold Coast Questions & Answers
When Is The Best Time To Visit The Gold Coast?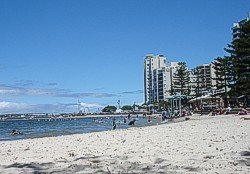 Best Time Enjoying Beach at Labrador
Hot summer days on the beach at Labrador. Lying under the shade of a tree on the beach to keep cool, watching the kids enjoying the cooling water of the lagoon.
There are many ways to enjoy the Gold Coast regardless of the weather or time of the year, the trick is knowing what do do and when to do it!
This page has questions from our visitors, with my answers and suggestions. It's a great place to find answers to many common questions, and if you cannot find the answer to your question, there's an option to ask your own.
You may find yourself at this page first, or during your research in to planning your holiday to the Gold Coast, if you haven't already, I suggest you get hold of my planning cheat sheets which also come with useful resources, tips and tools to help you plan your trip.
When Is The Best Time To Visit Gold Coast?
If only I had a dollar for every time I was asked that question!
Actually, if you add in these two questions:
When is the best time to visit Queensland?
When is the best time to go to Australia?
I'd probably be retired, lying in my hammock on my balcony in the Gold Coast and enjoying the incredible winter weather!
Unfortunately... when is the best time to visit the Gold Coast? Is really hard to answer, because it depends....
When to visit can depend on so many things like....
the weather you are seeking warm, cool, stunning?
who is coming on the holiday and their requirements - single, couple, family, young children, older children, heat tolerant, crowd tolerant.
Budget - money can't buy everything you want, but it can certainly make irritations go away....
school holidays - can you avoid them or do you have to fit in with them?
specific events - boat show, Gold Coast 600 (formerly Gold Coast Indy), Magic Millions, seeing the Gold Coast Titans play at home, schoolies, Tennis, Surf Comps and Golf or forward planning for the 2018 Gold Coast Commonwealth Games.
your holidays - one thing that most northern hemisphere visitors forget is that Australia is the opposite, our winter is your summer, our summer is your winter!
My dilemma, in writing this website, has been in trying to provide as much useful information to help you make your own mind up.... but I still get asked!
Read the submitted questions and my answers: When is the best time to visit the Gold Coast ..... ?
Ask your own question. If you have any more, please ask! It helps me to deliver information you and others are looking for.
Do You Have A Question About The Best Time To Visit The Gold Coast.?
Ask a specific question about the best time to visit the Gold Coast, Queensland or Australia is and I will try my best to point you in the right direction.
What Other Visitors Have Asked
Click below to see questions from other visitors to this page...

Gold Coast Holiday Planning Information
There are plenty of reasons to make the Gold Coast your next holiday destination and there is more than enough to keep you busy... or relaxed.
Here is more information to help plan your trip or you can grab our planning cheat sheets to give you a framework to plan with...
Custom Search