Romantic Places To Stay On Gold Coast
COVID-19 Pandemic & This Website
The COVID-19 Pandemic has had a huge impact on local Gold Coast businesses, which rely heavily on visitors from Queensland, interstate and overseas.
During this time, it is hard to keep the website fully up to date with all the changes. In the meantime here are some resources for visitors. Our main booking partners for hotels and for tours, tickets, theme parks and activities are keeping everything up to date, so please use those resources in the meantime.
Travel Information for Queensland Visitors - Queensland Tourist Safety Information - regularly updated, official website.
COVID-19 FAQ's For Activities, Tours, Cruises & Theme Park Tickets - General Ticket & Pass FAQs and COVID-19 Travel Update.
Thank you for your understanding and patience at this really difficult time.

Annie Rettie
Gold Coast Australia Travel Tips - Owner
Couples Getaways, Honeymoons and Romantic Places To Stay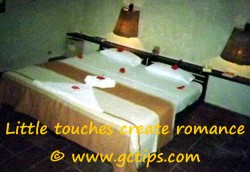 Romance is different for everyone.
Romantic gestures don't have to be big...
it's the little things that count.
Romance takes many forms and what is romantic for one couple may not be for another.
Couples weekend away, honeymoon or just needing to get away from the rat race, read on...
We explore some of the romantic accommodation options in the Gold Coast, these may be suitable for couples, honeymooners, weddings or other celebrations and events.
Our focus is on locations we consider give an edge for couples and romantics!
If your idea of romantic locations and getaways is any of the following: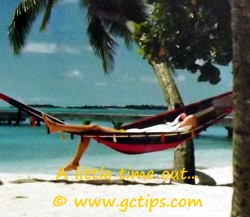 Taking Time Out is Romantic
an idyllic location with a picturesque views
close to romantic things to do
a retreat away from the rat race
fireplaces and candlelit dinners
quirky bed and breakfasts to chill in
luxurious surroundings and some serious pampering
Then I think you should find something to satisfy in our suggestions below...
Gold Coast Hinterland Romantic Places To Stay
For me the Gold Coast hinterland is THE place to go for some seriously relaxing and rejuvating couple time! Whilst, I love a beach location (and I have a few suggestions further on), I have to admit if I was visiting the Gold Coast for a bit of romantic rest and relaxation, then I would head for the hills.
Mt Tamborine and surrounding areas includes Eagle Heights, Lamington National Park, O'Reilly's Plateau and Springbrook and is home to some of the most picturesque rainforest and views that you will see anywhere.
The other drawcard for the area is the range of fantastic boutique cafes and restaurants offering creatively prepared and served local produce; a vibrant arts and crafts precinct and a range of activities that cater for the sedate to the adventure bunnies!
Let's get to the places to stay! Here are a few standout options for romantic getaways in the Gold Coast hinterland. Click here for a full selection of Gold Coast Hinterland accommodation or read on for some of my suggestions.
---
O'Reilly's Rainforest Retreat and Spa - is an icon in the Gold Coast hinterland. In the secluded O'Reilly's Plateau you are not likely to be disturbed by much except the wildlife and the breathtaking scenery. The resort offers many facilities including guided walks and other activities, as well as a restaurant and the resort spa.
The resort has a range of accommodation which you can find out more about here: O'Reilly's Rainforest Retreat Some villas have outdoor spas and all have their own car parking. It's about a 1½ hour drive from Gold Coast airport or about 2 hours from Brisbane.
---
Binna Burra Mountain Lodge - is located in the heart of Lamington National Park near Beechmont in the hinterland behind Nerang. It takes about an hour and 15 minutes to drive from Gold Coast airport even though it isn't that far the way the crow flies... you just have to use the roads! A very picturesque drive once you get beyond Nerang.
There's a variety of accommodation options to choose from including rooms in the old lodge or more modern skylodges. Whilst you don't get quite the same facilities as O'Reilly's there is still dinner and Bed and Breakfast options and the spectacular scenery.
---
The Polish Place - is a little more accessible than the first two options being on the Main Western Road on Mount Tamborine which runs through from Eagle Heights and North Tamborine.
As well as being a truly delightful European influenced chalets or cottages there is the fantastic inland view which is like a hidden treasure. They have fireplaces, spas and you can even have your dinner served on your balcony. Plus you are very close to many of the Tamborine local attractions.
This one is a great option if you don't quite have the time to head to the depths of the National Parks but still want that same feel. Check out The Polish Place Packages for weekends and short breaks.
---
Click here for a full selection of Gold Coast Hinterland accommodation.
Gold Coast Romantic Places To Stay Resorts & Retreats
Peppers Ruffles Lodge and Spa fits into the hinterland and retreat sections, but I put it here in retreats becuase it is an adults only location, no children under 15 are allowed!
Great service, stunning architecture, heated outdoor infinity pool (as in it looks like the edge goes to infinity and blends in with the view) and the pampering you can get at the Ruffles Day spa will make for a truly intimate stay. Peppers have a reputation for 5* and this retreat will not disappoint.
There are a choice of accommodation options including ocean and hinterland views, forest views to the treehouse pool villas with their own private plunge pools or the Executive Suite perfect for honeymoons or those really special occastions.
Be sure to check out their details including their packages which include (depending on the time of the year) Valentines Day Packages, Gourmet Food Trail Packages and Romance packages. Check out options for staying at Peppers Ruffles Lodge in Willow Vale.
Gold Coast Luxurious & Romantic Places To Stay To Be Pampered!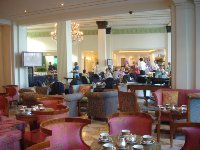 Palazzo Versace
Romantic Location
The ultimate in luxury on the Gold Coast has to be Palazzo Versace, definitely a place of pampering and total indulgence.
From the luxurious surroundings, the incredible food, the privacy and the pampering available at the Aurora Spa Retreat, there's probably something to cater for most people.
The big question is it in your price range?
It's definitely not cheap, so if you plan to spend a few romantic days here, then make sure you are fully aware of what it will cost you. There's no worse way to ruin romantic moments than worrying about the expense. Or you can treat your loved one to a special dinner, high tea or even cocktails in the lounge overlooking the pool and marina. Any time in this location is bound to be a romantic hit!
Check out the best options and compare prices at the various booking engines for Palazzo Versace.
---
Some of the other luxurious options on the Gold Coast include:
Peppers Broadbeach - The Oracle - this is a fairly new addition to the Gold Coast and is located in Broadbeach in The Oracle precinct. There's a spa and easy access to the fantastic restaurants in Broadbeach and you won't need a car! Great for weekend getaways where you want to be in the heart of the action, great accomomodation and services and close to the action. Head over to Jupiters Casino (now known as The Star Gold Coast) for a show or flutter in the Casino, Pacific Fair shopping is within walking distance or head down to Broadbeach and Kurrawa Beaches for some relaxing beach time.
---
Sanctuary Cove Resort - formerly the Hyatt Sanctuary Cove, this resort is a perfect destination for those who love golf, luxury, boats and resort style holidays. This resort is also popular for weddings and honeymooners.
Custom Search