Vanitas Restaurant Palazzo Versace Hotel Gold Coast Australia
COVID-19 Pandemic & This Website
The COVID-19 Pandemic has had a huge impact on local Gold Coast businesses, which rely heavily on visitors from Queensland, interstate and overseas.
During this time, it is hard to keep the website fully up to date with all the changes. In the meantime here are some resources for visitors. Our main booking partners for hotels and for tours, tickets, theme parks and activities are keeping everything up to date, so please use those resources in the meantime.
Travel Information for Queensland Visitors - Queensland Tourist Safety Information - regularly updated, official website.
COVID-19 FAQ's For Activities, Tours, Cruises & Theme Park Tickets - General Ticket & Pass FAQs and COVID-19 Travel Update.
Thank you for your understanding and patience at this really difficult time.

Annie Rettie
Gold Coast Australia Travel Tips - Owner
Palazzo Versace Vanitas Restaurant Review
Vanitas Restaurant open for dinner
Tuesday to Saturdays, 6.30pm to 10.00pm.

This review about Vanitas in Palazzo Versace in Main Beach was written by my friend Louise.

Louise, her family and friends are frequent visitors to this restaurant.

I thought it fitting she describe her experiences.

Louise has exquisite taste for luxury.

For those who are wanting something very special in a Gold Coast fine dining environment, I think you will find that Vanitas Restaurant in Palazzo Versace is an excellent choice.
I have added a few interesting tidbits - I hope you don't mind my exercising my editorial perogative!
Totally irrelevant fact but fun anyway!

Vanitas
– is a latin word meaning vanity or emptiness. It is also used in the arts to describe a style of northern European still-life painting.
Vanitas Restaurant Review
by Louise
November 2007
Location:




Palazzo Versace Gold Coast
94 Seaworld Drive
Main Beach Qld 4217 Australia


Phone:


+61 7 5509 8000


Fax:


+61 7 5509 8888


Rated by Louise:


5 stars


Vanitas is the fine dining restaurant on the Gold Coast.
The experience is not just the food but the location and atmosphere. The restaurant is located on the northern side of the Palazzo Versace Hotel lobby.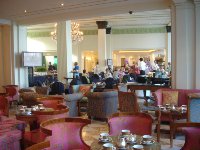 View of the Palazzo Versace Australia
Hotel Lobby from outside Vanitas Restaurant.
The restaurant itself is quietly elegant with a lavish marble floor, Versace crystal glassware, pristine table settings and fine silverware.
Through the window the backdrop is the central beach lagoon swimming pool. When lit at night this is a relaxing and fitting outlook to help create an atmosphere of pure luxury.
This is however, a luxury you would expect from one of the leading hotels of the world!
The restaurant experience begins as the manager and head sommélier greets you at the door.
A glass of Louis Roederer champagne as you look over the impressive menu. There are many items of note, but to name a few: fresh lobster, scallops, duck and many more!
There is also a dégustation menu, for those who would like to try a variety of foods and flavours.
Dégustation (déjustation)
is a French word often used in the English language which means: "careful, appreciative tasting of various foods".
The wine menu is well appointed with not only local wines, but a selection of international wines to cater for all tastes. You will find wines of varying ages from the young to aged vintages.
The table service is exceptional and certainly in keeping with the style of the whole restaurant.

Our visits are mostly with adults, but they also cater very well for well-behaved children. This is kept in check, as you get the feeling that they want to make sure that all the restuarant guests enjoy their dining experience.
This is not the place to go if you want a loud noisy dinner, this is classic style, elegance and delicious food.
To summarise our many experiences at Vanitas I would have to conclude:
The service is outstanding,
The food exceptional and the venue delightful.
I highly recommend Vanitas to guests who enjoy fine dining or for that special occasion.
Restaurant at Palazzo Versace - Vanitas Review - Your comments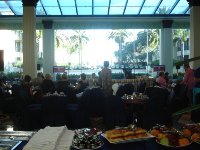 Palazzo Versace Hotel Gold Coast
Vanitas Restaurant is located in Palazzo Versace Hotel in Main Beach - not Surfers Paradise as many people think! To find out more about Main Beach including where to stay in the area check out my Main Beach suburb guide.
Custom Search
Return to top Vanitas Restaurant Review