Romantic Things To Do Around Gold Coast
COVID-19 Pandemic & This Website
The COVID-19 Pandemic has had a huge impact on local Gold Coast businesses, which rely heavily on visitors from Queensland, interstate and overseas.
During this time, it is hard to keep the website fully up to date with all the changes. In the meantime here are some resources for visitors. Our main booking partners for hotels and for tours, tickets, theme parks and activities are keeping everything up to date, so please use those resources in the meantime.
Travel Information for Queensland Visitors - Queensland Tourist Safety Information - regularly updated, official website.
COVID-19 FAQ's For Activities, Tours, Cruises & Theme Park Tickets - General Ticket & Pass FAQs and COVID-19 Travel Update.
Thank you for your understanding and patience at this really difficult time.

Annie Rettie
Gold Coast Australia Travel Tips - Owner
Keep the Romance alive with romantic things to do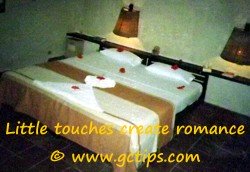 Romance is different for everyone. Romantic gestures don't have to be big... it's the little things that count.
Romance can mean quietly getting away from it all, or spending time doing exciting and enriching activities with your loved ones.
Here are a selection of activities that you can find around the Gold Coast which fit into the exciting and enriching category! If you just want to quietly get away from it all, check out romantic places to stay on the Gold Coast, where you are bound to find some amazing options for getting away from it all!.
Romantic Things To Do in Gold Coast Hinterland
The Gold Coast hinterland comprises of Eagle Heights, Mt Tamborine, Lamington National Park and Springbrook National Park.
Many couples choose to stay in the area for a romantic escape, but that isn't the only way you can enjoy some romantic escapades in the area on day trips or adventures!
You don't have to go too far into the hinterland to see its romantic possibilities. The scenic views, vibrant rainforests, local colourful birdlife, brightly coloured and flowers all create something rather special and VERY different from the beachside Gold Coast areas.
Now add in the man made attractions including the boutique wineries, gourmet restaurants and cafes as well as the arts and crafts to be found in Eagle Heights Gallery Walkes and you can easily see why people LOVE this area, romantic or not!
Here are a selection of romantic things to do around this area:
Gold Coast Hinterland Tours - Experience Springbrook and it's amazing waterfalls, flora and fauna; or take a tour to O'Reilly's.
Cedar Creek Vineyard and Winery on Hartley Road, North Tamborine is not only a winery but has a fantastic restaurant that looks out over a lake which is sanctuary to local native wildlife. Stop in for lunch daily between 11am and 3pm or for a Devonshire Tea between 10am and 4pm. Summer or winter this is a great location with log fires in winter and air-con in summer! You can also check out their Glow Worm caves if you want a little more adventure. Stop by the cellar door to pick up some local wines and momentos to take home with you. Verdelho's and Rosè's are their speciality.
Adventure Parc at Mt Tamborine is part of the Thunderbird Park area. Once you have searched for your volcanic Thunder Eggs, it calls for a bit of adrenalin pumping adventure. Adventure Parc has 5 high ropes courses for some serious bonding and challenges. How romantic to spend around 3½ hours completing the courses together! You cannot tell me that Flying Foxes aren't romantic.
What could be more romantic than a Rainforest Skywalk through the rainforest canopies in Mount Tamborine. This will only take you an hour and is a gentle but incredible experience. This walk is the longest canopy walk in Queensland and can be found at Geissmann Drive, North Tamborine.
Take a winery tour to the local Mt Tamborine wineries as well as stop at the distillery, brewery and cheese factory! Best to have someone else drive you and show you the best places to go!
Custom Search
Instructions and Guidelines for Gold Coast Event Submissions
For Event Organisers and Managers: Please submit all the details of your Gold Coast Events March 2012 (eg. festival, fete, fair, sports event, concert, corrobboree, show, music event or any event in the Gold Coast that would appeal to locals and visitors) in the format below.
Make sure to Include the: name of your event; your contact information in case we have questions; at least one photograph; and description of event including where, when and what is on.
Events should be submitted as an article NOT as a Press Release. The first paragraph should be used to describe your event in a few sentences. Allow 3 to 5 business days for events to post. I cannot guarantee your event will be listed. I reserve the right not to publish submissions based on quality, appropriateness and those not fitting with the family friendliness of this website. Please only submit events that are yours and if any changes to dates, cancellations etc occur please come back and update using the comments section under your listing.
I hope your free listing on our Gold Coast Events page will bring more interest to your event. If you have a website, a link from your website to the Gold Coast Australia Travel Tips website (https://www.gold-coast-australia-travel-tips.com) would be really appreciated! Thank you and I look forward to hearing more about your events.