Surfers Paradise Gold Coast Queensland
COVID-19 Pandemic & This Website
The COVID-19 Pandemic has had a huge impact on local Gold Coast businesses, which rely heavily on visitors from Queensland, interstate and overseas.
During this time, it is hard to keep the website fully up to date with all the changes. In the meantime here are some resources for visitors. Our main booking partners for hotels and for tours, tickets, theme parks and activities are keeping everything up to date, so please use those resources in the meantime.
Travel Information for Queensland Visitors - Queensland Tourist Safety Information - regularly updated, official website.
COVID-19 FAQ's For Activities, Tours, Cruises & Theme Park Tickets - General Ticket & Pass FAQs and COVID-19 Travel Update.
Thank you for your understanding and patience at this really difficult time.

Annie Rettie
Gold Coast Australia Travel Tips - Owner
Surfers Paradise - The Heart of the Gold Coast!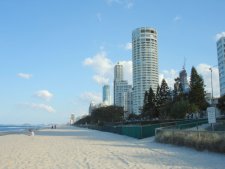 Surfers Paradise beach
looking south towards Q1
I love Surfers!
It is one of those places you either love or hate!
No visit to the Gold Coast would be complete without experiencing it.
Evenings can be lively! However, families can still enjoy the atmosphere in the early evening with a meal on Cavill Mall. Take in the free street entertainment.
The Friday night markets are interesting to wander through and buy some unique souvenirs.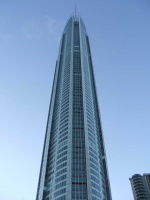 Q1 Tower with Skybar
on the top levels
Some events are held on the beach and being on the sand watching fireworks or listening to a band is a great experience for the whole family.
During the day the beach is the centre of attention. Surfing, swimming, building sandcastles or relaxing reading a book. It is a top spot!
If you've never surfed why not take a lesson!
Within Surfers itself there are some great and some very average tourist attractions!
Us locals use some of the facilities with great regularity so they can't all be bad!
Some of our favourites include:
Circle on Cavill which has Strike Bowling Bar and loads of great shops and restaurants, plus the huge screen.
Q1 with it's SkyPoint Observation Deck (formerly Qdeck) and amazing views day or night
Timezone in Cavill Mall - it's the biggest I've ever been in - it is awesome!
Surfers is a great place just to hang out - which is why it is so popular with all different types of people.
If you stay in accommodation in Surfers you have the added benefit that everything is at your door and you can even get away with not hiring a car unless you really want to!
Attractions
The list of attractions is long - are you ready?
I won't apologise for this list - I can't see a way around letting you know what there is here!
But I have culled as much of the rubbish as I can without making it seem I'm a party pooper!
Northcliffe Beach – patrolled beach

Northcliffe SLSC

- great place to have breakfast!

Surfers Paradise Beach

– patrolled beach

Chevron Island

– Some great cafés and restaurants in the main shopping strip

Q1

- Q1 is the stunning, contemporary building that towers over the other high rises in Surfers. Q1 Resort and Day Spa - means you can stay in this amazing building and be right in the heart of everything.
Q1 Observation Deck - The first time I went up in the the elevator to the Q1 Observation Deck I was awestruck by the view. The 360 degree view on a clear day or night is nothing short of spectacular. Whilst up there you can enjoy coffee and cake, or a drink from the bar in the Skybar and I think they even do private functions, so if you are looking for a stunning, memorable location for a party or function this could be an option. Don't forget your binoculars and camera!

Cavill Mall

- extends from the famous "Surfers is Paradise" sign which heads down to the beach right up to Circle on Cavill which is the brand new entertainment area in Surfers. Shops, restaurants and entertainment to be found all around Cavill Mall and the surrounding area.

Circle on Cavill

- Entertainment zone with Strike Bowling Bar, restaurants and cafés and a huge entertainment screen. There are also apartments for holiday lettings in Circle on Cavill - they are brand new apartments. (Minus 5 Ice Bar and Lounge has unfortunately now closed)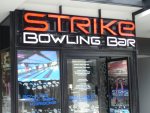 Strike Bowling Bar
Chevron Renaissance

– the Towers of Chevron Renaissance have apartments both residential and for holiday rent. Underneath there is a shopping area that includes supermarket, restaurants, cafés, spa and bathhouse and Infinity.

Wax Museum

– a museum of wax figures! Famous people one the one side and the Dungeon full of horrors on the other. Perhaps , not the best for the little kids! What more can be said!

Infinity

- You walk through a set of rooms with lots of things to test your senses! Remember once you leave a room you cannot go back, so don't rush this, take it all in. If you pace yourself should take about half an hour to 40 minutes!

Adrenalin Park

- includes Bungee Rocket, the aptly named Vomatron, Slingshot, Flycoaster and Bungee trampolines which sound positively tempting! As bizarre as it sounds there is also mini-golf right next door! With all that adrenalin rushing around, it seems like you've been there for no time at all!

Timezone

- this is a huge games arcade including dodgem cars and laser skirmish. It is a massive area of full on fun! Positively something for everyone here, even some mini-golf for enthusiasts! I defy you to stay in Timezone for only an hour!

Australian Shooting Academy

- right across from Timezone. An opportunity for some gun play any style you want - western, Dirty Harry! You name it! They even have a Big Boy Toys special with 3 different types of firearms! It's actually not my thing, but I have to mention it!

Ripleys' Believe it or Not Museum

- what a collection of interesting and irrelevant information and oddities! It is great fun for al the family - you will undoubtedly make a fool of yourself at some point in here, but hey - that's the fun! It is located off Cavill Mall under the new Soul building.
Surfers Paradise Beachfront Markets - Wednesday, Friday & Sunday nights year round. Weather can affect these markets.
Jet Boat Extreme - Extreme jet boating tours leave from the jetty by the Titanium Bar on Ferny Avenue. Experience jet boating in the calm of the broadwater - you probably won't feel calm afterwards!

Aquaduck Safaris

or

Adventure Duck

- Take your pick! How silly do you want to feel? You'll quack like a duck on these tours - no honestly, you will! These are the silliest looking tour boats you've ever seen - but the kids love them! It takes about an hour all up.

King Tutt's Putt Putt

- 3 themed 18 hole mini-golf courses. Outdoors African Jungle, indoors Ancient Egypt and Jurassic Dinosaurs!

Mirage Boat Hire

- hire a boat and check out the local attractions by water or go fishing.
Whales in Paradise - tour boat departs from behind Titanium Bar on Ferny Avenue and takes whale watchers out to see the humpback whales during whale watching season from June to November each year.

Paradise Day Spa and Bathhouse

- pampering in the heart of Surfers. Mix of ancient traditional and modern techniques. Quite surprising facilities tucked away under Chevron Renaissance.

The Nightlife

- plenty of bars and adult entertainment. You can even go on an organised tour! If it is your thing, you will no doubt find what you are looking for and you won't have to look too hard in the heart of party central! Cavill Ave and Orchid Ave are the main areas you will find the bars and clubs.

Budds Beach

- Something completely different from the hustle and bustle of Surfers. An oasis of tranquility!
Surfers Paradise Accommodation
There are so many options for accommodation in Surfers. That is a full accommodation guide, including details on Surfers Paradise hotels and apartments. If you are in a hurry, here are a few of my main choices and why.
Surfers Paradise Hotels
Marriott Surfers Paradise Resort and Spa
Marriott Surfers Paradise Resort and Spa - I love this 5 star hotel because it is everything you expect from an international standard hotel and it has the most amazing salt water lagoon pool and waterfall.
North of the main drag of Surfers and right on the edge of the Indy track. To go into the heart of Surfers or to the beach you will most likely take a taxi or limo from here - it's not worth the walk!
I also love the excellent Japanese Steakhouse Restaurant called Misono at the Marriott.
Do not confuse with the lower standard Courtyard by Marriott (now Grand Chancellor) in the heart of Surfers Paradise - otherwise you will be disappointed.
---
Crown Plaza Hotel
Crowne Plaza Hotel is part of the Intercontinental Hotels Group. Most rooms offer ocean views and all the guest rooms are non-smoking whilst the suites are not.
It is situated south of the main drag of Surfers - I'd say it is halfway between the centres of Surfers and Broadbeach. Very much a resort style hotel with tropical lush gardens pool, spa and tennis court. The kids club is open weekends and during NSW and Qld School Holidays only.
A great day spa is also within the resort along with some shops.
Adjacent is Crowne Plaza Hotel Gold Tower which was refurbished a few years ago. As well as hotel rooms there are studio, 1 and 2 bedroom apartments.
Every room has a balcony and the facilities are shared with the adjacent hotel.
More information about Crowne Plaza Hotel Surfers or Crowne Plaza Hotel Gold Tower
Surfers Paradise Apartments
Crown Towers Resort Apartments
Crown Towers Resort Apartments are just north of the heart of Surfers. A family friendly resort with large 1,2 or 3 bedroom 4½ star apartments. Great family facilities including resort lagoon style pool and many other great features.
They are managed by the Mantra group, which I always find consistent and are my personal top choice for staying anywhere around Australia. This is my top apartment choice for families visiting Surfers because of what I consider to be the value for money with these apartments.
---
Artique Resort Apartments
Artique Resort Apartments are 4½ star, 1 and 2 bedroom apartments south of the centre of Surfers on Surfers Boulevard. A short walk to the beach and great heated, outdoor, partially covered pool. The apartments are modern, fresh and have what you expect for 4½ star accommodation.
The downsides for this accommodation is it not on the beach but only a short walk, but my sister stayed here and I was quite impressed with the pool and spa!
---
Aloha Apartments
Aloha Resort Apartments are 1 & 2 bedroom, comfortable 3½ star apartments just over The Esplanade to Surfers Paradise beach. Pool heated in winter only, but has a kids wading pool.
---
Breakfree Moroccan
Breakfree Moroccan - 1 & 2 bedroom 4½ star apartments just north of the heart of Surfers tastefully styled around Moroccan and Mediterranean themes. You will need to check your apartment as not all have air-conditioning. Has indoor heated pool as well as a heated spa and a non-heated outdoor pool.
These apartments might be noisy for some as they are right in the heart of the action and close to Adrenalin Park which makes it noisy with thrill seekers till quite late. Overall these apartments are good quality and you cannot beat this location.
---
Q1 Gold Coast Resort and Spa
Q1 Gold Coast Resort and Spa is located just south of the heart of Surfers Paradise. It is a luxury 5 star resort and spa with clean, modern look and feel. Apartments don't have outdoor balconies on this iconic building, but the views are great.
Very well positioned and you won't have the same issues with noise here that you have with some of the other apartments in Surfers.
---
Circle on Cavill
Circle on Cavill are 4½ star luxury 1, 2 or 3 bedroom apartments right at the end of Cavill Mall. They are more like executive serviced apartments than your traditional holiday apartments. Mantra manage these apartments.
Ultra modern decor and facilities for couples, business people or families this is a great option if you like this style and want to be in the heart of Surfers but away from the riff-raff!
They do have a kids games room, but the pool is a heated lap pool rather than a resort lagoon pool - so you will need to choose what you want.
More Surfers Paradise accommodation options
Surfers Paradise Golf Information
Although the Surfers Paradise Golf Club is named after Surfers, it is actually located in Clear Island Waters which is inland from Broadbeach! It is a private golf club for members and guests only.More golf information.
Other Golf Courses within a 15 to 25 minute drive are:
Resort Golf Clubs
- open 7 days
Palm Meadows Golf Course - Carrara
Royal Pines Resort - Benowa
Emerald Lakes - Carrara
Lakelands Golf Course - Merrimac
Lakeside Country Club - Coombabah - 9 holes only
Merrimac Public Golf Course - Merrimac
Private Golf Clubs
- Members and Guests only
Arundel Hills Country Club

-

Arundel
Surfers Paradise Golf Club - Clear Island Waters
Semi-Private Golf Clubs
- limited opportunities for non-members
Gold Coast Country Club - Helensvale
Helensvale Golf Club - Helensvale
Parkwood International Golf Club - Parkwood
Beach Information
Surfers Paradise has ocean beach frontage. Surfers Paradise beach is magnificent!
It is cleaned every day and is a pleasure to visit winter or summer.
Make sure you are aware of the beach and surf conditions and only swim between the flags - I cannot stress this enough!
Travel Times To and From Surfers Paradise
Approximate travel times by motor vehicle - please note travel times can be affected by many factors including traffic hazards and roadworks. These are just an indication.
Directions for Car Travel
For directions and other information I recommend you use Google Maps Australia. On this website there are several google maps including a map of Surfers which you can click on to get directions which will also give you an idea of travel times for driving.
Custom Search