Artique Resort Apartments Surfers Paradise
COVID-19 Pandemic & This Website
The COVID-19 Pandemic has had a huge impact on local Gold Coast businesses, which rely heavily on visitors from Queensland, interstate and overseas.
During this time, it is hard to keep the website fully up to date with all the changes. In the meantime here are some resources for visitors. Our main booking partners for hotels and for tours, tickets, theme parks and activities are keeping everything up to date, so please use those resources in the meantime.
Travel Information for Queensland Visitors - Queensland Tourist Safety Information - regularly updated, official website.
COVID-19 FAQ's For Activities, Tours, Cruises & Theme Park Tickets - General Ticket & Pass FAQs and COVID-19 Travel Update.
Thank you for your understanding and patience at this really difficult time.

Annie Rettie
Gold Coast Australia Travel Tips - Owner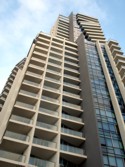 Artique Resort Apartments
Surfers Paradise Gold Coast
Artique Resort Apartments were not at the top of my list of apartments in Surfers Paradise. That was until April 2010 when my sister and family had to find emergency accommodation! More about that later, but here is what you need to know about Artique in the Gold Coast.
Great choice for singles, couples and smaller families
Quieter location but close to Surfers & Broadbeach.
Artique has 1 and 2 bedroom apartments and is located about between the centres of both Surfers Paradise and Broadbeach (closer to Surfers).

Click Here For More Information About Artique Apartments
A 5 to 10 minute walk south of Cavill Mall precinct and a very short walk (about 100m) to the beach just at the end of the street.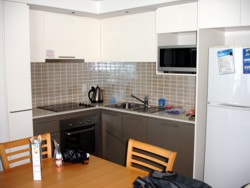 Modern kitchen and dining area
The accommodation is rated 4½ star. 1 bedroom apartments are suitable for up to 3 people (1 Queens bed) and 2 bedroom apartments (1 Queen and 2 singles) can accomodate up to 5.
When we booked for my sister, it was out of season, but I thought the price was very good, especially when you consider the quality of the apartment. Obviously, prices vary depending upon the time of the year.
Facilities include a swimming pool (half indoor half outdoor) and gym, spa and sauna facilities, BBQ and Games Room. The reception is open during the day and the staff are really helpful.

Click Here For More Information About Artique Apartments
In my opinion the best bit about this Surfers Paradise accommodation is its location - close to both Surfers Paradise and Broadbeach and really close to a great stretch of beach.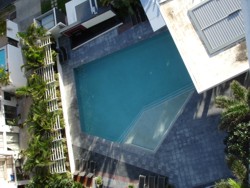 Artique Resort Pool viewed from 9th floor

It takes about 5 to 10 minutes to walk to the centre of Surfers and probably about 20 to 30 minutes to walk to Broadbeach. I wouldn't recommend driving from here to Surfers because parking in Surfers is not that easy. Broadbeach has better parking and to drive would only take about 3 minutes!

These apartments are best suited to singles, couples or smaller families because the 1 bedroom apartments will comfortably fit singles, couples or families with one small child or baby. The 2 bedroom apartments will fit families of 2 adults and 2 children comfortably (although you can have up to 5 in these apartments).

The apartments have great views (depending upon the floor you are on) and balconies. The views may be of beach and ocean glimpses or out to the hinterland. My sister was lucky with her choice, it was overlooking the pool on the 9th floor and had both types of views looking south and west.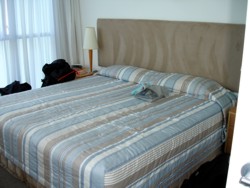 Bedroom in 1 bedroom apartment
Parking under the building was easy and free for one car and rooms have internet access for a fee.
The one small thing we found a below average with this accommodation was there were no instructions on how to use the security phone (not a problem if you don't have guests) and the staff seemed a little in the dark about this too, or perhaps it was that we did not understand the instructions.

Click Here For Full Details and Latest Rates
Artique Resort Apartments Review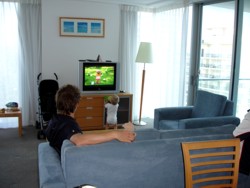 Living area in 1 bedroom apartment
In April 2010, my sister, husband and baby daughter were caught in the Icelandic Volcanic ash travel shutdown. They were on their way from NZ to UK and planned to spend 4 days with us, that turned into 10 days, so they needed to find accommodation quickly.
This was an unplanned expense on their part, so we needed to find something of value but a good quality. Travelling with a toddler who walks, touches and picks up just about everything means you need to be careful! We couldn't have them stay in a dirty or small apartment.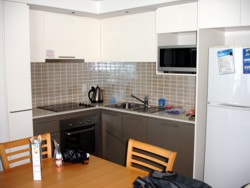 Modern kitchen and dining area
Guy, who is a keen surfer also wanted to try to catch some waves, so he was voting for Surfers Paradise.
Artique seemed the perfect place, 100m from the beach and Guy could hire a board from across the road at Ride a Wave. A short stroll to either Surfers Paradise or Broadbeach for shops, restaurants and entertainment.
After a frantic drive around to check out rooms, Artique was an unexpected and pleasant surprise. The apartment was spotless and well equipped. I did my cutlery test! I always check the cutlery draw in an apartment as a barometer of the cleanliness of the apartment.
Artique an unexpected and pleasant surprise!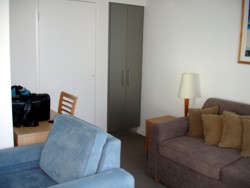 Study Nook with internet connection
The one bedroom apartment had an open living, dining and kitchen area with a study alcove where the internet connection and a desk were. The bedroom had a queen bed and an ensuite bathroom with shower over a bath. This was useful as a toddler needs a bath! Not all apartments in the Gold Coast will have a bath.
There were two balconies and the views were brilliant, though the glass probably needed a clean. We weren't keen to use the balconies with the toddler around. One was small and the other was large enough to have a table and four chairs on it, so you could eat outside.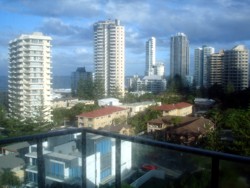 View from apartment on 9th floor
of Artique
The apartment was on the 9th floor so views will vary from room to room and also the floor you are on.
Downstairs there was a gym, spa, sauna and pool. We only used the pool and spa. The pool is supposed to be heated, it was a bit cool for my taste, but on the other hand the spa was outside but covered, huge and VERY warm! I like warm, but even I couldn't stay in it too long. Better to be warm than cold though. In the pool there is shallow wading area for the little kids.
The pool area was fantastic, there was plenty of space and it is not towered over by other buildings. There is a BBQ and tables so you could entertain or eat outside.
This is a security building, with secure parking underneath. Overall, I was very impressed with the way the building is being kept, the price of the accommodation and its location.
I would highly recommend Artique Resort apartments to small families, couples or singles who do not want to stay right in the heart of Surfers Paradise. It is the perfect base with or without a car.

Artique Resort Location & Locality
Address:
Artique Resort Apartments
Cnr Enderley Ave & Surfers Paradise Boulevard
Surfers Paradise
Queensland
Australia 4217
More information about Artique Resort
Star Rating: 4½ star
Price Range: Low to moderate $$*
Room Styles: 1 bedroom and 2 bedroom apartments.
Locality: Use the map to explore what is around the hotel. You will find ideas for closest supermarket, where there are restaurants and some Surfers Paradise attractions. Zoom in or change to satellite for more details.
* This is just a guide. It is quite often that there are significant differences to the price range depending upon many factors.

Custom Search