Gold Coast Australia Travel Guide
Welcome To The Gold Coast
COVID-19 Pandemic & This Website
The COVID-19 Pandemic has had a huge impact on local Gold Coast businesses, which rely heavily on visitors from Queensland, interstate and overseas.
During this time, it is hard to keep the website fully up to date with all the changes. In the meantime here are some resources for visitors. Our main booking partners for hotels and for tours, tickets, theme parks and activities are keeping everything up to date, so please use those resources in the meantime.
Travel Information for Queensland Visitors - Queensland Tourist Safety Information - regularly updated, official website.
COVID-19 FAQ's For Activities, Tours, Cruises & Theme Park Tickets - General Ticket & Pass FAQs and COVID-19 Travel Update.
Thank you for your understanding and patience at this really difficult time.

Annie Rettie
Gold Coast Australia Travel Tips - Owner
I guarantee you will find real information on this website and I promise no endless lists of accommodation!
You'll find hints and tips from my own experiences and those of my family and friends who visit or live here.
I've lived in and around Gold Coast since 2004. I'm here to help.
Use this website to get all the information you need to plan your perfect Gold Coast holiday, or simply click here to get planning cheat sheets, tips & tools to make it easier!
Top 10 Frequently Asked Questions
Planning A Trip To Gold Coast Australia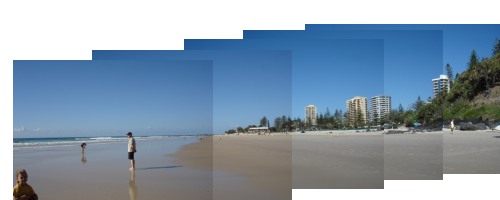 A family afternoon at Rainbow Bay beach, Coolangatta
If you are looking for a step by step guide to planning your trip and the resources to do so, then the first place to start on this website is our Travel Guide.
Otherwise, read on down for various resources to plan the different aspects of your holiday to the Gold Coast.
In the same way that there isn't only one flight option for getting to the Gold Coast Australia, there isn't one best time to visit or only one place to stay.
I'd love to introduce you to parts of the Gold Coast you might not have known about or considered before and give you information about those that you might have heard of.
I'd like to help you narrow down your search so you can decide for yourself what you want and what you don't want! What fits best for you.
A journey of a thousand miles starts with a single step.

Lao Tzu
Chinese Philospher
I hope enjoy your journey - starting right now.....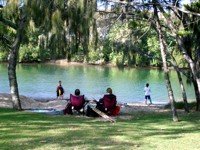 A different side to Gold Coast -
Macintosh Island Park
Why Holiday in Gold Coast?
Discover what the Gold Coast Australia has to offer for a holiday in Queensland. Find out if the common myths are true or false!
Gold Coast is fantastic for kids of all ages - including the grown up ones ;-)
Fast paced theme park holidays, family beach holidays, action packed extreme thrillseeking, short breaks, long stays, weekend getaways, gourmet breaks, back to nature rainforest experiences or relaxing rejuvenating retreats. We can cater for it all....
And if you are coming to Australia from overseas why not put the Gold Coast into your itinerary on your travels downunder to Australia.
Struggling To Work Out When To Visit?
There are several resources on this website.
The first stop should be the monthly guides which cover each month or you can skip straight to the months.
On each of those pages you will find a quick snapshot of what is happening around the Gold Coast each month including information on school holidays, public holidays, local events, weather for that time of year, suggested things to do and other tips.
Overseas Visitors - Special Note
Special Note for overseas visitors, you might forget our seasons are upside down!
Australian Summertime is December to February, Autumn is March to May, Winter is June to August and Spring is September to November!
I've tried to colour code to make it a bit more obvious - it's easy to forget - sometimes I still do ;-)
Still confused?
There's a page on frequently asked questions about when to visit and if you don't find something there you can ask your own question.
Discover More Than Surfers Paradise
Many people people believe that...
Gold Coast = Surfers Paradise = Gold Coast
Surfers Paradise attracts much attention, however the Gold Coast is so much more than just Surfers Paradise. Use the suburb guides and map to discover and guide you around this very large and diverse area.
Each suburb page is a snapshot of information with some of the main areas including Surfers Paradise, Broadbeach, Main Beach, Coolangatta, Burleigh Heads, Miami, Southport, Labrador, Sanctuary Cove, Hope Island and South Stradbroke Island.
Scroll down each of these pages for an indepth look at each area. You will be amazed what you will learn from about each including: travel distances to major attractions, nearest golf courses, local attractions, places to eat and places to stay, plus my usual tips as needed.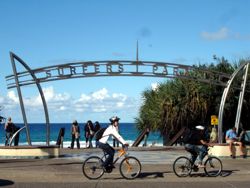 Famous Surfers Paradise sign
at the end of Cavill Mall leads
onto the fabulous beach
What Is There To See and Do?
Apart from the amazing beaches, Gold Coast Australia has many attractions some man-made and some natural ones! Theme Parks are the popular attractions especially with families, but there are many more sights to see and things to do.
And for the adventurous there are tours to amazing destinations like Tangalooma where you can even take part in feeding the wild dolphins, or up into the hinterland to the national parks, rainforests and other scenic areas, or day trips to Brisbane, Sunshine Coast, Australia Zoo, Byron Bay or even the Great Barrier Reef. Many things are possible - what will you do?
Don't panic if you are unlucky with the weather there is still plenty to do on rainy days to keep you and kids occupied from best rainy day shopping, movies, all weather local attractions to indoor playgrounds.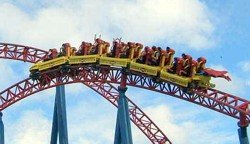 Movie World Superman Rollercoaster
on the Gold Coast
How To Get Here?
Most visitors fly to the Gold Coast, so the first decision is which airport!
There's the Gold Coast Airport (aka Coolangatta Airport) and Brisbane Airport. This can be particularly confusing when visiting for the first time.
And if you are coming from another country you will need an Australian Visa.
How To Get Around?
Shall I hire a car? Can I use local transport? What about coaches and transfers?
This is always such a personal decision which can be dependent upon budget, flexibility and local knowledge.
When hiring a rental car one thing is for certain, it is really hard to compare apples with apples! Everyone seems to have a different offering.
Check out these car hire tips for things to look out for before you rent a car.
Where To Stay?
Gold Coast Australia covers a large area with a diverse range of places to stay. The photo above shows some of the Gold Coast accommodation choices on the coastal strip between Main Beach, through Surfers and down towards Broadbeach and Burleigh Heads.
There are so many choices both on the coast and in the Gold Coast hinterland.
Choosing the right place will have a huge impact on your enjoyment of your holiday.
I suggest you have a look at the different areas and suburbs, use the map and get to know the areas.
Once you have narrowed down your areas, check out the suggested accommodation on the suburb pages. I like quality not quantity! But quality doesn't mean it is the most expensive.
I usually suggest that first timers stay in or around Surfers Paradise, because it is generally easier and closer to the main tourist areas. You'll find a great selection of hotels and holiday apartments in Surfers to choose from.

If you are after a big name hotel or apartments this great comparison tool will show you how to get a great deal - all on the one page.
There is certainly plenty to choose from, so you'll have to find ways to narrow it down - but isn't that the fun of planning a holiday? It helps build the anticipation!

Gold Coast Accommodation - Main Beach, Surfers Paradise, Broadbeach and beyond
What To Do If You Get Really Confused!
Firstly, I am not a travel agent! I have this website because I am passionate about helping people see more of Gold Coast Australia than just the glitzy Surfers Paradise.
I want you to really experience Gold Coast Australia so that when you leave, you are already planning your next trip! If, after looking around the website, you cannot find what you are looking for please use the search box at the top of each page. Simply type in what you are looking for.
If, you want to get the very latest and best of my planning resources then click here for my cheat sheets, planning tips and resources.
And if you are stuck, or truly cannot find what you are looking for then please feel free to contact me - I cannot promise you I will know the answers to every question about Gold Coast Australia, but I will try to help you as best I can.
So, what are you waiting for?
Go on dive in and discover my Gold Coast ....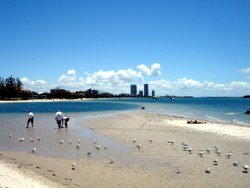 Latest Deals
Here's a selection of the hot deals at the moment. For a full selection including accommodation, activities, transport, tours, packages and more check out my main selection of deals or specific theme park deals check out Theme Park Passes ...

3 days of Entry to Dreamworld, WhiteWater World and SkyPoint Observation Deck within 7 consecutive days.
Plenty of time to visit these theme parks & Surfers Paradise attraction SkyPoint Observation Deck for up to 3 full days at your leisure over the 7 days.
Use within 12 months of purchase date.
Entry to Dreamworld, WhiteWater World and SkyPoint over 3 days within 7 consecutive days from first gate entry.
Check for special bonuses.
 

Visit Sea World, Movie World and Wet n Wild once each over 5 consecutive days.
Big savings over single entry tickets and online prices are cheaper than at the gate.
Cheapest option for Village Theme Park Passes.
Pass valid for single entry to each of the theme parks Sea World, Movie World & Wet n Wild over 5 consecutive days.
Cheapest way for entry to 2 or more theme parks.
Pass is valid for first use within 12 months from purchase.


Spend a few hours or a whole day at Currumbin Wildlife Sanctuary.
Watch the shows. Hand feed the kangaroos. Get your photo taken with a koala. There's so much to see and do. Check out all the information about Currumbin and other activities.
TOP PICK for visitors who want to see, touch and get photos with some iconic Aussie animals.
TICKET OPTIONS:
Adult | Child (3 to 13 years) | Family (2A+2Ch)

Single Day Entry Ticket To Currumbin Wildlife Sanctuary. Includes shows, excludes food for animals, photos with animals and other extra activities.
Follow links for all pricing including special limited time deals and family options.

Great evening of entertainment. Enjoy a story of Australian outback life showcasing horsemanship & Aussie mateship.
Watch the show whilst enjoying your 3 course dinner. Fun night with lots of great memories and a souvenir bushman's hat.
Book now for all shows.
Child, Vegetarian & Halal meal options available.
MUST SEE Dinner & Show.
After many years of planning trips with my family both locally and overseas, I've created many resources to help you through creating an itinerary and plan that will have you seeing, doing and experiencing the best the Gold Coast has to offer you.
You can do it yourself using the resources on this website by starting here.
Or you can cut some corners and get my travel planning sheets and extra resources.
When you are ready to book your Gold Coast travel arrangements I've hand picked the best resources for all aspects of your travel itinerary. You can feel confident that you are accessing the best local and global travel providers for your holiday.